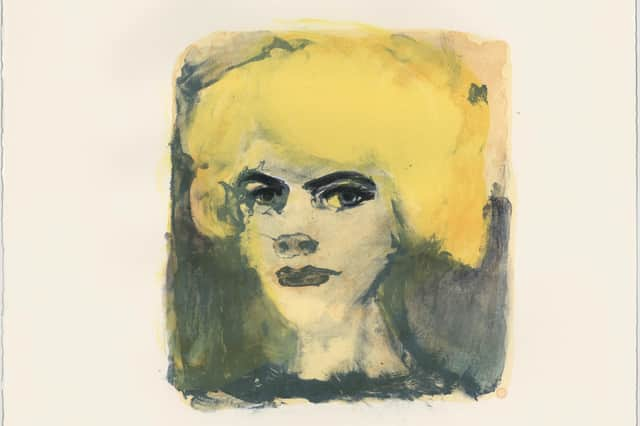 Belladonna, by Moyna Flannigan
Choose to Challenge, Edinburgh Printmakers ***
A Focus on Sculpture, Compass Gallery ****
Jenny Matthews: Rainbow, Union Gallery ****
Anxiety Calibrator, by Jenny Pope
News just in: the art world is less equal than it looks. Of the living artists represented by galleries in Europe, only 14 per cent are women, and when one reviews works sold at auction between 2008 and 2019, just four per cent were by women artists. So, while women now outnumber men on Fine Art degree courses by something like two to one, there is much still to be done to create a level playing field after graduation.
Edinburgh Printmakers are highlighting this with Choose to Challenge, a small selection of works by contemporary women artists mounted in their online viewing room for International Women's Day earlier this month. The works represent a spectrum of approaches, some new, others drawn from Edinburgh Printmaker's archive.
Ruth Ewan is inspired by overlooked histories, including women's history and radical history. Her "Principles" series of text works, made at Edinburgh Printmakers in 2012, is well worth revisiting, celebrating not only the enduring power of ideas but the place of printmaking in disseminating them.
Moyna Flannigan's subjects are imagined characters, usually women. In her series of "Femmes Fatales" lithographs, made in 2000, each woman is named after a poisonous flower, and Belladonna has more than a touch of Myra Hindley about her. However, Flannigan balances perceptions and questions stereotypes, depicting women who are wide-eyed and vulnerable rather than fearsome. Any threat is in the eye of the beholder.
The Egyptian Spearess, by Euan Uglow
Maya Holliss explores the connections between women's fertility and the oceans, drawing out the similarities between ultrasound images and deep ocean photography. Norwegian artist Kristin Nordhøy translates her drawing process into printmaking for the first time, and Jenny Pope uses found objects to create "tools for dealing with change" – a Panic Button, the Anxiety Calibrator (with its coiled spring) and a device for unpicking a tangle of illogical fears. These are witty, compassionate works, not addressing gender as such but human experience, perhaps particularly in the last year.
Exhibitions which focus on sculpture are comparatively rare, says the email from the Compass Gallery, and I have to admit, now I come to think about it, they're right. A Focus on Sculpture majors on small-scale objects by contemporary sculptors, and a few others from the last century. There's Head of Meg by JD Fergusson, a painted head by Ana Maria Pacheco, and a small Egyptian spear-bearer by the painter Euan Uglow. William McCance, best known for his Vorticist paintings of the 1920s, is represented by a series of charming bronze cats.
There are a number of nudes by veteran Scots sculptor Vincent Butler, who died in 2017, and stylised figures by German Max Sollner, which seem to come straight out of the tradition of European modernism. There's Winter Dreaming, a magical little scene by Anne Morrison, made from driftwood, ceramic and metal, and a selection of characteristic figurative works by Simon Manby.
Robert Truscott is a contemporary sculptor working in a traditional style. His ballet dancers are exquisite, and his battle-weary Retreating Horse conveys its mood in its posture and movement. There are horses, too, by Andy Scott, the creator of the Kelpies, and impressive macaques by Angela Hunter. Her female figure pushing against an invisible barrier would be a fine addition to Choose to Challenge.
Monkeys, by Angela Hunter
Even on a small scale, sculpture plays with size: Shona Kinloch's great, lumbering pigeons contrast with Christian Pomeroy's scale model of the Finnieston Crane at 5cm high (you can also buy a flat-pack version to build at home). One of the highlights is a small collection of works by Doug Cocker, mainly in wood, which have all the inventiveness of his larger pieces. Works like Time Table and God and The Weight, show that small sculptures can be full of big ideas.
Many of the rainbows stuck up in windows at the start of lockdown have faded after a year, but there is nothing faded about the rainbow colours in Jenny Matthews' new show. Matthews is a watercolourist, and though she is a fine portrait painter and began painting landscapes, too, during a residency in Italy in 2017, this show takes her back to her core subject: flowers.
Flower painting was once thought to be one of the few quarters of art appropriate for women, but Matthews' work is a long way from the watercolour painting once considered a "feminine accomplishment." She continues to push her skills in new directions, from Deep Purple Cornflower, which sets flowers against a densely patterned background, to From Sue: Impression which uses collage and is close to abstraction.
Matthews studied botanical painting under Elizabeth Blackadder and, like Blackadder's, her paintings sometimes look like botanical studies, though they are anything but. Her bright dahlias and orange poppies might look precise but, in fact, she manipulates very wet paint skilfully to capture the movement and personality of the plant.
Gaura and Verbena, by Jenny Matthews
While in these works the paint is more carefully controlled, in others she lets it go, creating colourful washes across the paper. In Chaotic Sweet Peas she lets colour and flowers run riot, defining only the petals with angular near-abstract shapes.
Night-time garden scenes are another innovation, the flowers picked out in twilight colours against dark skies. And in paintings like Past It and Memory of Summer she paints dying flowers, capturing not full-bloom perfection but a poignant moment of change.
What can I say? It's all delightful. With spring taking its time to arrive, and lockdown not yet easing, a riot of floral colour is exactly what we need.
A message from the Editor:
Thank you for reading this article. We're more reliant on your support than ever as the shift in consumer habits brought about by coronavirus impacts our advertisers.