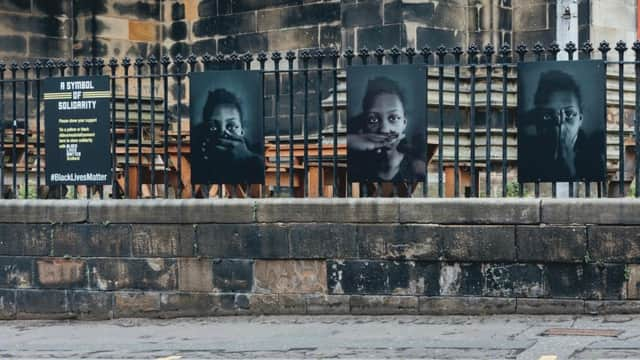 Susan Macintosh, Birch Tree Gallery, Edinburgh ****
Black Lives Matter has grown into a powerful movement. Nevertheless, to some its origins will seem far away from Scotland and so the cause perhaps less urgent here. After all, it was in the US that George Floyd was murdered by police. But in 2015 Sheku Bayoh died in police custody in Kirkcaldy. You cannot distance that, and what a grim abuse of words it is. Custody implies care. Under what kind of care can an apparently healthy man die? Artist Abigail Mills, who calls herself Abz and describes herself as "a queer Scottish tattoo artist with a Scottish mother and a Jamaican father," comes from Kirkcaldy. For her, Sheku Bayoh's death was frighteningly close to home. In response she has taken up the cause of Black Lives Matter. She saw that the closure of the theatres, unhappy though it is, was as an opportunity. All that on site publicity space that usually tells us what's on was lying idle. The theatres agreed to her using it and she began with more than 20 posters around the Traverse, Usher Hall and Lyceum in Edinburgh. Now the campaign has spread to the other Edinburgh theatres, to theatres in Glasgow and elsewhere around the country, under the banner of the Black Lives Matter Mural Trail.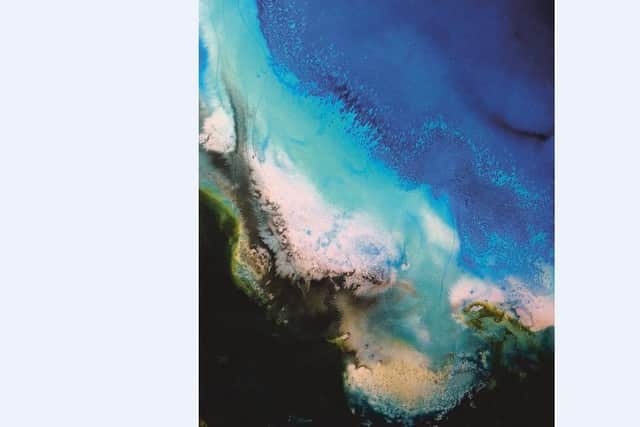 It begins with a declaration and a challenge: "This Scotland wide mural project is a statement of solidarity with Black Lives Matter. It's a call out to the people of Scotland to challenge racism wherever you see it..." As well as words, however, Abz has also contributed three striking imaginary portraits with slogan titles, Empower, Human and Visibility. A fourth image is a reprise of the pleading slave used as a symbol of their cause by the Anti-Slavery campaign 200 years ago with the caption: "Am I not a man and a brother?" But now he is without his chains and that is almost worse. He has lost his chains but is still not free. Her portrait captioned Human, a black man holding a skull as symbol of our common humanity, aptly mirrors the point of this image.But Abz has not carried the campaign on her own. Many others have contributed and indeed several posters are headed Symbols of Solidarity with supporting contributions. Artist Rudy Vitoria has provided portraits of three black women, his grandmother and great aunts who have inspired him: Vitoria "Toya" Lima, a nurse, he calls The Healer; Martina "Marta" Bento, a midwife, he calls The Nurturer and Maria "Betty" Delgado, a school teacher, he calls The Teacher. They were all successful and a great example to him yet came, he says, from "possibly the most overlooked and underrated demographic in modern society." Their portraits look intentionally like faded posters of sometime pop idols.
Emeli Sandé has contributed a lyric that focuses the challenge we all face: "You've got the words to change a nation / But you're biting your tongue." Other musicians too have contributed words from their songs. Soom T, for instance, a Scottish singer who describes herself as "a ragamuffin Princess of Indian origin," contributes the words of a song that suggest a chilling analogy between the slave raiders of the past and the immigration officials of the present. "People driven into places where dark tyrants come with their weapons of silence" could describe equally well events in the 18th century or the 21st. Writer and director Annie George touches on a truth behind all this in the last two lines of a quotation from her play Home is not the Place: "We are history poured out onto fragile pages." Just how fragile the brutal deaths that have triggered this campaign show only too clearly. Black Lives Matter for all of us. This is not just another liberal cause. Its concerns are very close to home and run very deep. I am not sure though if I would go quite as far as Abz when she says in one of her posters: "In Scotland our society and attitudes are shaped by our history rooted in slavery, colonialism and imperialism." Campaigns like this one have to simplify, but whatever our share of imperial history, Scottish history is rooted in much else besides, not least the Enlightenment. It gave us the values by which these things became unacceptable and which ultimately still power this campaign.
In an altogether gentler mood, Susan Macintosh paints luminous, atmospheric paintings combining to great effect the transparency of watercolour and the intensity of ink. When she has exhibited recently in the major society shows like the RSW, for instance, her paintings have hung free, just a big sheet of paper hanging loose and unconfined like an oriental scroll. For her show at the Birch Tree Gallery, however, to find a commercial market she has had to frame them. It's practical, no doubt, but they do look imprisoned. For the larger paintings like Squall Passing St Kilda, for instance, about a metre high, she has compromised, accepting the frame but not the glass. It is unusual to see a watercolour unglazed, but it is refreshing. The surface is more delicate than an oil painting, but its texture matters all the same. Not all her paintings are as stormy as this one, however. Perhaps rather paradoxically, the effect of lockdown on her art has apparently been to encourage calm, not agitation. A series of gentler, blue paintings of calm seas and distant islands has resulted, but she has also turned inland to green and earthy landscapes as she has done in Warm Earth near Kingston. A bit of calm for all of us, perhaps. n
The Black Lives Matter Mural Trail, various locations around Scotland, see www.wezi.uk/blm-mural-trail; Susan Macintosh until 12 September
A message from the Editor:
Thank you for reading this story on our website. While I have your attention, I also have an important request to make of you.
The dramatic events of 2020 are having a major impact on many of our advertisers - and consequently the revenue we receive. We are now more reliant than ever on you taking out a digital subscription to support our journalism.