Art reviews: Beagles & Ramsay | Rhona Mühlebach | Alberta Whittle
In their playful show at GoMA, John Beagles and Graham Ramsay blur the boundaries between fashion and art, drawing attention to the fact that we are all consumers of both, writes Susan Mansfield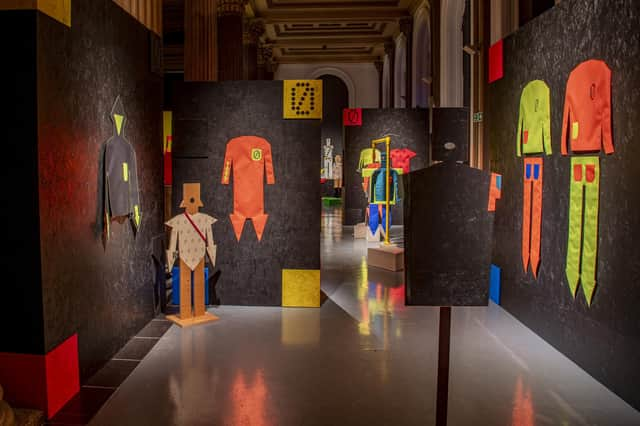 Beagles & Ramsay: NHOTB & RAD, Gallery of Modern Art, Glasgow ****
Rhona Mühlebach: Ditch Me, CCA, Glasgow ***
Alberta Whittle: "Even in the most beautiful place in the world, our breath can falter", Modern Institute, Glasgow ****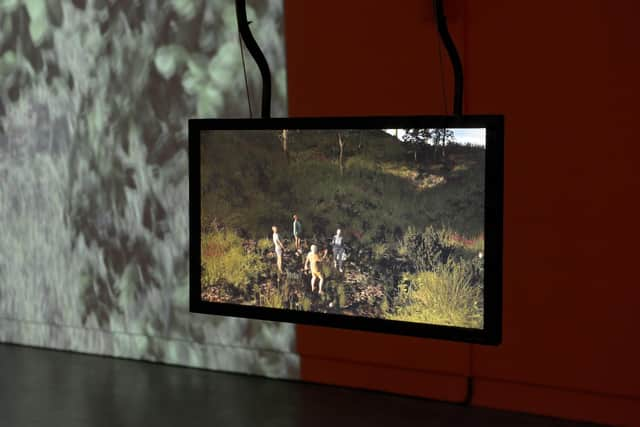 How to follow Banksy? Such was the challenge facing the programmers at Gallery of Modern Art, Glasgow. After a retrospective like no other, which transformed the gallery's ground floor space and attracted an audience far wider than the usual contemporary art crowd, what to do next, and might it be possible to entice that audience back?
Glasgow-based collaborators John Beagles and Graham Ramsay are embedded in the city's contemporary art scene but have always had an eye for the offbeat, the humorous and the spectacle. Their ambitious transformation of Gallery 1 is not Banksy, of course, but is surely quirky and intriguing enough to persuade some of his crowd to make a return visit.
They reimagine the space as an upscale fashion store, not unlike some of those which used to populate this part of town before high street shopping went into decline. The brand, NHOTB & RAD (New Heads on the Block and Rope-A-Dope, the pair's alter egos), presents three collections: a couture line on a fractured catwalk led by a two-metre high sculptural ballgown; a ready-to-wear office collection and a hybrid sportswear line.
The attention to detail is immaculate, with branded labels, bags and lanyards, rails and displays. Populating the space are more than 80 wooden figures made from flat-pack office furniture and reclaimed retail displays, each one unique. Their digitised avatars appear in several films which seem to suggest the whole environment could also be the set for an immersive video game. There is no interpretation other than a welcome to the store.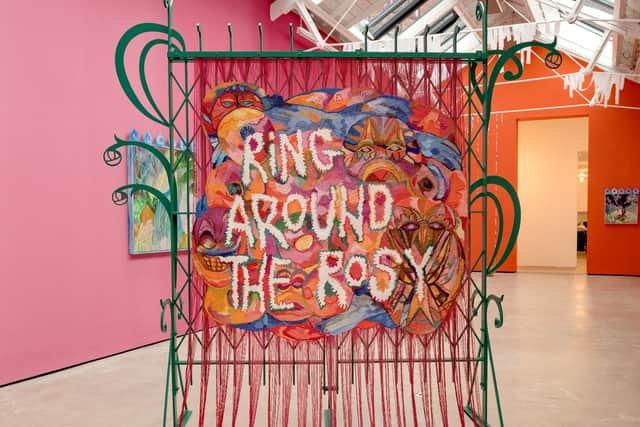 The size of the space means that not only is this dimly lit environment immersive, the artists are able to create different moods within it. If the area nearest the entrance is slick and ordered, by the time we reach the back this is falling apart: figures are broken or collapsed, lolling on the furniture or hanging out menacingly in groups. It's as if the anonymous drones of the consumer society have discovered their own rage against the machine.
It's a major show by the duo who have worked together since 1996 (the same year GoMA was founded). Now both teach in Scottish art schools – John Beagles at Edinburgh College of Art, Graham Ramsay on Glasgow's MFA course – passing on their expertise to the next generation of artists, but clearly they have not lost their playful, subversive edge.
Nor their incisive seriousness. By blurring the boundaries between fashion and art, they draw attention to the fact that we are all consumers of both. They also point up disparities in wealth: high fashion co-opts ideas from the streets, then sells them back to ordinary consumers at prices few can afford. Yet, they do this in a way which suggests resistance is not only possible, but fruitful. Banksy would be proud.
Rhona Mühlebach's show at CCA is similarly immersive, the first major exhibition in a UK public institution for the Swiss-born artist who graduated from Glasgow School of Art's MFA course in 2017. Mühlebach's principal medium is film, and her work often explores relationships to animals, landscape and the natural world.
This project seems to have begun with an interest in the Antonine Wall, the Romans' most northerly border in the British Isles, or at least with the ditch which is now the monument's most prominent feature. What might have started as disappointment – expecting a wall, and finding a ditch – is flipped into a celebration of ditch-ness, the joy of "ditching" things, people, ideas you no longer need and even "being ditched".
In an invented ditch landscape, a series of dramatic vignettes play out on small screens suspended from the ceiling against the vast backdrop of a CGI-generated ditch. Scottish actor Adura Onashile speaks movingly about what it means to care. Two people band together and "ditch" a third from their company. Characters mingle from different time periods, from Roman Britain to the present day, including a talking pine marten and a Renaissance portraitist with a Border terrier called Baba. The ditch even has its own creation myth: birthed by (sentient) slime mould out of its rage at people's continued search for meaning in the randomness of life.
The mix of live-action footage and CGI, of actors and avatars, is disconcerting – it's clearly meant to be, as is the jaunty background music, despite attendant topics like "the end of the world". Then, in the Epilogue, the entire cast appear in the ditch to perform a final song, scored by Mühlebach's collaborator, composer William Aikman.
It's an ambitious work which is sometimes absurd, sometimes unsettling, often both. If its various stories have a common theme, it might be about borders, about whether the ditch divides or connects, whether it might be (as the talking pine marten contends) a "corridor of opportunity". At the same time, it feels wrong to search too much for seriousness in a work which should be received in the playful spirit in which it is delivered.
Meanwhile, the unstoppable Alberta Whittle, represented by the Modern Institute since summer 2022, presents her first solo show at the gallery, concurrent with her exhibition at the Scottish National Gallery of Modern Art, which presents, and augments, her Venice Biennale work. In that show, she included a body of her paintings for the first time admitting she felt "shy" about showing them, and here, the paintings take centre stage.
However, they are presented within an immersive environment with her customary attention to detail: the wall colour grades from lilac through pink to orange, the colours of sunrises and sunsets in Barbados; a new tapestry made by Dovecot Studios (with whom she made a work for Venice) is presented on a metal gate designed by Whittle with flourishes and Mackintosh roses. Sculptures of beads, rope, tambourines and cowrie shells sit alongside the paintings, which are in customised frames with Barbadian fretwork.
The ideas which shaped this work are disparate: the title comes from Jean Rhys' Wide Sargasso Sea; Whittle says she was reading Ten Poems on Kindness, edited by Jackie Kay; her ancestors are hinted at, though their faces are usually hidden. Landscapes are lush, the colours fantastical, and there are strong overtones of Caribbean gothic: two paintings, in particular, feature skeletons becoming animated, perhaps to avenge the injustice they suffered in life. The tapestry bears the words "Ring around the Rosy", a line from a nursery rhyme with a possible history in the Great Plague.
Whittle's work is about holding tensions: the legacy of the slave trade and today's endemic racism held alongside the realities of beautiful places, good memories, the impulse to be kind. Here, these opposing forces pull us strongly in different ways. And the skeletons feel like something new, as does a small, potent sculpture based around a clay mask, titled Opening the way requires a wish. These are powerful, dark works and one wonders what would happen if Whittle did not adorn them with flowers and gentleness and allowed that old anger space to bloom.
Beagles & Ramsay ends 28 April 2024; Rhona Mühlebach ends 2 December; Alberta Whittle ends 11 November