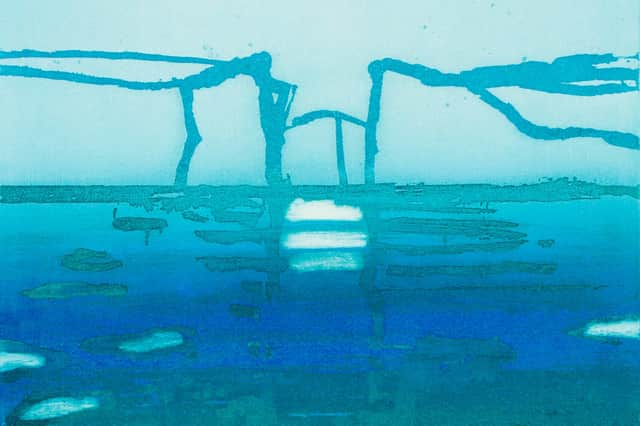 Sea Ice Illulissat (detail) by Barbara Rae
Barbara Rae, Peacock and the Worm, Aberdeen ****
Chris Johanson: Subject Matter, Unblivion, Peace Train of Thought – How I Figured Out How To Have A Show in 2021, Modern Institute, Glasgow ****
Jesse Wine: Carve a Hole in the rain for yer, Modern Institute, Glasgow ****
To Pathway, Away by Chris Johanson PIC: Patrick Jameson
The relationship between an artist and a printmaker is a particular kind of collaboration. Printmaking is an artisan process and a master printmaker can conjure results from a printing press which far surpass what the machine ought to be capable of. This is surely the case in a show on Artsy organised by Aberdeen's Peacock and the Worm, which celebrates the work done by Barbara Rae with Peacock's master printmaker Michael Waight over a 15-year period.
Rae's work is rooted in landscape, but leans towards abstraction. Colour is very important, whether the heat-soaked colours of Spain or the blues, greens and greys of the Arctic. To achieve depth and nuance of colour in oils is one thing, to do it on a printing press is quite another.
So the vibrant reds of Red Sanctuary, or the birds soaring against an orange-gold sky in Sanctuary – Spring, the spectrum of shades in the Spanish"Orgiva" series, or the different kinds of darkness in Achill Evening are remarkable achievements. But it's not only about colour, it's about texture and detail. Works such as Night Beach and Sea Ice - Ilulissat showcase elements of Rae's fine draughtsmanship as well as her strength as a colourist.
It's always a pleasure to revisit her Arctic work, made as a result of three separate voyages to the North West Passage, and the subject of a major show at the RSA in 2018. These dramatic landscapes of cliffs and icebergs challenged her to push her work in a new direction and confirmed her as an artist at the height of her powers using every medium at her disposal – including the magic of printmaking.
South of Grenada (detail) by Barbara Rae
Meanwhile, at the Modern Institute's Airds Lane space, American artist Chris Johanson lays bare his experiences of trying to make art in a pandemic. Johanson found himself in lockdown on America's west coast with a triple whammy of anxieties: the pandemic, wild fires in California and the worsening US political situation. It was a challenge just to stay calm.
He describes the paintings on the walls as "meditation paintings." Largely abstract, with highly patterned swirls of colour, they are his attempt to "reduce the noise of my life." They are pleasing to look at, but this is not escapism, it is the record of a journey: one or two seem unfinished, or the firm lines of the pattern seem to dissolve into something less controlled. The titles are chains of provisional words.
In the more figurative works, he seems to be trying to make peace with the situation in which he finds himself: figures are isolated, sitting, standing, kneeling, walled off from one another, yet not distressed. Pale faces look out poignantly from raw canvas. In Untitled (The 2020 Coexistence in Pandemic Peace Piece), people are making the most of life as they can: catching up on their reading, having socially distanced barbecues.
Johanson goes still further and lays out part of his process on wooden tables in the centre of the space. These works are more raw, sketches, cartoons, photographs, often scrawled with words: "I'm ok, you're ok?", "Occupy time", "Who knows." In several of them, masked faces sit anxiously on trains. Without this, the swirling colours risk being dismissed as works of psychedelic serenity. As it is, they are hard won acts of peace in a year of plague and anxiety, shot through with hopeful possibilities.
With, Reprieve, This Way, Maybe There by Chris Johanson PIC: Patrick Jameson
It doesn't feel helpful to read the work of Cheshire-born, New York-based sculptor Jesse Wine as a response to recent events. His sculptures seem to operate on their own terms, engaging provocatively in dialogue with various periods of art history, from classicism and the Renaissance to Surrealism.
Wine works with ceramics, and his concern is with the human form, or parts of it, at least. The first work we see is a life-size mattress, with two giant legs and an arm protruding from it at awkward angles. In other works, a human leg seems to emerge from a solid block, a half-hand seems to pinch its edge. In a piece called Presently, a forest of jostling limbs emerge from a panel on the floor, the colour of the oxidised copper used in public statuary.
On Time has the lower half of a classical statue, while above the waist it breaks into abstraction, with two curving tubes heading off in opposite directions. It is vividly blue. Other works are orange, green, rust-brown. A series of hollow glass heads lie on the floor, some of which seem to contain unopened mail.
If there is a playfulness about all this, the solidness of the forms and the evident attention and skill which has gone into making them seems to work against it. One suspects they are more powerful viewed in person than online. Nevertheless, their quirkiness invites human interaction, or at least speculation. Perhaps they are mythical beings imprisoned in blocks of ice by petulant gods. Or people paralysed in their domestic worlds by nearly a year of lockdown. Perhaps an element of this is about the pandemic after all.
Carve a hole in the rain for yer by Jesse Wine PIC: Patrick Jameson
A message from the Editor:
Thank you for reading this article. We're more reliant on your support than ever as the shift in consumer habits brought about by coronavirus impacts our advertisers.