Art reviews: Art Night Dundee | Banksy: Cut & Run
It may only have lasted for a few hours, but the intensity of the moment is what gave Dundee Art Night its magical quality, writes Susan Mansfield
Art Night Dundee, various venues ****
Banksy: Cut & Run, Gallery of Modern Art, Glasgow ***
The art world tends to play a long game. The longer an exhibition runs, the more people will see it; keep a work for long enough and its value might rise. Art Night, which had its first full iteration outside London in Dundee on 24 June, is a celebration of the opposite: a city-wide contemporary art festival which lasts only one night.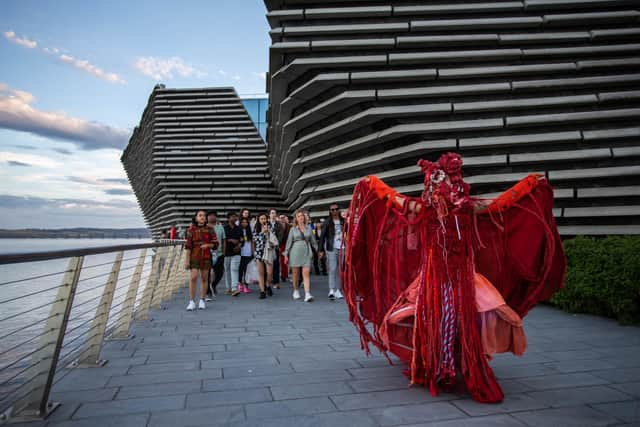 Of Art Night's ten new commissions, some do have a longer life. Maria Fusco and Margaret Salmon's film, History of the Present, will be shown again at the Edinburgh Art Festival. Heather Phillipson's film, Dream Land, is at the Cooper Gallery until 1 July and has has been acquired by Dundee's McManus Galleries. Saoirse Amira Anis' performance for Art Night is an element of (in some ways, the completion of) a show which runs at Dundee Contemporary Arts until 6 August. But the intensity of the moment is what gave Art Night its magical quality, helped along by glorious sunshine.
Phillipson, who was nominated for last year's Turner Prize, has stitched together wildlife footage from the BBC archive to make a film; the audience sits on logs in an area framed by screens and smelling of fresh woodchips. Instead of an all-knowing David Attenborough voice, the narration comes from the creatures themselves: a grub, a caterpillar, a fox, an owl, a dung beetle, and on, and on.
We have the sense that the world they inhabit is vanishing, being remade, changing before we have properly realised how vibrant and strange and beautiful it is. Somehow it manages to be both life-affirming and a cautionary tale, and its immersive nature set the tone for a night which would take on the quality of a slightly altered reality.
Saoirse Amira Anis' show at DCA, Symphony for a Fraying Body, focusses on a figure from mythology, drawing on Anis' Moroccan and Scottish backgrounds. In the central film, this many-tentacled creature, clad in a hand-dyed costume of resplendent red, emerges from a cave, dances by a waterfall and on a beach, an emblem of strength and rage, ultimately finding peace. Sculptural elements in the show echo aspects of the costume. For Art Night, Anis donned the tentacles herself, leading a three-stage procession from DCA to HMS Unicorn at the waterfront, mirroring the journey of the film.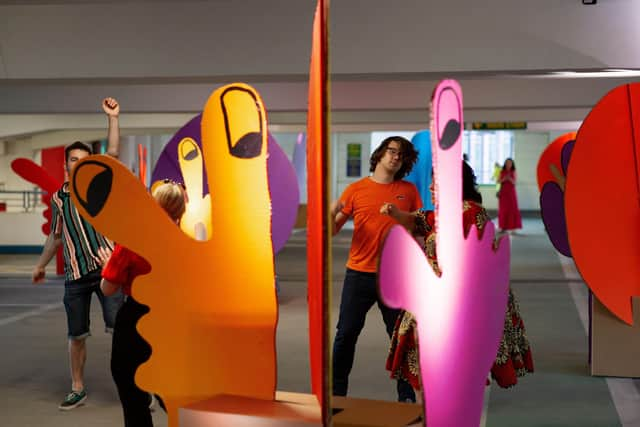 There is anger and strength a-plenty in Tai Shani's densely woven film, My Bodily Remains, Your Bodily Remains, And All The Bodily Remains That Ever Were, And Ever Will Be, which was shown at the Little Theatre, Dundee's am-dram HQ. Anger, love, rebellion, politics, death, poison, obsession, a critique of capitalism – it's a dense mish-mash of imagery and ideas and, at 75 minutes long, the intense monologues and mesmeric music are somewhat exhausting. It would take more than one viewing to get its measure.
If Anis' creature is wordless, and Shani's four protagonists have more than enough to say, History of the Present, by Maria Fusco and Margaret Salmon, is about finding a voice. Drawing on the communities of Belfast in the Troubles in which Fusco grew up, it asks who can speak and who is silenced. Salmon's superb footage places us in the domestic sphere, with those watching events unfold through windows, or the frosted glass of a front door, conducting ordinary life in the shadow of peace walls which tower over modest brick homes. Opera singer Héloise Werner improvises what sounds like a literal struggle to find a voice, while Annea Lockwood's unsettling metallic soundtrack creates unease in the subconscious. It's a strong, difficult work.
There's a happier kind of voice-finding at the performance orchestrated by sound artist and composer Richey Carey in the acoustically splendid Baxter Park Pavillion. Hearing singers from choirs around the city find and hold their own note, then gradually tune in to one another until they reach a kind of harmony, was a surprisingly moving experience – a metaphor, perhaps, for a way of being in the world.
This is emblematic of the kind of magical experience which continued throughout the evening: a rave in a multi-storey car park staged by artist Emma Hart, among brightly coloured cardboard sculptures; the sound of a violin, carried on the air from the deck of RSS Discovery, part of the programme organised by Nabihah Iqbal; saxophone playing and mesmering dance by Sarah White and tyroneisaacstuart in Slessor Gardens as the light eventually faded and a quarter moon grew bright. This last was organised by Dundee-based Nomas Projects, part of the multi-faceted grassroots InWith programme. These are the experiences which linger when one wakes up the next morning to a cloudy sky and wonders if one didn't dream it all.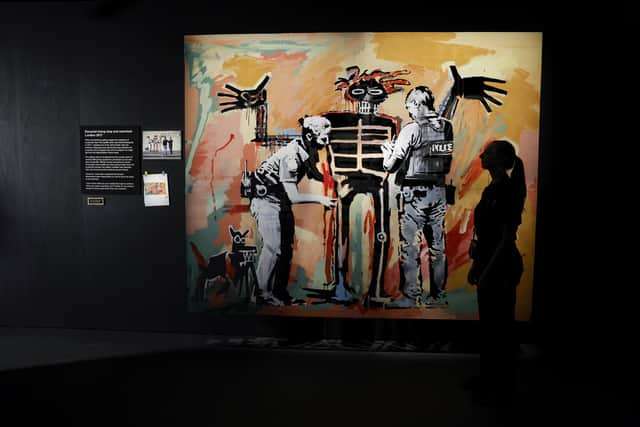 Thence, in the real world, to Glasgow, where the Banksy retrospective at GoMA has queues snaking round the building in the rain. The elusive graffiti artist has said he chose this venue for his first gallery show for 14 years because of the Wellington statue outside and its permanent traffic cone, his "favourite work for art in the UK". Demand is such that the show is open daily until 11pm (5am at weekends) and visitors willingly endure putting their mobile phones into locked pouches to deter selfie-takers.
It feels like no expense has been spared in the big ground floor gallery, which now houses a network of rooms displaying 25 years of Banksy stencils. He kept them hidden, he says, because they could be used in charges of criminal damage. "However, that moment seems to have passed, so now I'm exhibiting them as works of art." They're displayed inventively, props including a phone box, a bus shelter, a toilet (overrun by Banksy rats) and a lift (apparently, his first ever piece of graffiti was to paint a colony of ants in a lift, an act of revenge on a former employer).
In fact, we learn more about the mysterious Banksy in this show than, perhaps, anywhere else – with the exception, of course, of who he is. The accompanying text is in the first person, telling us, for example, that he abandoned lettering because he was bad at it, and once got into hot water with the makers of The Simpsons. We learn about the time he asked Keith Allen to create a diversion while he did some mischief in a museum and the secret mechanism by which he remotely shredded the painting which had just sold at Sothebys for £860,000. At the very end, we even find a replica of his teenage bedroom.
We learn that the breakthrough in his work came when he realised he could make paintings incorporating the physical features of the walls themselves. That seemed to unleash the Banksy wit, which is perhaps still where he is strongest, a master of the visual one-liner. While he comments on world events (notably in Ukraine last year, with a painting of a girl cartwheeling through the rubble), he's a practical joker with a conscience rather than a purveyor of incisive political commentary. The youth hurling the bunch of flowers, the bobbies kissing, the heart which turns "Vote leave" into "Vote love" are not revolutionary, they are a shot of warm affirmation to a liberal heart. No wonder he loves the traffic cone: it appeals to the streak of subversion in all of us.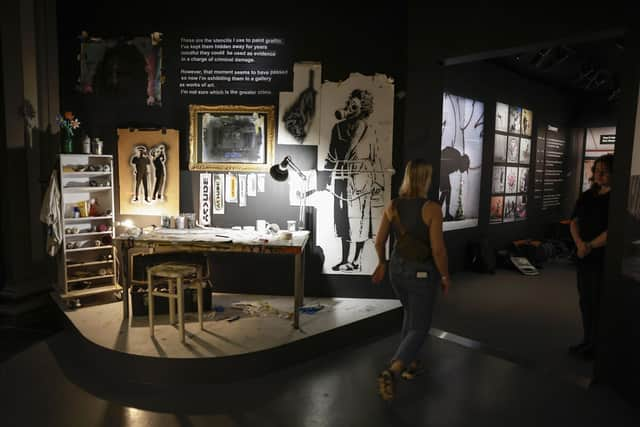 Near the end of the show, he reminds his audience that it's the works on the walls that really matter. They will endure (though perhaps not in situ, if they keep getting bought up by wealthy collectors). While he doesn't say this, his words have the effect of reminding us what we're really looking at. This show is about the stencils, the how and the why, not about showing the work itself, which might explain why it's interesting but feels just a little bit empty. This is a museum of Banksy. The real thing is out in the streets.
Heather Phillipson is at the Cooper Gallery, Dundee, until 1 July, Saoirse Amira Anis is at DCA until 6 August. Banksy: Cut & Run until 28 August.