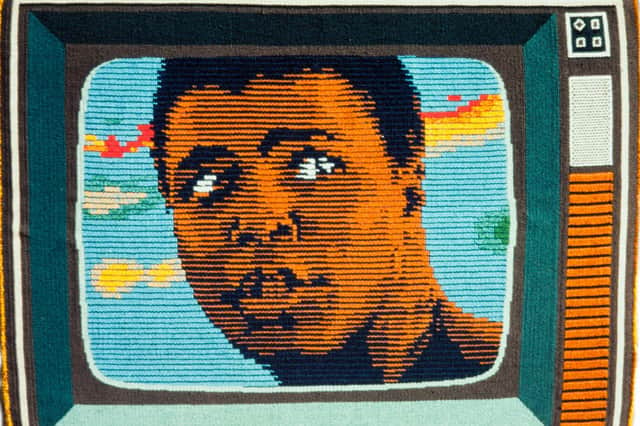 Muhammad Ali by Archie Brennan
Archie Brennan: Tapestry Goes Pop!, Dovecot Studios, Edinburgh *****
Victoria and Albert: Our Lives in Watercolour, The Queen's Gallery, Edinburgh ****
As spring opens the leaves, it is opening the galleries too. For the first time for months I am actually able to review two exhibitions, one at Dovecot and the other at the Queen's Gallery, Holyrood, not from unsatisfactory images online, but from things I have actually seen and that you will be able to see, too. Everything is not quite back to normal, however: to visit these exhibitions you will have to book online.
At a Window VI, by Archie Brennan
Of all pictorial art forms, tapestry speaks to us most by its physical presence. Correspondingly, it suffers most by being reduced to electronic two dimensionality. Its materiality, our instinctive response to the warmth of wool, subtleties of texture and the way they respond to light are all part of the experience. So it is a happy coincidence to start this new beginning with Archie Brennan: Tapestry Goes Pop! a retrospective of the late Archie Brennan. To call him a hero of tapestry sounds like an oxymoron. Tapestry, after all, is slow and painstaking. Usually cooperative and mostly made of mundane wool, it could surely never be a medium for heroes, but Archie Brennan revolutionised it. If this slow and also very expensive art form is still vital in this day and age, he had a lot to do with it.
Brennan trained as a weaver, then went to Edinburgh College of Art. There he had started a tapestry department almost before he graduated. He then became artistic director of Dovecot Studios and revolutionised it before embarking on a peripatetic life. He worked in Australia and then retreated to the South Pacific spending time in Papua New Guinea and Hawaii before ending his career in New York. He took tapestry with him and planted its seeds wherever he went.
At Dovecot he brought in leading contemporary artists. Mickey Mouse, for instance, done with Eduardo Paolozzi in 1967 is a classic. As the subtitle of the show suggests, it also points to Brennan's independent place in the art associated with giants like Paolozzi and Andy Warhol. Like them, too, his volcanic creativity was instinctively in tune with the times. This survey vividly conveys his range and inventiveness.
At Dovecot, he carried out major public commissions throughout Scotland. Aberdeen, for instance, woven for the city of Aberdeen and intended as a kind epitome of the city, is a beautiful design of leaves, light and water against an abstract rendering of the city's streets and wharves. A lovely tapestry for the National Museum is on the subject of refugees, already topical in the sixties. A big tapestry of athletes done for Meadowbank Stadium (and now redundant) plays on the lines of old black and white television.
Once Upon a Summer, Partial Self Portrait, Archie Brennan
This interest in the vehicles of modern imagery aligns him with Warhol and runs through his work. A striking head of Muhammad Ali, for instance, reduces to near abstraction the magnified dots of newsprint, but still remains legible. He does the same even more dramatically in Maybe Mrs Armstrong. He conducted a dialogue with his own favoured medium, too. He riffs on medieval tapestry in a wonderful image of two Flemish ladies gossiping at a window. He plays games with textiles within textiles. The focus in his Partial Self-Portrait, for instance, is a knitted tie. In The Spotted Dress, a whole range of patterned fabrics and what looks like a tapestry within a tapestry all coexist harmoniously in a lively design. His ingenuity and sheer skill with his medium is astonishing. A tartan scarf on a wooden table top and a tie on a wooden shelf are both actually trompe l'oeil – how on earth does he do that? A sequence called Windows, windows that are not a windows, includes some of his most striking designs. The play between pattern and spatial complexity in At a Window X, Flowers, and in French and Foreign Wines (At a Window III) is stunning and when you look closely at the sheer skill with which he does all this with woven wool and cotton, it only compounds your astonishment.
The Queen's Gallery at Holyrood is showing Victoria and Albert: Our Lives in Watercolour. The royal couple collected and commissioned watercolours of friends and family, their various houses, royal events, royal visits to France and Germany, reciprocal visits from other royalty and much else. They pasted them all into huge albums which they leafed though fondly together or showed off to visitors. Although they were pioneering enthusiasts of photography, watercolour was their preferred medium for this sentimental reminiscence. Looking at these pictures, you can see why. The colour is vivid when photography was only black and white, but, too, artists can identify faces in a crowd and put in other details a camera would miss. Indeed a painting can alter history. When the royal couple made a state visit to Paris, they were so delayed that the disappointed crowds had begun to disperse. Not so in the painting. A beautiful view of Granton by William Leighton Leitch, recording the royal arrival in Scotland in 1844, is likewise edited to improve the weather.
In Scotland, artists recorded unofficial events too. The royal couple travelled around the Cairngorms, not exactly incognito, but informally, fording rivers on horseback and staying in quite humble places, all recorded in watercolours. At the opposite end of the scale were royal visits. The reception given to Louis Phillippe and his Queen, the first meeting of French and English sovereigns since Henry VIII and Francis I met on the Field of the Cloth of Gold in 1520, is recorded with appropriate splendour. A few years later in a necessary diplomatic change of tack, Louis Phillippe's replacement, Napoleon III and his Empress, were feted equally lavishly. There are astonishing pictures here of the vast balls and magnificent banquets thrown on these and other grand occasions. On a very different note, a painting of Manchester by William Wyld shows at least 30 smoking chimneys ranged along the horizon.
Victoria herself was quite an accomplished watercolourist. When she painted much the same view of Manchester there were very few chimneys, but the Great Exhibition of 1851 showed off Britain's industrial wealth nonetheless. It was Prince Albert's special enterprise and is well recorded. So too is the couple's joint love of Scotland, or at least their romantic vision of the country. They also bought pictures of places that appealed to them. There is a very fine painting by James Giles, for instance, of Lochnagar, a mountain they had climbed. (Apparently Albert bought Balmoral unseen, but on the strength of paintings of the place by James Giles.)
Crossing the Poll Tarff, 9 October 1861, by Richard Principal Leitch
As well as numerous British artists the royal couple employed German painters like Carl Haag and Franz Xaver Winterhalter and the Swede Egron Lundgren. On the whole they were not famous names, nor did they always get paid very much, but the quality of their work is uniformly high and, kept from the light in albums, everything is in sparkling condition. After Albert's death, his inconsolable widow never added to her albums, but spent much time browsing them. They were taken apart 60 years ago, but together contained around six thousand pictures. They were indeed a happy record of her reign before the untimely death of Prince Albert, aged just 43.
A message from the Editor
Thank you for reading this article. We're more reliant on your support than ever as the shift in consumer habits brought about by coronavirus impacts our advertisers.
Queen Victoria at the Unveiling of the Statue of Prince Albert in Edinburgh, 1876, by William Simpson