Art Reviews: Anne Redpath and her Circle | The Festival Exhibition | Plum Cloutman and Georg Wilson | Eric Cruikshank | Sue Jane Taylor and Ian Westacott
It may only be modest in size, but the Anne Redpath exhibition at the Maltings in Berwick-upon-Tweed makes a strong case for its subject as one of the outstanding British painters of her generation, writes Duncan Macmillan
Anne Redpath and her Circle, The Maltings, Berwick-upon-Tweed *****
The Festival Exhibition, Fine Art Society, Edinburgh ****
Plum Cloutman and Georg Wilson: Dreamer's Eye, Arusha Gallery, Edinburgh ***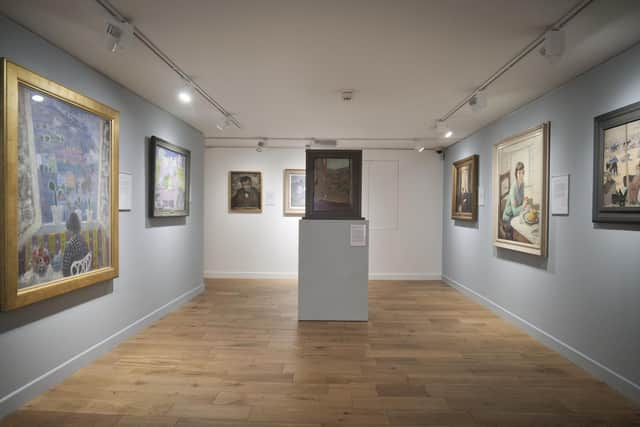 Eric Cruikshank: Light from a Shared Place, &Gallery, Edinburgh ****
Sue Jane Taylor and Ian Westacott: Nigg/Cromarty/Nigg, The Stables, Cromarty *****
Under its director James Knox, the Fleming collection has become a major generator of touring exhibitions. Currently there are two: Scottish Women Artists at Dovecot and Anne Redpath and her Circle at the Maltings, Berwick-upon-Tweed. This latter show puts Redpath where she belongs at the centre of Scottish art in the post-war years. Her "circle" in the title was a group of painter friends mostly associated with Edinburgh College of Art. Among them, William Gillies, for instance, taught at the college all his working life. John Maxwell was a close friend and also taught there from time to time. The affinity between the two painters is nicely demonstrated in this show by two matching still-lifes of flowers.
Redpath herself never taught, but was nevertheless central to the art of the time, both by her example as a painter and as a social focus. After 1949 when she moved to Edinburgh from the Borders, her flat in London Street became a place where painters like her son David Michie, Robin Philipson and others teaching at the college met outside the institution. Michie and Philipson are both in the show, Philipson with a painting of an altar that clearly shows Redpath's influence and Michie twice, once in a portrait by his mother and again a handsome painting of his own of Elizabeth Blackadder and John Houston's garden. After they married in 1956, the Houston's first home was in the same stair as Redpath – she had alerted them to the vacant flat.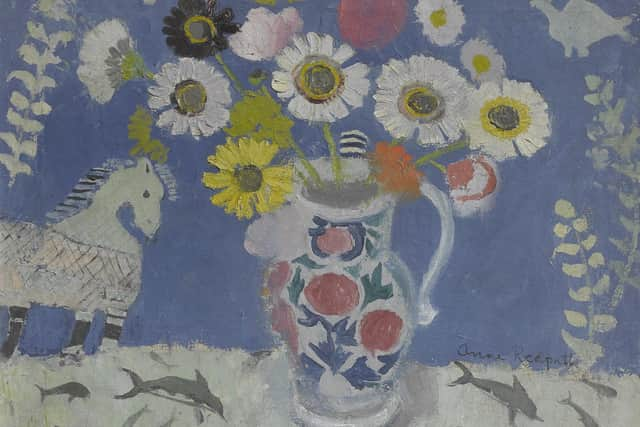 Born in the Borders, Redpath had herself been a student at Edinburgh College of Art. Graduating in 1917, she was taught among others by Dorothy Johnstone and the link with her own work is apparent in Johnstone's lovely painting of a girl sitting at a table with a bowl of fruit in front of her. DM Sutherland and David Alison, both represented here, were also among her teachers.
In 1920 Redpath married James Michie, an architect. Because of his work the couple and their growing family lived in France until 1934, when they moved to her former home in the Borders. To an extent she had put her art on hold for the sake her family, but after her return to Scotland she began to exhibit straight away. The soft harmonies and piled up composition of Houses at Ashkirk from 1935 already suggest the way she was to go, but she also still has an affinity with contemporaries like William Crozier and William MacTaggart. Crozier is represented here by two pictures on either side of a single canvas, one of Edinburgh, the other of Fiesole. MacTaggart is represented by a rather dark picture of Tyninghame.
The show begins, however, with Redpath's superb Self Portrait in a Venetian Mirror, one of several loans to the show, and the wonderful Still Life on a Blue Ground. These pictures declare at the outset just how very good she was and this quality is maintained throughout the show, for instance in paintings like The Pink Table, or Window in Menton, both from 1948. (Some of the furniture that, like the pink table, she painted to extend the aesthetic into the domestic is also on show.)
It was in the 1940s that she developed the warmth and intimacy of pictures like this, but after her move to Edinburgh her work gradually assumed the dramatic freedom of paintings like the Valley of San Martino in Corsica from around 1955, or Houses on a Hill from 1958. The latter painting is a view of houses in the Canary Islands seen against a brilliant blue sky. Blackadder's beautiful painting of a Church in Ericeira in Portugal is hung nearby pointing, not only to the affinity between the two neighbours, but also to how Redpath's habit of travelling to find her inspiration was passed on to the young couple. Travel was extremely difficult after the end of the war, but nevertheless Redpath had begun to visit France and Spain almost as soon as the war ended and Italy too later on. Travel became a principal inspiration for Houston and Blackadder in just the same way.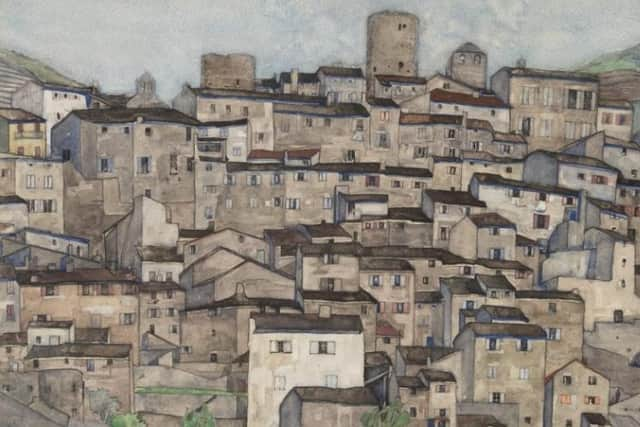 Redpath died in 1965. The paintings of her last years like Little Sanctuary, paintings of a church in Portugal, of mysterious altars in Venice, or of the magical view from a window into a Venetian Courtyard from 1964, all have a spiritual quality, but they also show how, like Joan Eardley, she was clearly in touch with the latest modern painting, yet even as she absorbed its lessons, remained very much her own artist. This is a small show, but because it is well selected and carefully hung it makes it very clear that she was one of the outstanding British painters of her generation.
There is also a dramatic, freely painted late flower piece by Anne Redpath in a show at the Fine Art Society. With a catch-all title, The Festival Exhibition is a miscellany, but as well as the Redpath, it includes a number of pictures that make it worth a visit. There is, for instance, a rare watercolour by Charles Rennie Mackintosh of Palalda in south-west France, a striking drawing by Paul Nash and a beautifully spare watercolour of Duddingston Loch by Arthur Melville.
Meanwhile just across the street, Dreamer's Eye at Arusha presents the work of Georg Wilson and Plum Cloutman. As the title suggests, both artists seem haunted. Wilson's figures appear to be dreaming, if not always happily, in strange but beautiful landscapes. Cloutman's dreams are nearer to nightmares, a girl who has set her hair on fire, for instance. They have distinct echoes of Steven Campbell except that they are tiny. In contrast to this gloom, at the &Gallery a few doors up the street, Eric Cruikshank's Light from a Shared Place is a collection of works that, although they are paintings, seem rather to be composed of nothing but coloured light.
Finally, if Berwick-on-Tweed was once a major Scottish port, so too was Cromarty at the other end of the country, but after a century or so of sleep, Cromarty was woken again by North Sea oil and the development of Nigg just across the water as a construction yard for oil rigs. At The Stables, Sue Jane Taylor and Ian Westacott have a joint show called Nigg /\ Cromarty /\ Nigg. Westacott's exquisite etchings of ancient trees are familiar perhaps but here, working on quite a large scale, some of them are truly grand. He is also showing drawings. They too are big, often on tinted paper and very beautiful. They are still of trees, but several also open up to hint at the industrial landscape of Nigg and the Cromarty Firth. This connects to the title and so also to Sue Jane Taylor's work. This was done when she was artist in residence at Nigg and recorded some of the astonishing machinery involved in decommissioning the North Sea oil wells. How, for instance, do you plug an oil well? Here is a superb drawing of the enormous machinery you would have to use. Some of the images are quite surreal while oil workers dressed in full kit could have walked out of Star Wars. More hopefully, too, she has given us a glimpse of the future with images of equally astonishing sub-sea tidal turbines from the Pentland Firth brought in for repairs and maintenance. Thus, she has given us stunning glimpses of the passing of the age of oil and of one of a power source of the future.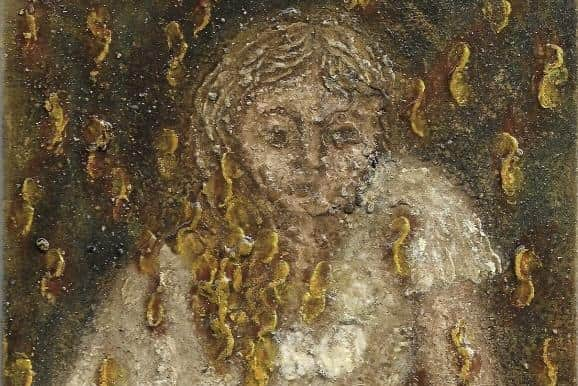 Anne Redpath and her Circle until 5 November, Festival Exhibition until 2 September; Plum Cloutman and Georg Wilson until 27 August; Eric Cruikshank until 30 August; Sue Jane Taylor and Ian Westacott until 27 August