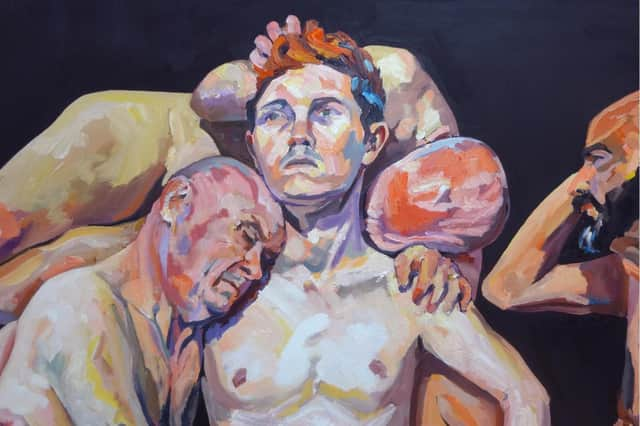 Angus Reid: Parallel Lives, Summerhall, Edinburgh ****
Jock McFadyen Goes to the Pictures, City Art Centre, Edinburgh ****
Helen Flockhart: Beasts, Arusha Gallery, Edinburgh ****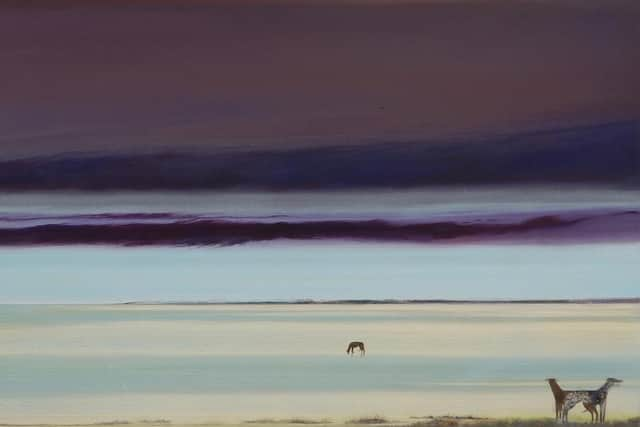 Why, even in these supposedly more liberal times, does sex still feature so powerfully in politics and religion? Religious anti-abortionists loom large in Trump's support base in America and, although they call themselves "pro-life" surely that's a cover? The real driver is denying the sexual freedom of others. Homosexuality is a similar target. Abortion and homosexuality were legalised in the UK in the same year, 1967, the swinging sixties. It was liberal moment and it bears witness to the fact that the sexual freedom of others is an issue for those who wish to to turn back the clock, as the right-wing Law and Justice Party currently in power in Poland is seeking to do.
The position of a long-standing campaigner for gay rights in Poland, Dr Tomasz Kitlinski, is witness to this. He is being prosecuted for calling out the homophobia of the Minister of Education, Przemislaw Czarnek. Kitlinski is one of the unsung heroes of gay rights whose story is told in Parallel Lives, Angus Reid's show at Summerhall. The two men go back a long way, too. The title of the show is also the title of a text that they wrote together in 1990, or rather in parallel, for the texts are published alongside each other on right and left hand pages. This was a moment of transition and their text is described as "perhaps the last book produced on Poland's samizdat presses." Reid had gone to Poland on one of Richard Demarco's trailblazing cultural journeys.
Kitlinski's story is documented here and his court case is ongoing. His crime is not that he called the Minister of Education homophobic but that in doing so he somehow offended the Polish state. The show also documents the life of Harry Whyte, a gay communist. Where Kitlinski is calling out the illiberal heirs of communism, in a letter written in 1934, Harry Whyte called out the homophobia of Stalin himself. Stalin's comment written on the letter was "An idiot and degenerate." Born in Edinburgh in 1907, Whyte was a journalist. In 1931 he joined the Communist Party and in 1932 went to work in Moscow. A copy of a Secret Intelligence report on him written in February 1932 is on display. It was perhaps being gay that gave him the unusual distinction of being an object of interest to the secret services of both sides. Not surprisingly, Whyte soon left Russia. He served the Navy during the war and returned to journalism afterwards. There are other parallel lives in the catalogue, notably that of Mark Ashton who gives an account of the support given to the Miner's Strike of 1984 by LGSM (Lesbian and Gays Support the Miners.) It is fascinating, but also makes clear a broader theme of the show, the necessary identification with the left of campaigns for homosexual rights.
All this documentation and more, together with portrait photos and several related film interviews, are displayed in the context provided by two large paintings on the walls by Reid himself. One is of two and the other of four naked men embracing. Both are life- size. These are supported by related drawings, also pretty much life-size. I won't say that these are overwhelmingly beautiful, but they have a powerful presence and they do emphatically make the central point of the show: hostility to homosexuality is a political attitude. Angus Reid is not Phidias or Praxiteles. They are sculptors anyway and nothing survives by the painters with which his work could be compared, but in ancient Greece, whence we claim to take so many of our values, male homosexual love was celebrated. Literally embodying the ideal, it inspired some of the most beautiful human images ever made.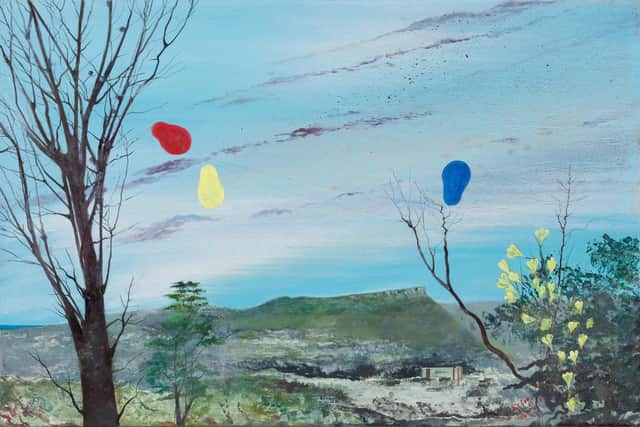 Reid is trying to reclaim a little of that ground: intimacy and physical affection, and indeed representing them, should not be a heterosexual monopoly. The two men together are in an intimate embrace, but it is mutually supportive, not sexual. Quartet is similar except that one of the men has an erection. This was an accident the artist says. His model was taken unawares and he wasn't quite sure how to deal with it in his picture. He was not planning to paint gay sex. In the end, however, he left it there or at least he painted it as it was. He was right, I am sure. It serves as a reminder that there need not be an abrupt disjunction between natural affection and sexual love. The whole show makes a fine polemic, but it is nicely nuanced too.
At the City Art Centre, Jock McFadyen Goes to the Pictures is an altogether more laid-back enterprise. The premise is simple: his works are paired with works he has chosen after combing through the City Art Centre's superb collection of Scottish art. By its nature the result is a mixed bag, but it brings out of the store some old friends and some that are less familiar and offers a range of McFadyen's own work that we might not see in a straightforward retrospective. Some pairings are simple similarities, his picture of flowers and grasses against the sea alongside a grassy clifftop by Joan Eardley, for instance, or Robert MacBryde's Woman at the fireside paired with a fireplace picture of his own.
More intriguing is the pairing of a studio portrait of a Newhaven fishwife by Thomas Begbie with a painting of a man selling used tires. There is a sort of continuity there, but it is all quite casual. McFadyen's Isle of Dogs, a naked girl sitting on the bonnet of a car with three unpromising male companions, makes a nice contrast with Eric Robertson's Love's Invading, a wonderfully erotic group of dancing naked ladies. Also comical is the pairing of Henry Lintott's Modo Crepusculare, angelic figures floating in the sky personifying dusk, with a delightful painting of a girl bouncing on a trampoline. I also particularly enjoyed McFayen's rather beautiful Esaclator paired with Matthew Inglis's uncompromising ladder studded with nails. The parallels are not meant to be profound. It is just a nice way of looking at pictures, almost like leafing though a book.
At the Arusha Gallery, Helen Flockhart's Beasts is a welcome opportunity to see a number off her whimsically surreal pictures. There are echoes of Dorothea Tanning in the strange confrontations of her heroines with lions ands swans, or lost in mazes, all in a dreamlike world. They are beautifully painted too.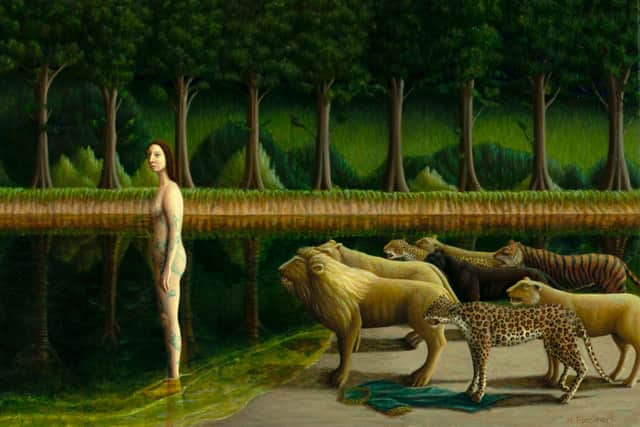 Angus Reid until 20 December; Jock McFadyen until 11 April; Helen Flockhart until 20 December
A message from the Editor:
Thank you for reading this story on our website. While I have your attention, I also have an important request to make of you.
The dramatic events of 2020 are having a major impact on many of our advertisers - and consequently the revenue we receive. We are now more reliant than ever on you taking out a digital subscription to support our journalism.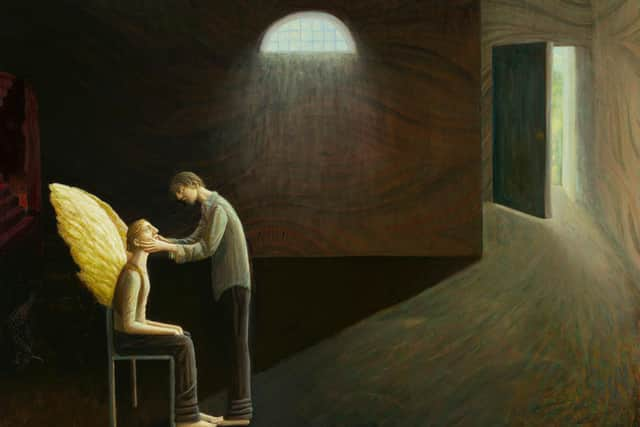 Joy Yates, Editorial Director