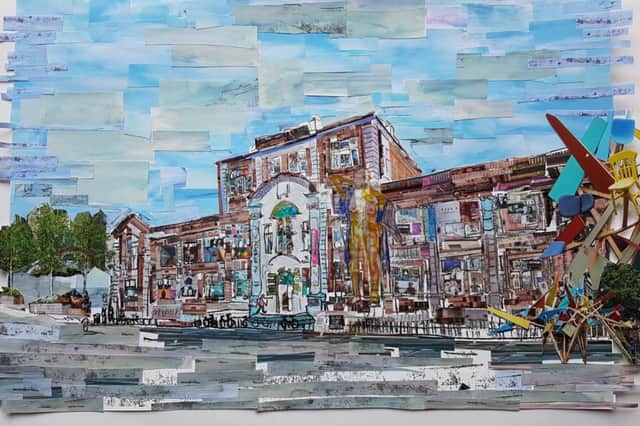 Summerhall, by Abbie Gladwin
Adjust/Adapt, Scottish Furniture Makers ***
Another event to add to the list of 2020's non-happenings is the celebration weekend for the tenth anniversary of Summerhall. Incredibly, it's now more than 10 years since the labyrinthine premises vacated by Edinburgh University's vet school was transformed into a grassrootsy multi-platform arts venue, a home for creative businesses and a thriving festival hub.
A recent statement, anticipating the tentative reopening of its courtyard after 26 April, explained that Summerhall's survival in this pandemic year was by no means guaranteed. Two crowdfunders, which raised £67,000, provided much-needed support in the early part of lockdown.
This is proof, if any is needed, that people love Summerhall, and there's further proof in this well presented online show in which 10 people – artists, writers, performers, tenants, people who just love the place – celebrate what the building means to them.
One of the great charms of Summerhall is the way its past as a vet school weaves into its present and the detritus of its old life has been allowed to linger. Novelist Jenni Fagan (who was writer in residence there in the year just prior to lockdown) has engraved lines of poetry on old animal bones found in boxes in the attic. Artist Jenny Mason, who is a tenant, appropriated a box of 1,000 Haematocrit tubes (tiny glass vessels used to sample a drop of blood) found in an old desk, and wove them into an installation with more than 3km or blood-red crocheted cord.
Tammy Watchorn took a very different approach, recreating modular aspects of the building in LEGO®: the bar, the courtyard, the large space upstairs with a Halloween party in full fling. Jane Frere, who has had several important exhibitions here, made a paper maquete using collage and drawing, while Abbie Gadwin represents the building's frontage in collage, photomontage and monoprint.
The Bone Library by Jenni Fagan
Photographer Peter Dibdin, a tenant since the early days, presents portraits of artists who have worked in the building from John Byrne and Michael Nyman to Tamsyn Challenger and Genesis P-orridge. A film featuring 250 portraits taken during the Fringe in 2012, from the stars to the bar staff (and a couple of dogs), still only captures a fraction of the whole team. The last photo in his series is of the "Daybreak covid team" of cleaners who keep the building safe today.
Music writer Julia Mason celebrates Summerhall as an independent music venue with recollections of a sell-out gig in November 2019. Poet Andres Ordorica presents two poems capturing the contrasting moods of Summerhall in and out of festival time, while performance artist Mamoru Iriguchi tells a personal story of falling in love, both with the building and with the man who is now his husband.
This is an unexpectedly moving show, not only because it reminds us of all the things we miss, but because it demonstrates how a building weaves itself into the fabric of our personal lives. One is left remembering one's own Summerhall moments (shows seen, people met, times got lost) and hoping that Summerhall – along with all our other much-loved arts venues – will be able to open its doors again soon.
Another event planned for the early part of 2021 (in this case in the City Art Centre) was Adjust/Adapt, a showcase of work by the Scottish Furniture Makers Association (SFMA), celebrating the organisation's 20th anniversary. Faced with having to stage their show online, the SFMA came up with a creative solution: presenting the work as a series of curated "still lifes" photographed and filmed in the atmospheric interior of Leith Theatre. Work by Visual Art Scotland members in textiles, ceramics and collage, was chosen to complement the furniture.
LEGO Royal Dick bar by Tammy Watchorn
Lockdown has meant that most of us are spending a lot of our time at home, with our homes becoming work and learning spaces in addition to everything else. Some makers have responded directly to this: Tom Addy's tall-backed Isolation Chair cocoons the sitter, presumably to stop them breathing on others, though one has to hope this is not the shape of chairs to come.
Home-working has got a lot of us thinking about desks, and there is a fine selection here. I can't work out if I prefer Ronnie Payne's light and airy Computer Desk, Kirsty MacDonald's wall-mounted Lunar Horizon Desk or Rob Elliot's Flow Desk, with its gorgeous curves of wood. I'm tempted by Simon Whatley's Skewed Writer's Desk (though I hope he's referring to the desk, not the writer) and I definitely covet Janie Morris' Love Desk, a double desk where partners can work face-to-face.
There are cabinets and kists, textures and layering. There's an emphasis on the natural qualities of wood, and on sustainably sourced materials. Some pieces stand out because of their simplicity, others because they are feats of craftsmanship and patience. Stephen Finch's Warp and Weft drinks cabinet combines an elegant mid-century modern shape with knotted handles of burr elm and a woven effect in its door panels.
Eoghann Menzies' Mairidh Side Cabinet, named for the Gaelic word "to endure", features embossed copper panels on the front, and has an air of Charles Rennie Mackintosh about it. Perhaps unsurprisingly, wood predominates, but it's interesting to see a few makers experimenting with other materials such as Nicholas Denney's Polychromatic Concrete Table.
Lunar Horizon Desk by Kirsty MacDonald
When all's said and done, there is something strange about looking at furniture without other people to give the objects scale and help them come alive. Like so many at the moment, SFMA are doing their best in difficult circumstances, and their work reminds us of the importance of having beautiful, well-made things around us, never more so than in these challenging times.
A message from the Editor
Thank you for reading this article. We're more reliant on your support than ever as the shift in consumer habits brought about by coronavirus impacts our advertisers.
Speyside Cabinet by Duke Christie