Art review: The Big Art Show, The Art Department, Paisley
Paisley's Big Art Show is full of joy and full of heart, but be warned: there's a lot of it, so you might need more than one visit, writes Susan Mansfield
The Big Art Show, The Art Department, Paisley ****
"You might need more than one visit," says the man who welcomes me at the door. He says it like it's a warning – and it is. That's the first and most important thing to say about Paisley's Big Art Show: it is properly big. With more than 1,700 works of art exhibited over two floors of a former department store, and a separate showcase for video art in a former Marks & Spencer unit nearby, it might be the biggest show you'll see in Scotland this year.
The first Big Art Show took place in 2022 on one floor of Paisley's former Co-op, a partnership between Outspoken Arts Scotland and Art Paisley, and a legacy of the failed City of Culture bid. It exhibited some 900 works from 1,200 submissions. This year, submissions more than doubled, with the selection panel sifting through some 2,268 works. Installation took some 100 volunteers the best part of a month.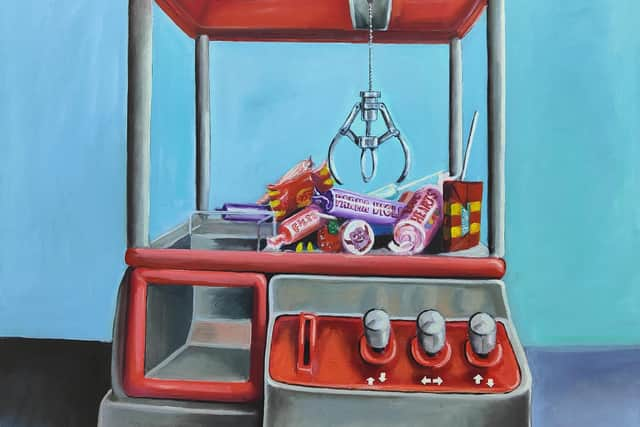 The effect is a bit like being on the inside of a kaleidoscope. Paintings are hung salon-style from floor to ceiling, covering every inch of wall and every pillar. It does mean that some works suffer from being too high, or too low, but the emphasis is on inclusion. The quality varies, but the aim is to create a joyful visual cacophony.
It has a kind of levelling effect. Paintings by hobbyists hang shoulder to shoulder with art school graduates and professionals. There's work by school pupils, by people in community groups and healthcare settings, and by those pursuing art careers from all over Scotland and further afield, from Germany, India and the USA.
The sheer dazzling number of things on display means you have to work hard to pick out individual works, but there is always something worth picking out. "People tend to need more than one visit," says the man on the first floor patiently, as he closes the grille on my first visit. In over an hour, I seem to have seen less than a quarter or what's on offer and I'm starting to wonder if the Big Art Show has defeated even me.
My second visit is on a Saturday, and there are plenty of others browsing. It makes me think about the ongoing conversation about accessibility in art: a department store is not an ideal gallery, but it's an easy saunter in from the street, there's no formal museum threshold which has to be crossed. Last year's Big Art Show attracted some 10,000 visitors, playing its own part in the patchwork of Paisley's regeneration.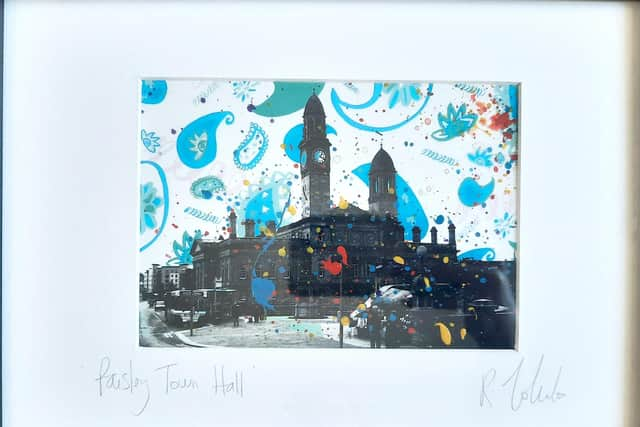 Paintings dominate the show – in all media and every genre, however, there are a small number of sculptural works which are among the first the visitor encounters. Alexander Ramsay's metalwork figures are striking and beautifully made, as are Eddie Gorman's robots made from recycled metal objects. Several artists work in ceramics: look out for Jean Campbell's nesting gannets, Katie Low's charming animals and Gayle Calderwood's poignant human characters.
Some of the largest paintings are showcased along one wall of the second floor: a pair of figurative works by Mark Mulholland, whose painting Off Grid is featured on the cover of the catalogue, a darkly striking semi-abstract landscape by Eoghann MacColl, Caroline Gormley's trompe l'oeuil painting This Is Where It All Began, an open door and receding hallway, with a cleaner's mop and bucket stationed by the threshold.
On the other walls, the paintings are arranged broadly by genre. Portraiture is a strong theme, with some artists opting for famous subjects: I spotted Billy Connolly, Salvador Dali, Frida Kahlo, and Marius Tresor. Bob Kyle captures the moody, sauntering figure of John Byrne in The Paisley Painter, Greg Moodie presents a clever collage portrait of Ivor Cutler.
Sometimes the subject is not famous, but the painting captures the essence of a person: Paul Cunningham's Lauren, Jamie Munro's Claire. The detail dazzles in Fatemah Gouljamjoo's Baby Radman. In Sarah Rundell's Mum, the personality sparkles out.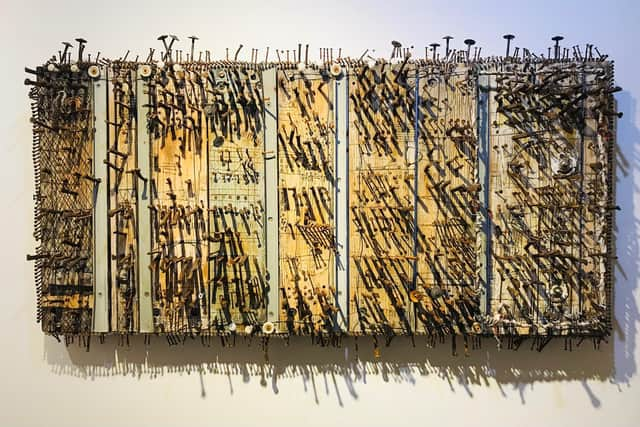 Eleanor Buffam's Mirror Mirror I & II make an atmospheric portrait in mirror image in different kinds of light. Claire MacDowell's Out of Chaos Comes Flight is an ambition melding of abstract and figure. Elena Knox paints evocative pictures of childhood such as Secret and End of Summer. Her Lost Child has a sadness which calls to mind Picasso's blue period.
Among the landscapes, there is no shortage of classic Scottish scenes, and even a Monarch of the Glen (Celia Dunn Aitken's Rannoch of the Moor, a stag with a suitably imperious expression). Jeff Hewitson's work stands out, particularly his painting of Linlithgow Palace in Winter. Michael Mullen captures every vivid leaf in A Bend in the River Lochay, Killin.
Some seek out other kinds of place, and others ways of looking: Gary James McIlhenny finds unexpected beauty in an alley in dappled sunlight in Sunny Lane near Byres Road, Glasgow. Christine Ewan's Winter Landscape tints the wintry world with pinks and lilacs. Jade Stout paints islands and coastline with strong sculptural shapes.
Still others choose the city: Rona McKerrell picks up on the strong lines of red sandstone tenements in The Blue Vase. Liz Reid makes a delicate triptych of the Barras. Paisley itself gets some attention too, with works like Stephen Murray's Silk Street, and Lil Brooks' colourful Night Watch – Paisley Cross, which captures something of the city past, present and (perhaps) future.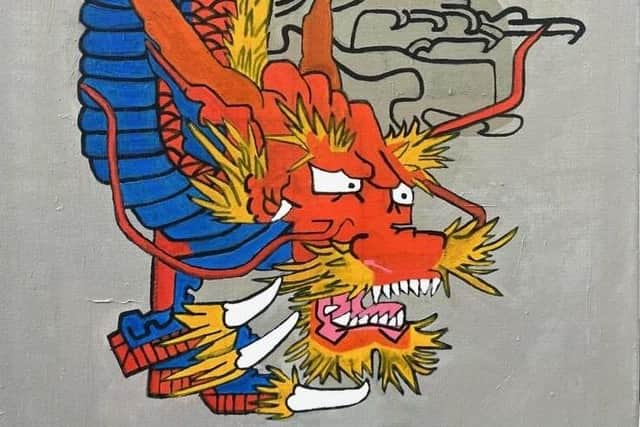 The abstract section ranges widely from hard-edged geometrical abstraction to densely patterned mandalas. Rowena Comrie's Flip Flow is bold and lyrical; Elise Allan's work rich and patterned. Kinga Elliott works with cyanotype, layering over it with ink and acrylic. Another recent graduate, April Lannigan, presents bold abstracts in shades of orange.
There are more extensive displays in the former shop windows by several featured artists including Marion Gardyne, who has a degree in textile design and uses the shapes of buildings to create kaleidoscope-like patterns, and Wendy Ferguson, whose intuitive work charts her own journey to becoming an artist with the support of Outspoken Arts.
And there's more. Animals by Sarah Locke, Louise Brown and Vanessa Reynolds; James Gibson's 3D picture of Venice; Ailsa Mitchell's collages on old book covers; Laura Pirrie's pencil drawings of people at bus stops; Beth Holmes' zebra print collage in the colours of the Ukrainian flag; Doreen Smith's large-scale photographs.
And it goes on. It really does. Paisley's Big Art Show is full of joy and full of heart, but there's a lot of it. You have been warned: it might take more than one visit.