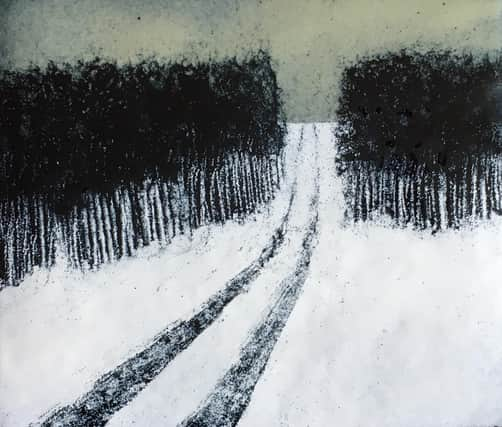 The 195th RSA Annual Exhibition ****
A year ago the RSA was on the point of hanging what should have been its 194th annual exhibition when the first lockdown happened. The work was assembled and ready to go on the walls. Then everything stopped, but with astonishing speed, the Academy photographed everything and the whole show was online in a matter of days.
Sadly this year there was no question of an actual show for the 195th exhibition, so it has been conceived online from the start. Nothing has left the artists' studios. It is all digital. The pandemic has profoundly changed our connections and whether it is Zoom chat or working from home, things will not be the same again. The RSA's experience and indeed this particular show together demonstrate how the visual arts too have changed, or at least our access to them. Just take the figures for this show. This year, including architecture, there are 317 exhibitors and nearly 600 works, 450 of them are visual art. You have to go back to the days when the annual exhibition was hung floor to ceiling with no space between the gold frames to find a similar number of works on display. What is more, if anybody complained that the RSA was too local, this year apparently the work sent in was from all over. As a result there is a much bigger international presence than ever before and the variety of names suggest it is pretty cosmopolitan.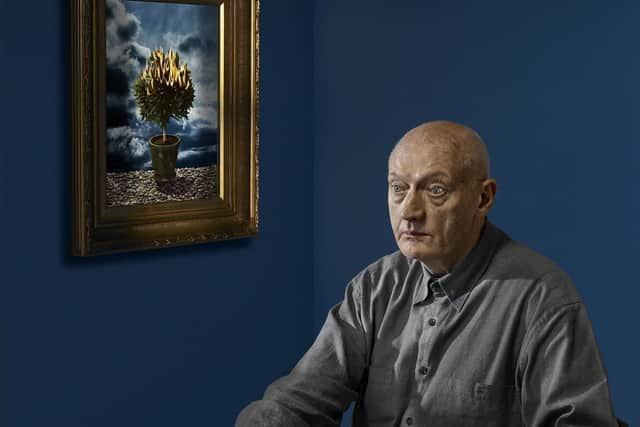 It is very hard to imagine that there could be an upside to the dreadful events of this past year, but this kind of opening up is surely a good thing. There is another point, too, made in a short film by Erica Eyers, one of a small group of invited artists. In the film, she is interviewed – for some reason she is wearing a prominent false nose – by a pointedly obsequious interviewer. Part of the conversation is about how off-putting a gallery space can be. Online is open to everybody. Social barriers are down.
We are also given various routes into what is on show. Three viewing rooms, divide alphabetically are an easy way in, but you can also browse the work thematically, by medium, or divided between academicians and non-academicians. There is also a selection of short 'in the studio' films by around fifty of the participating artists.
You are bound miss the physical presence of most of what is on view, but film is actually much more at home online than in the gallery where it always feels a little out of place and there is a plus for the viewer too. You can fast forward. You are no longer at the mercy of long-winded artistic self-indulgence. There are sixteen films altogether. Some are charming: Le Collectif REV.L for instance build a rather blissful looking swing in a narrow wooden hut aligned on the view of a mountain. Some are frustrating. Edward Summerton spends eight minutes trying to start his lawnmower under the heading Landscape Artist. others are downright alarming. In Sarah Sudhoff's Sixty Pounds of Pressure, she lies naked on the ground with eight large bricks on her chest. She struggles to breathe but mercifully after two and half minutes some one starts to remove the bricks. Juan Cruz's short film, 'I don't know what I'm doing but I'm trying very hard' is about breathing too, heavy breathing after a workout. Outstanding, though, is a two screen film by Kate Whiteford on Emily Bronte and a merlin flacon that she reared.
If you choose to browse by landscape you find a group of Barbara Rae's stunning images of the Lammermuir Hills, three prints and a mixed-media painting. (Bets are hedged though, they also appear under Abstraction.) The Language of Twilight by Victoria Crowe is a characteristically beautiful picture of trees silhouetted against the blue of twilit snow. There is also a rather mystical deep blue night landscape Veil of Mount Hara by Jon Pountain. The Har of his made-up mountain, he tells us, is like the 'har' in 'harmony' and 'harem' --- an intriguing conjunction. I have often enjoyed Anna Geerdes's slightly sinister landscapes and here Border Post is typical. A line in the grass disappears into the trees. Unobtrusive, but quietly menacing, it marks some border somewhere. Shelagh Boyle's 'Through the Trees' has a little of the same strangeness. Technically it is unusual too. It's enamel on copper (though if it was fired at 8000 degrees as the label suggests it would be very unusual indeed.) Kirstie Behrens large coloured etching of Buchaille Etive Mor is a very striking image. So too is Elspeth Lamb's collage, Vortex, a blue waterfall and red umbrella between black cliffs.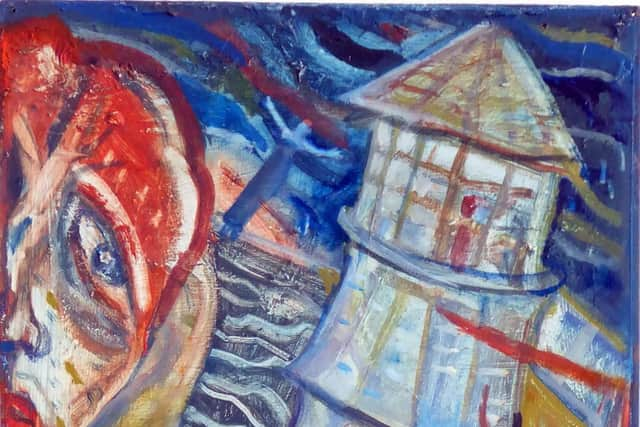 There are several photographs of landscapes of real quality, but Euan Ross's Field Lines is particularly striking. He has captured the way tracks, ditches and boundaries perform a kind of drawing on a bare hillside. Brian Caster's Storm Cloud is also a landscape or at least s sky-scape, but, in bronze, it is a thunder-cloud standing on a column of rain. Christy Symington's bust of Olaudah Equinano is another bronze. Olaudah Equinano was a former slave who later became an abolitionist. Clearly he's a candidate for that empty plinth in Bristol. A photograph of Richard Holloway by Victor Albrow is another striking portrait. Behind the former bishop is a picture of the burning bush, certainly suitably for an ecclesiastic, but on a plate in front of him, bald and unadorned, is a smoked haddock. It looks bizarre, but evidently cites a poem by the sitter describing a lockdown visit to the fishmonger.
Abstraction is another heading to browse and there are several striking abstract works. A a large composition in rhythmic lines of blue and yellow by Jean Paul Baptiste is described as a 'vector painting,' a kind of computer drawing apparently. Two small works by Rowan Paton are very attractive. Alison McWhirter's Pink Nude is a conscious riff on an image made famous by Titian, Goya and Manet, but it looks fresh all the same. A set of large abstract prints by the duo Beth Shapeero and Fraser Taylor are impressive. So too is a big, bold composition in red, blue and green by Rowena Comrie. There is much else and of course there are many fine works by the academicians whose work we see most regularly, prints by Paul Furneaux, for instance, drawings on stone by Mary Bourne, prints by Ade Addison, paintings by the president, Joyce Cairns, work by the former president Arthur Watson and a great deal else besides.
A message from the Editor: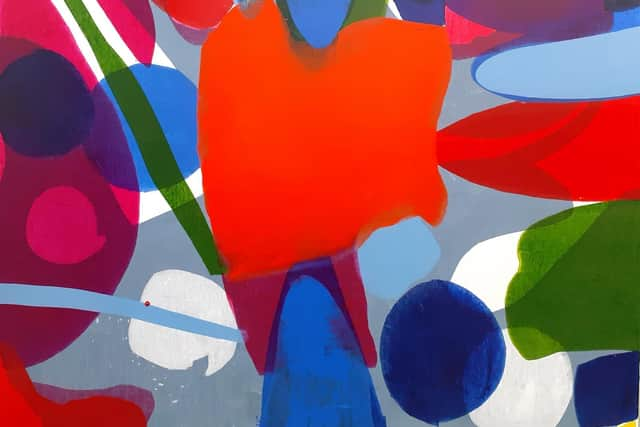 Thank you for reading this article. We're more reliant on your support than ever as the shift in consumer habits brought about by coronavirus impacts our advertisers.