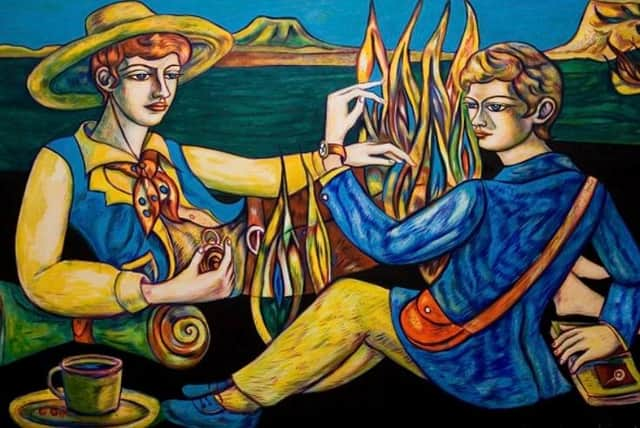 First Anachronism of the Day, by Adrian Wiszniewski
RSA Annual Exhibition 2020 – Online ****
The RSA's 194th annual exhibition should have opened at the end of March. Events overtook it. The works had all been delivered and were waiting to be hung when the lockdown happened and they had to be left where they were. Dismayed but not defeated, the Academy thought and acted quickly and, by 10 April, the selection had been finalised, the works photographed, a website prepared and the whole show put online. Not counting architecture, which is as rich and busy as ever, there are 400 works in the show. It is quite an achievement and could well mean that it is seen by millions instead of just thousands.
There are two main viewing options. The first is the Viewing Room where all the works are assembled in a random order to give some sense of the variety and occasional serendipity that you get from an actual convenor's hang. Its disadvantage is that, big or small, everything is inevitably the same size. Instead of a series of spacious rooms hung with a wide variety of works and with more on the floor, the effect is a bit like a stamp album, with rectangular images in regular rows of four. You can click on each one and see it on its own, but there is also a further, ingenious option. Click "View on a wall" and you see the work hanging on its own against a white wall with a chair to give scale. You can also move from the Viewing Room to Artists, where you get a page devoted to each individual contributor. One of the other features of the show is a group of invited artists, one chosen by each member of the hanging committee. Their work is some of the most interesting.
I catalogue all this detail, not as criticism. I think the whole thing is an astonishing achievement. I am really trying to explain the constraints that your critic is working under to try to produce some reasonably valid commentary. Entirely managed by our artists, after nearly 200 years the RSA annual is still the most important exhibition in the calendar. It deserves a proper critical response.
It may be a reflection of the way I am seeing them, or perhaps it's just the climate of the times, but things that were predominantly black were the first to catch my eye. You have to look closely, though. Isthmus 1, for instance, is a beautiful wood engraving by Susan Mannion. With a black rectangle met by a curving black feathered edge, it looks like a huge Robert Motherwell. Click on "view on a wall," however, and you realise it is tiny, only five inches square. The scale with photos is easier to guess. Euan Ross's A Quarter Dark is a photo of a black wood quartering a snowy hill. With Mary Bourne's beautiful Dark, Light, Dark, there is a different problem. The work is composed of four blocks of black marble and three of veined white. It takes a minute to realise that the five wooden plinths are not part of the work. Susie Leiper's Mottled Hill is also an image of simple black and white. A square sheet of veined black sits beneath marbled white with a narrow wedge of warm ground between them. Marian Leven's Crossings has a high horizon above what might be black sea. Lines, as though of mysterious crossings, are drawn across it.
Kirsty Behrens' Winter Wood and Gregory Moore's Drive Past are both impressive black and white prints of sombre woodlands. Anja Schiefler's Desolation, an abandoned croft house against a low, bleak moor, catches this dark mood. Michael Thomson's photo of a derelict stretch of the River Clyde with the Erskine Bridge beyond also makes beauty out of desolation.
Andrew Kinghorn's abandonment is more personal in his Portrait of the Artist Abandoned by his Muse. It is an artist's table with brushes, paint pots etcetera, all in bronze, rounded off with crumpled paper. It's more light-hearted, but Craigie Harper's Painter Provoking The Bull nevertheless suggests impending disaster. The painter is painting his canvas red. The bull is behind a very flimsy fence.
Robert Powell's Bound for Other Isolations, a nicely grotesque scene in a first class railway carriage, makes a topical gesture with its title. Jane Frere's Listen, Silent – the words are anagrams of each other – is a very fine piece of painting mimicking graffiti, but is also directly topical, and indeed, polemical. Against a red ground, two ravens, birds of ill omen, seem to have their beaks sewn up, while words like "listen," "silence" and "violence" are scratched in the paint. There is a similar perspective in Natalie Taylor's We as Women Are Earth, a wrapped cast of woman's pregnant body covered in endangered butterflies; at risk, but also symbols of regeneration and rebirth. Gary Morga's Laissez Faire Capitalism is blunt. It is a brightly coloured sculpture. A saw-toothed element painted with skulls stands above. Mysterious drawers set into a section between top and bottom suggest something, probably nasty, is concealed there while viruses or some other form of hostile microscopic life decorate the base.
There is much else to admire, of course. There are, for instance, some very fine prints. In Helen Baines's etching Creeping Pink, pink dusk glows through dark trees. Maggie Clyde's The Last Gardener is a big and powerful woodcut. Paul Furneaux's beautiful Tokyo Spring: Haar is a composite woodblock two metres across (but do they get haars in Tokyo?) Gareth Fisher's Storm is a lovely abstract watercolour. In Resonance, James Lumsden's translucent layers of colour are satisfying as always. Dawnne McGeachy's two remarkable views of the sea, apparently respectively at Campbelltown and on the Isle of Gigha, are both impressive and technically intriguing. They are made with cold wax, oil and ink. This mixture certainly captures beautifully the white of breaking waves.
There are old favourites too. Alexander Moffat commemorates the late, great Alasdair Gray with a fine portrait. Henry Kondracki's Seagull and Big Wave are, as ever, nicely painted. So are Francis Convery's landscapes, and Frances Walker's long horizontal View from Boreray is austerely beautiful. It is good to see Toby Paterson here as an invited artist. His two reliefs in acrylic on aluminium, Painting for a White Roughcast Wall and Painting for a Red Sandstone Ashlar Wall, have real authority. Andrew Stenhouse's two Amethyst Mine paintings, squares within squares, are a fitting homage to Josef Albers. More painterly, Annalisa Merrilees's 12 is a fascinating abstract image with raised bars of red concealing, but also partly revealing, something unrecognisable behind them. The very last image as you scroll down (sometimes, I confess, with a little difficulty) is a beautiful digital print of washing on a windy, sunlit beach by Stephen Druitt.
The picture to end on, however, is Patricia Macdonald's three-part Braided River. Three aerial photographs of the river Feshie in winter make wonderful abstract compositions, but taken respectively in 1988, 1995 and 2016, they also reveal thrilling regeneration of natural woodland.It is a beautiful image of hope for dark times.
www.royalscottishacademy.org