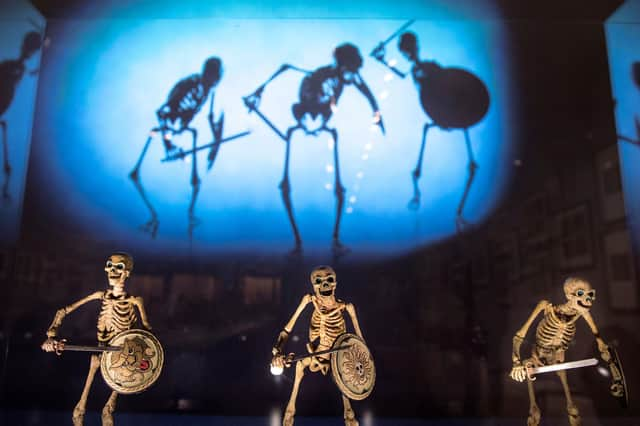 The skeletons used in Jason and the Argonauts are among the star attractions in the new exhibition. PIC: Courtesy of the National Galleries of Scotland
Ray Harryhausen: Titan of Cinema, Scottish National Gallery of Modern Art, Edinburgh ****
The announcement last year of an exhibition at National Galleries of Scotland to celebrate the work of Ray Harryhausen divided people into two categories: those avidly anticipating the chance to see, close-up, the work of a cult figure, and those wondering what all the fuss was about. So for the folk like me, who found themselves in the second category, a brief catch-up.
Harryhausen has been called the father of fantasy cinema. His stop-frame animation, creating fantastical creatures for films in the 1950s, 1960s and 1970s paved the way for later blockbusters, everything from Wallace & Gromit to Jurassic park. This is the biggest show of his work to date, marking what would have been his centenary year (he died in 2013, aged 93).
The show has a story to tell, and it does it well, beginning with the day 13-year-old Harryhausen was taken by his grandmother to see King Kong in 1933. After learning how the ape was made, he went back to see the film more than 30 times and immediately began making his own models (some of which are in the show).
By the time he was 18, he was taking classes in art and model-making, and making his first home-made films, helped by his parents, Fred and Martha. His father, who was a trained machinist, continued to make the armatures (mechanical skeletons) for his models until he died.
After he was demobbed in 1945, he managed to secure a job as assistant to Willis O'Brien, Hollywood's then master of stop-motion, who had worked on King Kong and The Lost World. Together, they began working on gorilla movie Mighty Joe Young (1949) which launched Harryhausen's career in creature features.
He then worked on a series of fantasy movies, often in partnership with producer Charles H Schneer: The Beast from 20,000 Fathoms, It Came From Beneath The Sea, Earth vs the Flying Saucers. Later, when he felt that the genre of American cities being menaced by monsters had run its course, he made three Sinbad adventures adapted from the Arabian Nights, adaptations of HG Wells, Jules Verne and Swift's Gulliver's Travels and – the film regarded as the pinnacle of his achievements – Jason and the Argonauts (1963). The last Hollywood movie he worked on was Clash of the Titans (1981).
Ray Harryhausen animating a skeleton model from The 7th Voyage of Sinbad, 1958 PIC: © The Ray and Diana Harryhausen Foundation
These films did not win Oscars, or, for the most part, collect any plaudits for the sophistication of their scripts or the believability of their plots. They were movies where a muscular hero took on a monster to rescue a scantily clad damsel (Raquel Welch's animal skin bikini in One Million Years BC is the best known example of this), and where a lot of people run around screaming. Nor have they aged well: the gallery is tripping over itself to offer repeated disclaimers on their "problematic representations of race and gender."
But the most successful of these sci-fi B-movies pulled back to the cinema a public which was in thrall to television and, in doing so, inspired a generation of film-makers about the possibilities of the big screen. Among those who cite Harryhausen as a key inspiration are George Lucas, Steven Spielberg, Peter Jackson, Tim Burton and Guillermo del Toro. They are queuing up to say that without him there could have been no Star Wars, no Lord of the Rings, no Jurassic Park, no Avatar.
The exhibition gives the impression that he was the only person working in this way at this time. Perhaps he was a one-off, but some indication of his place among his peers would be helpful. What the show does communicate throughout is his single-minded dedication and increasing skills, challenging the actors and directors he worked with to try more and more complex action sequences with his creatures.
He made all his models himself, often at home (his daughter, Vanessa, says that everything cooked in her parents' oven smelled faintly of latex) and manipulated them himself at the painstaking rate of 24 frames per second. Many of these models are in the show, from the fighting skeletons from Jason and the Argonauts to the six-legged giant octopus (two legs short of its quota due to budget restrictions) which menaced San Francisco in It Came From Beneath The Sea and the giant crab from Mysterious Island (a real crab bought by Harryhausen in Harrods, with an armature fitted in the shell).
Medusa model from Clash of the Titans, c.1979 PIC: The Ray and Diana Harryhausen Foundation / Photography: Sam Drake (National Galleries of Scotland)
We see how the models were made, thanks to a worked example of the Pegasus in Clash of the Titans. By studying the movements of real animals, Harryhausen made creatures which moved like creatures, not like "a man in a suit." And, by painstaking attention to detail, he made them come to life, giving them, by the shift in Medusa's eyes or a flick of a dinosaur's tail, moods and personalities.
He used a "sandwich format" double-screen set-up to intersect the movements of his model monsters with the pre-shot live-action footage. He was always on set, too, becoming the hands-on director of creature sequences, coaching the actors on how to spar with thin air so the animated figures could be added later. He was, one director said, the only technician who became an auteur.
All this is shown alongside film posters and memorabilia and Harryhausen's own drawings – from his early rough sketches through to beautiful finished drawings which he used to sell his ideas to studios (he was a gifted draughtsman and the influence of artists such as Gustave Doré is clear here). His storyboards are part sketches and part collages using location photographs.
The intriguing thing is that, despite showing us exactly how the magic is made, it doesn't become any less magical. If anything, it is more marvellous. This is magic in which the audience was complicit. While we can see that, at times, the workings are glossed over in fast cuts, and aficionados swear they can spot glitches in a creature's movement when Harryhausen had to answer his studio phone, but we believe it none the less. Unlike today's all-powerful digital effects and CGI, people were required to bring their imaginations, and they did. And then they enjoyed being scared by what they had imagined.
Model of the Kraken from Clash of the Titans, c.1980 by Ray Harryhausen PIC: © The Ray and Diana Harryhausen Foundation / Photography: Sam Drake (National Galleries of Scotland
The show is well thought-out, from the menacing projection of King Kong at a window to the snippets of Bernard Herrmann's dramatic scores playing in one of the galleries and the final temple-style installation to showcase five creatures from Clash of the Titans. It celebrates Harryhausen without fuss, but with a great deal of warmth and appreciation, leaving plenty of room for those category one folks who want a moment to marvel at the "real" Minotaur or Medusa or sword-flailing six-armed Kali, while also welcoming those of us in category two who want to have the story told nice and slowly from the beginning.
A message from the Editor:
Thank you for reading this story on our website. While I have your attention, I also have an important request to make of you.
The dramatic events of 2020 are having a major impact on many of our advertisers - and consequently the revenue we receive. We are now more reliant than ever on you taking out a digital subscription to support our journalism.
Copy resin model Allosaurus from One Million Years BC, c. 1965 PIC: © The Ray and Diana Harryhausen Foundation / Photography: Sam Drake / National Galleries of Scotland
Joy Yates, Editorial Director