Art review: Pittenweem Arts Festival, various venues, Pittenweem
In terms of art per square metre, the Pittenweem Arts Festival is easily giving Edinburgh a run for its money, writes Susan Mansfield
Pittenweem Arts Festival, various venues, Pittenweem ****
As Edinburgh immerses itself in the biggest arts festival in the world, it's worth remembering the other festival getting under way at the same time. The Pittenweem Arts Festival began in 1982 and celebrates its 40th iteration this year (having missed two years during the pandemic).
After frenetic Edinburgh, there is a welcoming calm about this pretty East Neuk town where every second building seems to have become an art space: shops, homes, churches, the primary school. Many of the artists are regulars here, and those who live locally open up their own homes to show work.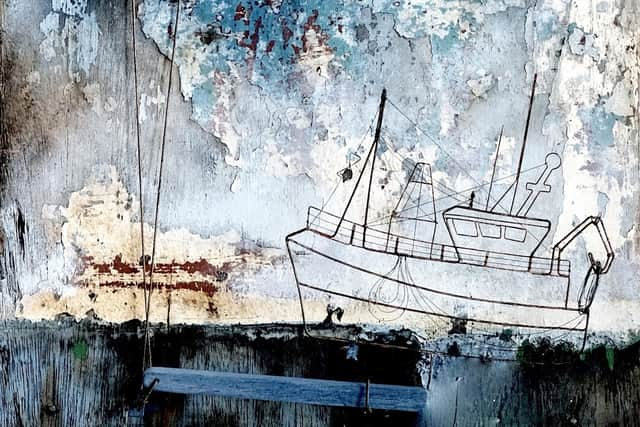 Every year, several artists (or organisations) are "invited" to show at the festival. Joyce Gunn Cairns presents a collection of her quiet, beguiling paintings in the Lesser Hall on James Street. She is a fine portrait painter and also paints figures from imagination, often captured in moments of introspection. These works capture complex states of mind and states of being: a woman and her cat in Domestic Bliss, the couple in A Long Marriage.
Often the people in her paintings have an animal (or bird) companion, and there is a quiet, respectful regard between the two. She also produces fine animal studies: cats, of course, a whippet curled up, increasingly bees and other insects. It's always a pleasure to spend time with her work.
Meanwhile, upstairs in Howff Church, Fife artist Morag Muir shows in the tall, narrow room above the entrance. At first glance, it looks like an impossible space, but it's perfect for Muir, the dramatic arched window echoing the windows and arches in her compositions of objects. With paintings on every surface, it's like stepping inside a jewellery box.
In the Old Town Hall, Wemyss School of Needlework is showing both historic and contemporary work. Established in 1877 to teach sewing to the daughters of miners and farmers in Fife, it now offers classes to a community of stitchers and cares for an important collection of historic needlework. The display here includes designs and projects from the school and its teachers, past and present, and other objects like a splendidly embroidered man's coat and waistcoat from the 18th century.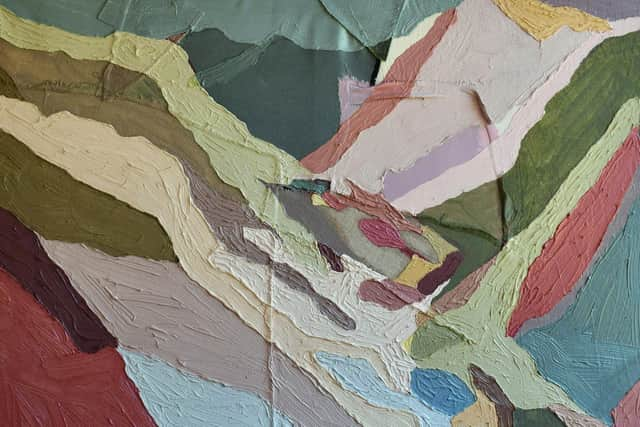 This year's recipient of the Henderson Bursary Award for an emerging artist is painter Siobhan McLaughlin, who has made new work in response to walks in the Pittenweem area. McLaughlin paints landscapes on pieces of found fabric which are stitched together and stretched, often using natural pigments she has collected: patchworks of colour which hint at a deep engagement with landscape and place.
The theme of landscape continues at St John's Church where Argyll-based Lynn McGregor displays her paintings on easels around the sanctuary. Her abstracted landscapes, often layered in rich tones of blue and green, have a strong geometric quality. Georgie Young's landscapes (Jenny's Cottage), also in acrylic, are bright and vibrant with an expressionist edge, capturing the hills of Ayrshire and the coastline of Fife. Like many of the shows here, these are substantial body of work.
Artists Reinhard Behrens and Margaret L Smyth are also Pittenweem locals, opening up their house (Calman's Wynd) as a gallery for the whole family. Daughter Kirstie is an excellent printmaker, presenting assured etchings of mountains, cliffs and pine trees. Son David is the only family member without an art degree, but his nautically themed mechanical sculptures made from driftwood and delicate spinning works made of wire and sea glass show that he has no shortage of ability.
Reinhard presents his latest travels in Naboland, his fictional world, this year with a polar flavour: ice floes, penguins and a delightful miniature explorer's hut installation. And be sure to look out for the real toy submarine which started it all more than 40 years ago. Margaret's intriguing paintings are also voyages of imagination, featuring marionettes, dancers, circus performers.
With over 80 exhibitions in all, there is much to see in Pittenweem, in fact, measured in art per square metre, this little town is easily giving Edinburgh a run for its money, even at this time of year.