Art review: Gray's School of Art Degree Show 2023: Neon Futures, Gray's School of Art, Aberdeen
At this year's Gray's School of Art Degree Show, there's a level of ambition in depth and scale which might be a reaction to time spent in lockdown, writes Susan Mansfield
Gray's School of Art Degree Show 2023: Neon Futures, Gray's School of Art, Aberdeen ****
Gray's School of Art in Aberdeen might be the smallest of Scotland's big four art schools, but what it lacks in size it makes up for in community. Gray's is ranked best in Scotland for student experience, a point of pride for Dean of School Libby Curtis, who is preparing to stand down in December.
It's a good experience, too, for the reviewer of degree shows, with a manageable number of students – 56 in Fine Art – and every one one of them supplying a short statement next to their work.
Gray's offers just two courses in Fine Art: Painting (in which many still actually paint) and Contemporary Art Practice (where they do everything else). In common with the other Scottish degree shows this year, painting is present in force, the amount of electronic work is down, and there's a level of ambition in depth and scale which might be a reaction to having spent much of first and second year in lockdown.
For many students, being at art school is about working out their place in the world. Gabriela Proszowska is doing so against a complex historical canvas, having moved from Poland to Scotland as a child. She has brought birchwood from Poland for her sculptures, and made some of it into charcoal which she used to make superb lifesize drawings of members of her family, giving a brief account of their stories. Her work is one of the highlights of the show.
Munroe Richter is asking questions about being a painter as she tries to find her place in "a world rife with images and short attention spans". Her work, whether in painting, ceramics or glass, has a delicate, meticulous quality.
Miriam Foy, another stand-out, explores what it means to be an artist with autism (her show is called A Decade Diagnosed, and she tells us that both her mother and grandmother lived with the condition undiagnosed). Her work is an explosion of ribbon on the first floor landing, every inch of it covered with poetry, which also adorns the walls and the steps of the central stairway. We can catch only words and phrases, but that's part of her aim: to make audiences work a bit harder, as she has had to do.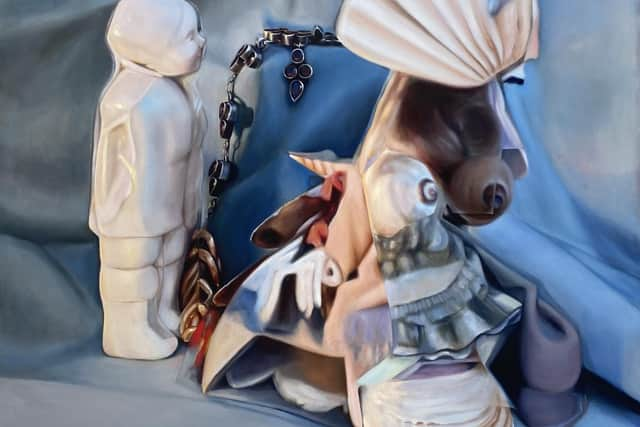 Shannon Park has found (or made) a deep connection between the craft of paper-making and her own experience of invisible illness, in her case fibromyalgia. Her quiet works on paper exploring "peace" and "pain" sit alongside her paper-making workshop, in which she invites visitors to join her for a hands-on experience.
Several students are interested in memory and nostalgia. Summer Mapplebeck paints from photographs, capturing moments with friends – in pubs, nightclubs, hanging out together. The paintings achieve a vividness the original photos lack. Tiegan Donnison explores the ephemeral nature of memory and how emotions become invested in objects. Morgan Dunbar is fascinated by that most primal of objects, the childhood teddy bear. Her etchings are excellent, her room full of bears (whatever the collective noun is for teddy bears) just a little bit creepy.
Beth Edgar takes a long look at the ordinary in her text and image drawings, picking out quirkiness and celebrating curiosities. She's fascinated by mechanical toys and has made an impressive range of robots from cardboard. Daisy Pickford also draws, mainly on wood, following instinctive trails of thought, rather like her ceramic slugs might do; her work is charming and insightful.
As Gray's is situated on the edge of much beautiful countryside, students often explore the outdoors. Esther Helfer has walked the length of the river Dee, taking particular interest in its three suspension bridges. Her main work is an ambitious sculpture attached to a tree in the art school grounds, exploring the tensions between the natural and the man-made. Jess Connor's show actually feels like an outdoor space, with sculptures made from stones and abstract paintings which feel as if they've been made by the weather.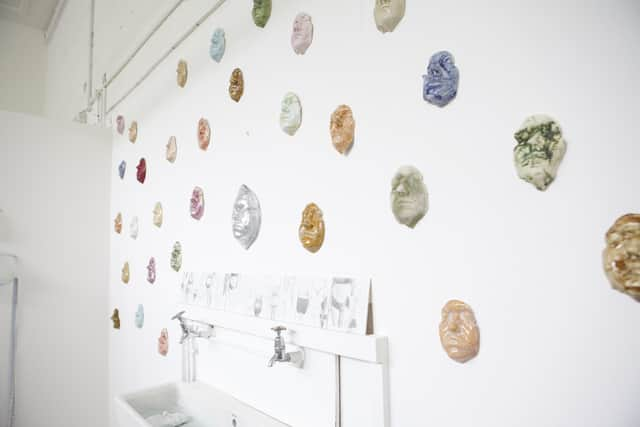 Alexandra Murray has been inspired by mosses and lichens. Her show is delicate and poised, featuring work made of wood, unravelling canvases and natural dyes. Rachael Gemmell looks, arguably, to even smaller things, finding wonder in bacteria in a world of "environmental dread". Fionnlagh Skinner makes very good paintings of birds in gouache on shaped MDF, drawing on the inspiration of wildlife artist Walton Ford and snatches of Scottish folklore.
A number of the painters set themselves considerable technical challenges: Katie Hillard paints glass objects sitting in front of colourful op-art patterns, and manages this considerable task adeptly. Kirsty Bell paints china figurines and sea shells, more trompe l'oeuil than still life, exploring painting as trickery while at the same time creating images full of luscious detail.
Crafts, from knitting to pottery, weave their way through a number of the practices. Lucy Gibb's work focusses on women's crafts, the beauty and the monotony. Her work looks as if it is made from garlands of flowers, but is actually painstaking crafted in a range of materials include wax, fabric, cement and dyes made from tea and coffee.
Hirushi Dissanayake delivers a burst of colour and pattern, exploring ornament in South Asian and East Asian cultures, and works with painting, laser-cutting and coloured sand. Breanna Pullar explores the non-ideal female body using plaster, ceramics, glass and wire.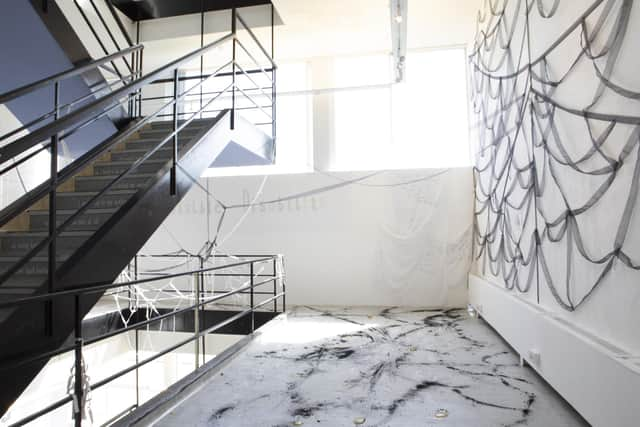 Jack Daly works across drawing, sculpture and ceramics, with a political charge: a determination to rid the Clyde of nuclear submarines. For anyone who, like me, had almost forgotten they were there in a world with so many other troubles, it is proof that there is much to learn in a degree show, and it's not always about art.