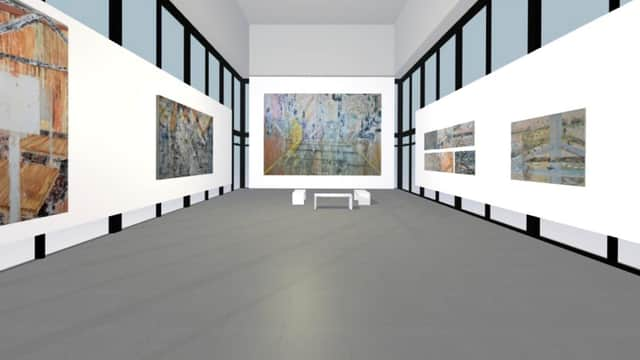 Installation shot of work by Charlotte Miller
Being the last to launch in a season of virtual degree shows has its advantages. Gray's School of Art in Aberdeen has had longer to work out how best to present graduates' work online and, in partnership with art organisation Look Again and design agency Design and Code, has built an impressive virtual show.
In a digital recreation of the building at Gray's, each student in the two Fine Art departments (Painting and Contemporary Art Practice) has an exhibition space just as they would "in real life." Visitors navigate using their mousepad and arrow keys, as if they were in a video game. This takes a bit of getting used to – as my partner helpfully pointed out, if I'd played some Call of Duty, I might not have ended up walking into so many walls. The processing power the site demands is a bigger problem: my normally very competent laptop kept seizing up and demanding the computer equivalent of a lie down in a darkened room.
Practical issues aside, the approach clearly has advantages and disadvantages. Students can do what they want with their walls, ceiling and floor, or dispense with them altogether, filling the space with the ocean, as Marie-Chantal Hamrock does, or building a maze, like Rory Brown. Paintings actually fare well here: works can be shown to scale, and hung as the artist wishes. Ironically, film does less well. There is very little sculpture, a factor in common with the other art schools this year, and likely a casualty of the circumstances in which this work was made.
Interestingly, several students have created work around the idea of "rooms." Molly Macleod has painted a series of "Mind Rooms" exploring psychological states and qualities by depicting them as physical spaces with subtlety and skill. Colleen Mahoney is inspired by an abandoned asylum in Aberdeenshire, and makes an imaginative journey through it in a series of painted rooms. Erin Brogan shines a positive light on social media by pointing out that it allows us to create "Digital Selfie Rooms" – online environments in which we are comfortable.
Various students across the degree shows this year are interested in depicting digital aspects of our lives in analogue form. Kai Campbell is one of these, using strong, assured paintings to explore the overwhelming, unfiltered flow of information and images on the internet. They come across strongly on this (ironically) virtual platform.
Kinga Elliott draws on her background in maths and physics to make outstanding abstract paintings using colour and pattern which sometimes start out as cyanotypes (a medium rediscovered across all the degree shows this year). Lindsay Gavine weaves together ideas from Greek myth with contemporary thinking about the underdiagnosing of autism in women, though one can appreciate her fine paintings without knowing what took her there.
It's impossible to visit Aberdeen these days and not notice the decline of the oil industry, which turned the city into a boom town in the 1970s and allowed it to continue booming, to a greater or lesser extent, through the decades that followed. Gail McMillan, who worked in the industry in its early years, has produced a fascinating body of painting and writing about that time, capturing the brash, pioneering energy which sometimes resulted in a disregard for the human costs involved.
Many are now concerned with what the oil industry leaves behind, with environmental groups putting pressure on oil companies to clean up and remove their offshore installations once they have been decommissioned. Charlotte Miller opens up a fresh aspect of this discussion, having spent time on the Brae Bravo platform. Her paintings celebrate both the intricacy of the engineering and the richness of the wildlife which has come to live in its shadow.
Work, in general, forms a focus for two Contemporary Art Practice students: Jodie Cumber looks into female labour, from the Ford machinists' fight for recognition to the traditional association of women with handcrafts, while Sophie Stewart looks at the hospitality industry, recording anecdotes from workers (it is arguable who behaves more badly in these, the bosses or the customers) and creating powerful large-scale photographs.
A number of students are interested in place and memory. Lauren Ferguson has produced some outstanding drawings in and around Colinton in Edinburgh, a place of memory for her. Zuzanna Salamon works primarily in charcoal, using the extended metaphor of a tree which is uprooted and replanted to explore themes of cultural dislocation from her Slavic background. Alicja Rodzik pursues objects imbued with memories, carrying traces of her family's past in Poland.
A number of students use photography well, including Courtney Barr, who makes a layered environment using images of landscape, and Nicole Hall, who engages in a delicate but profound exploration of her relationship with her young daughter. Molly Black is a DJ who makes collages of sound, which in turn become the soundtrack for a space which is equally intriguing visually.
Where the boundaries are drawn (if they can be drawn at all) between art and ordinary life remains a fascination for many. Konstantinos Irakleous has an eye for form, colour and pattern in photographs of objects as ordinary as a plastic bag in a bus shelter or a crushed beer can, and capitalises on the storytelling potential of a balloon. Gordon Todd shows us domestic life from the outside looking in, using a darkened space to make an evocative recreation of lighted windows at night. Iris Walker-Reid is interested in what we leave behind or throw away, with the central motif of the skip recurring in her photographs.
Death becomes the subject for several shows. Xu Jia Leow sheds light on it from the perspective of her Chinese Malaysian culture, using Chinese ink painting techniques to depict objects not so far away from Dutch masters' memento mori. Caitlin Robb looks at historic rituals around death, both human and animal, using photography, drawing and sculpture, while Jodie Gallon creates strangely beautiful photographs of dead birds, with the aim of provoking a discussion about the wider issues of climate change and habitat destruction.
While the virtual environment serves some artists better than others, there is real ambition in this show from the smallest of Scotland's four major art schools. As David Blyth, the head of the Contemporary Art Practice course, says in his introduction, this is not just resilience in the face of difficulties, it's resistance. Gray's has taken on the challenge of the Covid-19 world and applied what art schools are best at: creativity. It is well deserving of a visit. Just try not to walk into any walls.
A message from the Editor
Thank you for reading this story on our website. While I have your attention, I also have an important request to make of you.
With the coronavirus lockdown having a major impact on many of our advertisers - and consequently the revenue we receive - we are more reliant than ever on you taking out a digital subscription.
Subscribe to scotsman.com and enjoy unlimited access to Scottish news and information online and on our app. With a digital subscription, you can read more than 5 articles, see fewer ads, enjoy faster load times, and get access to exclusive newsletters and content. Visit https://www.scotsman.com/subscriptions now to sign up.