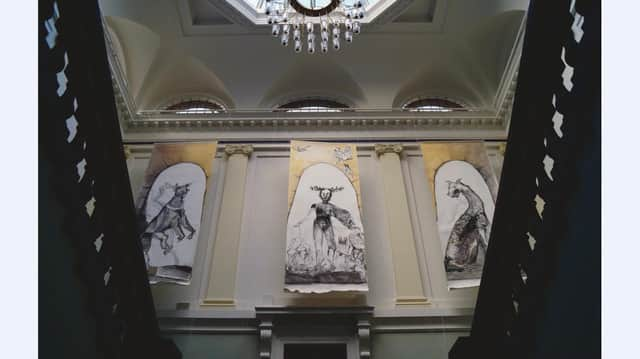 The consequences of lockdown will be profound and they will ramify, perhaps nowhere more than in education. The disruption of schooling for children and young people of all ages will have unknown but certainly not benign consequences. Learning is a social business. We do it together. And that of course extends into student social life. One must have sympathy for all the young people deprived of the energy and opportunity that provides, but it is the groups whose study is practical and hands-on, whether in lab or studio, who will be most hard hit and that of course includes art students. The Edinburgh College of Art Degree show, now online, illustrates the difficulty they face. With the college completely closed, getting to this point at all has been a huge challenge. Art students work together in studios. Both the group dynamic and all the personal interaction is crucial to the way they work and never more than in the final year as they prepare their shows. It is physical work in physical spaces and it is driven by collective excitement. That last few weeks of energy and panic towards the final presentation of their work is a crucial part of the whole business.
This year though, they had to stop suddenly in March and then work from wherever they might be and in whatever space they may or may not have had there. Interaction with their tutors has had to be online, a strange substitution of distance for intimacy, of the near-abstract for the physical and immediate. That the show exists at all is a great achievement. It is not the easiest website to navigate. You have to go first to "subject area," choose "art" and then click on "participating programmes." The ones I have looked at are painting, fine art, sculpture and intermedia, though it is often hard to see how the work actually reflects these nominal divisions. When you click on your choice of programme, you will be presented with the names of the students. Click on the individual and you get to his or her show. Many of them also have annexes that you can also explore further. But when you are done, you can't get to the next student without going all the way back again, or at least that is how it was when I was visiting.
Within the individual shows there is evidence of a great deal of ingenuity and imagination in the face of such adversity as well as abundant creative talent. They all deserve credit as do the staff for getting such a complex project online so successfully. But some students do stand out. I admire the quick thinking of Madeleine Wood, for instance. Back in March, she evidently realised what was about to happen. She had designed her 12ft x 5ft ink drawings to hang in the College staircase. The physical installation was crucial to their effect. Nowhere else would do. Literally in the hours before final lockdown she managed to get her enormous drawings installed and to photograph them. With huge, weird human figures and strange creatures, they inhabit the stairwell magnificently. Clearly as well as manifest talent, she has great powers of persuasion.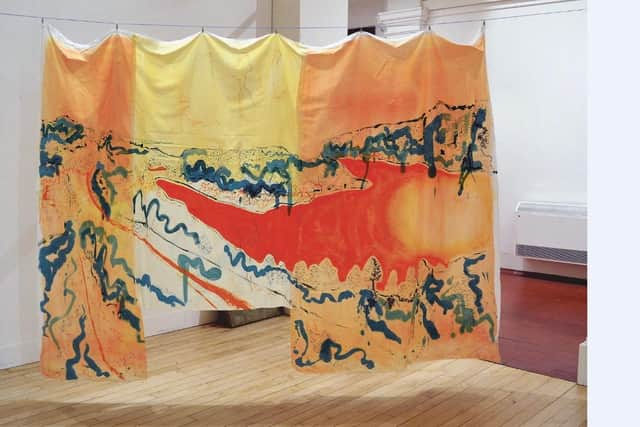 Others, like Madeline Cline, for example, have managed to create a convincing digital studio for their installation. Her work is quite strange, however. She seems to be haunted by snakes. One work on the wall of her digital studio includes a bed, bedclothes, studio lights and a huge curled up snake. Another, installed in the same way, shows a ghostly white snake curled up also on the bedclothes. Sofia Hallström has created huge, semi-transparent bundles, a kind of wrapped imagery which at some point she managed to hang in the College's Sculpture Court. Individually too her drawings are powerful. Heather Bell is a sculpture student who likes paradox. She says she wants to create "curiosity and unease" at the same time and indeed she does with her strange, black tubular shapes. Some seem to have figures inside. Others are empty. One opens into a dark tunnel. From its depths an eye looks back at you.
Jess Hume has created stars, hanging rainbows and kaleidoscopes of transparent colour. Summarising the situation for all of the students, she says plaintively that she wanted to show what she had intended for her degree show. She has certainly managed to create impact in spite of all the difficulty. Timothy Betton also uses transparencies, but, deploying real reflections and sometimes moving light, the results are very beautiful. Victoria Smith has created some of the oddest images, loaves of crusty bread set with jewels and hung on a red wall. One remarkable individual work also seems to be a piece of bakery turned into a delightful Disney-style flower with a face.
Apparently inspired by landscape, Dominika Ucar paints on hanging fabric with splashes and dribbles. Suggesting Abstract Expressionism, the results are poetic. Jody Mulvey also uses fabric. She cuts it, draws on it, collages it and stacks it up in three dimensions. It all overflows with colour and energy. I particularly enjoyed a tunnel of drawn on fabric covered, A degree show for ants and other friends, she calls it.
Molly Kent's work is equally colourful. It seems to be made of wool, towelling and other tufted material. The colour is bold. The shapes are inventive and the mood is topical. Her show is called Doubt in a Digital Age and one work is inscribed with a very apposite slogan for our time, "Isolation breeds doubt."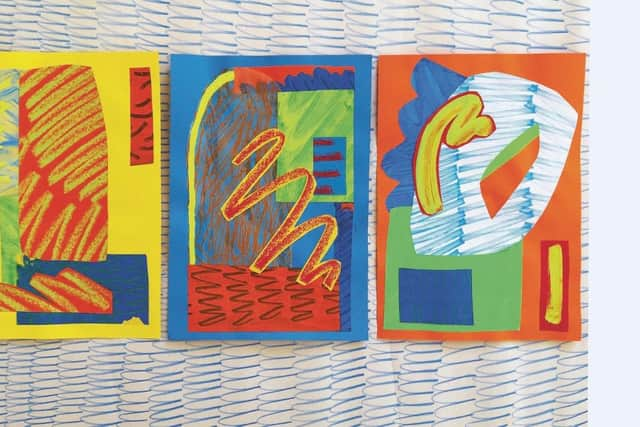 But boldly overcoming any such doubt, there are several powerful picture makers here. George Williams' figure playing a wind instrument is as spare and fluent a piece of drawing as you could wish for. So too is a drawing of a dancing figure. Jack Whitelock's work is more formally drawn, but equally satisfactory. It combines figurative imagery with abstract areas. A screen of blue raindrops against a shadowy architectural shape is very striking. Sheona Baird's work consists of paintings and painted objects. Some of the latter are particularly satisfying. Finally, among a number of powerful paintings, a single work by Ella Wragg stands out. Its title is Holmes and Watson Solve yet another Mystery. A figure is falling against a deep blue sky into the jaws of two Komodo dragons. Boldly painted, the title and indeed the falling figure both recall Steven Campbell. That's no bad thing and it's a terrific image, but she is clearly also very much her own artist.
A message from the Editor:
Thank you for reading this story on our website. While I have your attention, I also have an important request to make of you.
With the coronavirus lockdown having a major impact on many of our advertisers - and consequently the revenue we receive - we are more reliant than ever on you taking out a digital subscription.
Subscribe to scotsman.com and enjoy unlimited access to Scottish news and information online and on our app. With a digital subscription, you can read more than 5 articles, see fewer ads, enjoy faster load times, and get access to exclusive newsletters and content. Visit https://www.scotsman.com/subscriptions now to sign up.