Art review: Art Walk Porty, various locations, Portobello
The theme of this year's Art Walk Porty festival is Vessel, and the focus of the curated programme is on ecological public art, with a particular focus on water. Review by Susan Mansfield
Art Walk Porty, various locations, Portobello ****
A former pottery kiln is one of the more eye-catching locations in Portobello's annual visual art festival. Its circular, brick-lined interior becomes a kind of cocoon for Wing Cradle, a immersive installation about migration by Finnish artist Henna Asikainen.
In the middle of the floor lies a crumpled blanket hand-stitched with feathers, entangled with old leather saddlery, like the cloak of a mythical visitor fallen from the sky. This folkloric element is contrasted, in Erland Cooper's soundscape, with the very real, raw voice of Zainah Adnan, a refugee from Yemen, speaking of being cast adrift in a hostile immigration system.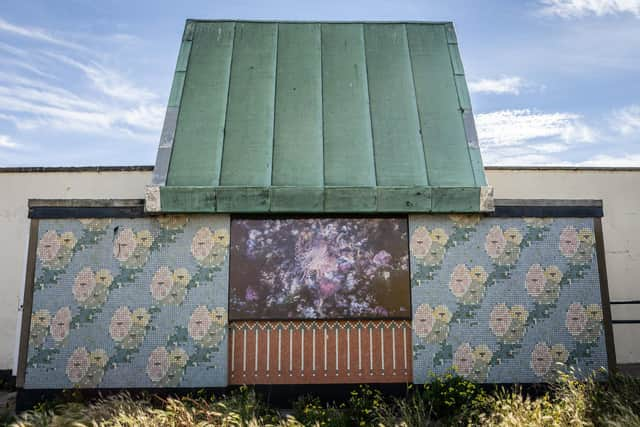 The festival's theme this year is Vessel, and the focus of the curated contemporary art programme is on ecological public art, with a particular focus on water. As ever, the festival spools out from this in every direction, with exhibitions in houses, shops and cafes, and a wide-ranging programme of events, film screenings and walks.
The majority of the ten commissions (most of which are represented in the show at the festival's hub, 189 High Street) are participatory, some of them hosting workshops and events during the festival and others presenting the results of work which has already happened, such as Jonathan Baxter's walks tracing the course of the Braid Burn with a group of other artists and writers, or Jenny Pope's inspired workshop to build A Survival Kit for Unprecedented Times from recylced materials.
The festival celebrates the arrival of Claudia Zeiske, nearing the end of her Slow Coast 500 walk, following the route of the North Coast 500 on foot looking at the impacts of tourism.
Others have focussed on the less presentable aspects of water infrastructure: Tonya McMullan on the water treatment plant at Seafield, and architect Murray Morrant, who has sculpted a toilet bowl from Portobello Clay. On 8 and 9 September the Deluge project, which explores saltmarsh habitats at Aberlady, Cumbria and the Netherlands, hosts discussions around "walkshops".