A 45t tall giant inflatable sneezing golden monkey is set to swing into Edinburgh
A massive inflatable Golden Monkey sculpture of international renown is set to be erected onto the walls of Inverleith House at Edinburgh's Royal Botanic Garden if it gets planning permission.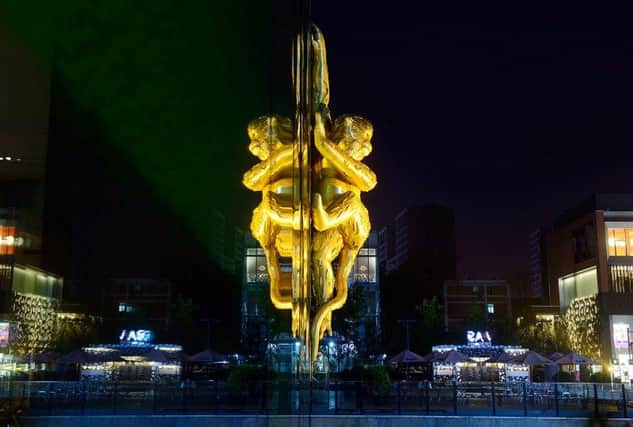 Australian ecological artist Lisa Roet's inflatable Golden Monkey has previously scaled skyscrapers in Beijing and Hong Kong, but a planning application on the Edinburgh City Council website reveals that the giant sculpture could soon be swinging into Edinburgh.
Highlighting primate species whose lives and habitats are under threat from the sprawling concrete jungles of our modern world, Roet is famous for her giant, inflatable, intricately detailed sculpture of the Golden Snub-Nosed Monkey – an endangered species found in the frosty, mountainous forests of central and southwestern China. According to an application lodged with the Edinburgh City Council, detailing plans to erect the sculpture onto the walls of Inverleith House at Edinburgh's Royal Botanic Garden (RBGE), the Golden Monkey could be making its UK debut.
The 45-foot (14 metre) high Golden Monkey installation first appeared on Beijing hotel, The Opposite House, in 2016 as part of Beijing Design Week, decorating central Hong Kong mall building H-Code shortly after. Another of Roet's giant primate sculptures was featured on The Opposite House again in 2018, this time a giant Skywalker Gibbon perched on top of the building with arms dangling over the edge. Her most recent installation - a ten-metre-tall gorilla named Baboe - towered over Apeldoorn Town Hall in the Netherlands for eight months in 2019.
Plans for the proposed installation at Inverleith House follow RBGE's announcement earlier this year that it had been awarded funding from the Outset Contemporary Art Award for a three-year programme of multidisciplinary art drawing attention to our global climate crisis. The announcement states that this new funding would be used to transform the listed building and art gallery into 'Climate House' to "highlight the risk to global biodiversity through an immersive installation".
In partnership with Serpentine Galleries and led by Australian artist Keg De Souza, we can only hope that this transformative project will see plans for Roet's 14ft sculpture to appear in the very heart of Edinburgh's Botanic Garden fulfilled.