McGregor seeks clarity over Glasgow fight
British and Commonwealth bantamweight champion Lee McGregor is seeking clarity over whether or not he will be defending his titles at Glasgow's SSE Hydro in May.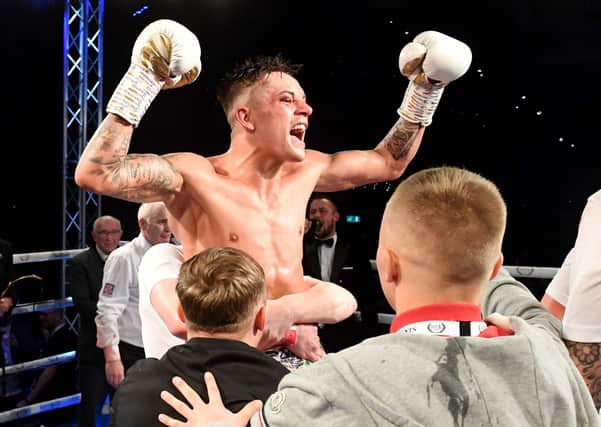 The 23-year-old is set to box on the undercard as compatriot Josh Taylor puts his WBA and IBF world super lightweight belts on the line against Thailand's Apinun Khongsong on Saturday, 2 May.
The world of sport, however, has been shut down for the foreseeable future due to the coronavirus pandemic.
Some of boxing's top promoters have acted accordingly by postponing shows but, as yet, Edinburgh's McGregor is none the wiser as to whether or not it will be business as usual in just under seven weeks' time.
The MTK Global fighter appreciates the outbreak that has already claimed the lives of almost 6,500 people, is an unprecedented situation, not only for professional athletes but the world's entire 
population.
"This coronavirus is really serious," McGregor admitted. "It's hitting close to home now so it's scary. We are in the privileged position of competing in the sport we love on a professional level but people's health and wellbeing come first. It puts it all into perspective. It's a crazy situation everybody finds themselves in and nothing like we've seen before.
"I wish I could click my fingers and everything would be okay again. I've got family members with underlying health issues who don't keep very well so it's a big worry.
"I've been thinking about it quite a lot recently over the past few days. I wouldn't like to be in the UK government's position because there are a lot of important decisions that need to be made. How are hospitals going to cope for example? What about the elderly if they can't get out to even go to the shops? Who are they going to rely on? I'm sure the situation will keep changing as it has been over the next few days."
Undefeated McGregor is in the midst of a gruelling training camp in preparation for his scheduled bout in May. However, both he and his team are in limbo over where things stand at this stage.
"We haven't heard anything really. I've to keep on training in preparation for 2 May unless I'm told otherwise," he said. "I can't afford to take my foot off the gas because if I were to, and the fight does go ahead as planned and I'm not ready, I could lose my titles.
"It's frustrating not knowing. I'd be happy if it had to be behind closed doors as I just want to fight. But I think we need some clarity. It wouldn't be the end of the world if it was to be postponed now because at least I wouldn't have to go through all the nitty gritty just for there to be no fight at the end of it.
"There's nothing worse preparing for a fight for it then to not go ahead. The worst thing is not knowing. I feel for the likes of Michael Conlan who was due to be fighting at Madison Square Garden next week and he has had his fight pulled despite travelling over to 
New York.
"If I'm told I won't be fighting then I'd still train and just enjoy it. There would be no pressure so I could take my foot off the gas a little bit but fingers crossed it doesn't get to that."
McGregor says his epic British title triumph over Glasgow's Kash Farooq at the Emirates Arena in November has merely added fuel to the fire where success in the ring goes.
"I always wanted to win the Lonsdale belt ever since I started watching boxing as a wee boy," he said. "But your goals change and I now want to go for bigger titles. I feel there is a world title there for me to win. Winning the British against Kash was a really proud moment and what a fight it was for the punters to watch.
"But I know I'm not far away from competing right at the very top. I've been sparring the current world champion at my weight, Nordine Oubaali, and I got a call the other week saying they want me to go back over to Paris to help with his preparations for his WBC fight with (Nonito) Donaire. So, if they didn't think I was up to it then they wouldn't be asking me back. But now that opportunity is up in the air too due to the ongoing situation.
"The plan is to defend the British title in May and then I'll look at European honours. I'd also love to fight Kash again so there's a lot of options and I'm in a good place."