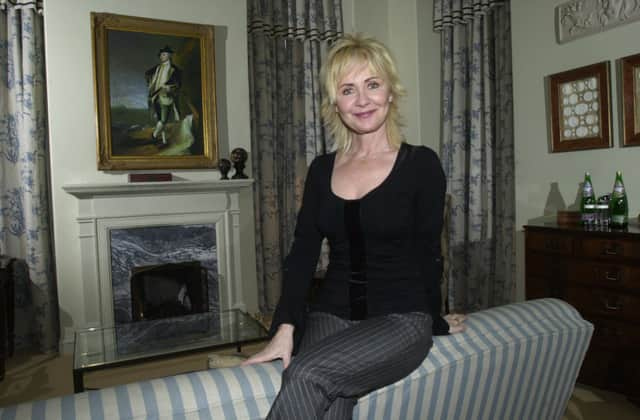 She is the original Scottish pocket rocket, the diminutive singer from Dennistoun who became "an extraordinary showbiz survivor".
Lulu blasted herself into pop world almost 60 years ago with a song whose opening bars are so unmistakable you could still name that tune, almost certainly, in less than one.
It was 1964 when Shout, a cover of an Everly Brothers song, hit the charts. Just 15-years-old at the time, the singer was already living in the London home of her manager, Marion Masey, who spirited her away to stardom after spotting the singer at a Glasgow disco.
She became the archetypal 60s starlet, cute and wide eyed, who was quickly to count people such as The Beatles and The Stones in her circle.
It is fair to say that Lulu, born Marie McDonald McLaughlin Lawrie, has sung hard for her supper since. With the chart success of Shout hard to reach, Masey worked on turning Lulu into an all-purpose light entertainment star.
She had her own BBC television series by the age of 20 and won the Eurovision song contest with Boom Lang a Lang the year after.
This was just weeks after her first marriage to BeeGee Maurice Gibb. Her second marriage was to hairdressing tycoon John Frieda and an affair with David Bowie was also revealed in her first autobiography in 2002.
Lulu, in 2010, revealed her traumatic childhood in a family home plagued by violence and hard drinking. She has since claimed to have suffered Post Traumatic Stress Disorder as a result of her very early experiences.
Her last studio album, Making Life Rhyme, the 14th to her name, was released in 2015. She claimed it was the album of her career which took her back - not to the sound of her child star days - but to the true story of her life. A further solo tour is planned for next year.Janice Forsyth, cultural commentator and BBC Scotland broadcaster, said: "After her early success as a teenage pop star, Lulu was uncomfortable with the way she was pushed towards being an all-round entertainer, representing the UK at Eurovision, and fronting her own TV series in the 1960s and 70s.
"But is that versatility, helped by youthful good looks and cool fashion style, that have made her an extraordinary showbiz survivor. If she'd just gone down the R&B route decades ago, would she still have a profile today? Probably not.
"She is determined, she is business-savvy, but most important of all, she still has that remarkable voice, and she's doing more song-writing now. All that and the affair with Bowie. What's not to Shout about?"
Scotsman music critic Fiona Shepherd said Lulu had a proven ability to continually reinvent herself.
She said: "Lulu is Scotland's pocket rocket, our own Little Miss Dynamite, who was shrewd enough to spot a potential hit in the Isley Brothers song, Shout, when she heard her fellow Glaswegian Alex Harvey performing his version in the early 1960s. Her powerhouse version of the song is embedded in popular culture so, in that respect alone, her legacy is assured. Lulu may not be a prolific artist but she has made some astute choices in aligning herself with the likes of David Bowie and Take That down the years, introducing herself to a fresh generation of pop fans each time, while her work in TV, radio and on stage has served to keep her in the public eye as a light entertainer. She's never been hip or influential; instead, she has played the long game well by refusing to be pigeonholed and remaining open to fresh opportunities."