Along with years of experience in the music industry, Gaughan has a passion for collecting music memorabilia, so opening a shop with a strong connection to music felt natural to him. A couple of years ago, he took a chance on moving his business out of the city centre to the vibrant Barras area. This particular location was important to him: Blitzkrieg shop now sits in the shadow of the world famous Barrowland music venue and is minutes from Glasgow Green which hosts music events such as TRNSMT. The up-and-coming vibe of the area's independent shops, pubs and restaurants helped seal the deal.
Gaughan well understands the importance of diversification in the retail sector. He says, "Retail? The rulebook has been thrown out the window. The more unique you can be, the more you can offer, the better chance you've got of survival".
"I've always believed you need more than one string to your bow in retail. Initially I didn't know what I wanted the shop to be, a guitar shop, a record shop, a music shop so I decided to encompass all of them along with merch, memorabilia and fine art printing" Since then he has branched out into hiring out equipment, vinyl cleaning and collaborating with local artists on various projects. Proud of these collaborations, he holds up a Mad Malko Guitar, a creation in the trademark colours of Buckfast. The Buckfaster Caster, he exclaims, is going down a treat with younger customers and was used in a recent gig at the hallowed Barrowland.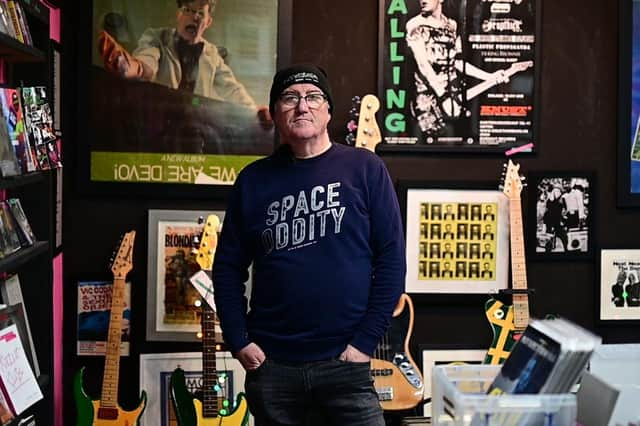 Gaughan talks about working with tattoo artists during the COVID-19 pandemic when they couldn't earn. They would send him designs and he would turn them into fine art prints in the back of the shop. His experience as a printmaker has seen him collaborate with some high-profile bands and he recently hooked up with Creation Records' Alan McGee to produce a limited edition print.
Blitzkrieg is an Aladdin's cave of art and musical memorabilia. Adorned with vintage prints, original setlists and artworks with a music theme, the walls constantly change as one-off originals are sold. "Some people come in to buy vinyl and leave with a print", he laughs. A one stop shop, music fans are regularly blown away by Blitzkrieg's variety and Gaughan's knowledge and passion for his unique wares.
A loyal gig-goer, Gaughan has been known to open the shop after attending a show at the Barrowland, something that's gone down well with music fans and bands alike. A recent in-store appearance by Chesney Hawkes sent Blitzkrieg's social media channels into meltdown, "Chesney popped in for Music Store Black Friday with his full band and gave us a set. I had no idea days later he would be playing in front of billions in Qatar at the World Cup as he played at half time in the England v Wales game".
Gaughan understands that in order to meet constantly changing customer demands, retailers must place their economic eggs in more than one basket – now more than ever. But diversification is not just about survival, it can also be a proactive growth strategy. He hopes his refusal to stand still in the retail environment will take Blitzkrieg to the world by way of pop-up Blitzkrieg Shops. He'll see you in London, Paris, maybe New York...