Ten of the best quotes from Scottish comedians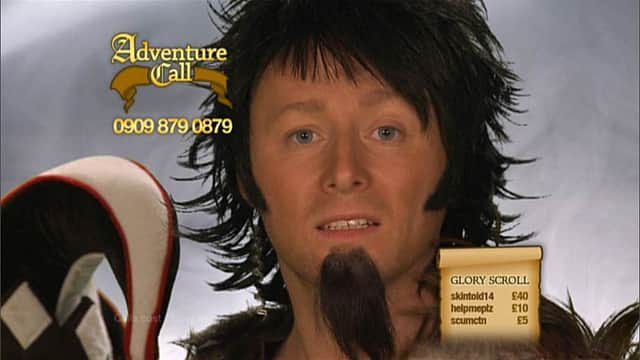 The Scottish sense of humour is renowned for being one of the most unique anywhere in the world.In fact, Scotland has produced some of the world's finest comic performers.
Don't believe us? Then take a look at our list below.
Billy Connolly on the road in the US
Billy ConnollyNo list of this kind would be complete without a few witty lines from the Big Yin. Whether it's his impeccable knowledge of the Scottish weather: "There are two seasons in Scotland: June and winter," or his take on the workings of the male mind: "Never trust a man who, when left alone with a tea cosy, doesn't try it on," Connolly is revered as the greatest comic Scotland has ever produced. But perhaps it's his views on compassion towards others that sets him apart from the rest. "Before you judge a man, walk a mile in his shoes," Connolly says. "After that who cares? He's a mile away and you've got his shoes!"
Frankie Boyle. Picture: BBC
Frankie BoyleFor all Frankie Boyle has been admonished for his more controversial routines, he tends to be at his best when calling out the more hypocritical criticism of his act. Taking aim at what he describes as "patronising charity," Boyle says: "Give a man a fish and he can eat for a day. Give him a fishing rod and he can feed himself. Alternatively, don't poison the fishing waters, abduct his great-grandparents into slavery, then turn up 400 years later on your gap year talking a lot of s***e about fish."
Janey Godley . Picture: TSPL
Janey GodleyWith a rambling, anecdotal style that tends to drift from the gritty realism of her difficult past to a wandering polemic on the most mundane aspects of everyday life, Janey Godley has become one of Scotland's best-loved stand ups. In her Domestic Godley show, she takes the minutiae of household work to task: "I can't cook, I can't clean, and the last time I tried to do soup it ended up in sex, because sex is quicker than soup," she says. A slightly less sweary take on modern life than her anti-Trump protest from last year.
Rab C Nesbitt. Picture: BBC
Rab C NesbittEverybody's favourite string vest-wearing layabout, Nesbitt - portrayed by Gregor Fisher on the screen - had more than a fair share of comedic moments over the show's near 30-year run, However few were as memorable as his exploration of his native Govan's culinary options. "Some place Govan eh? Where else can you get a fish supper at 9am? Simple, just steal it off a drunk that's been lyin' p****d outside a close all night."
Jerry Sadowitz comes to King's Theatre
Jerry SadowitzServing as the inspiration for a generation of comedians to follow, Jerry Sadowitz's black comic style varied from the sardonic to the obscene. His distinctly un-PC humour earned him a reputation for saying the unsayable, but even when he wasn't bridging on controversy with his dark outlook, Sadowitz was able to offer a biting satire of modern life: "I only hate two things - living things and objects," he said.
Ricky Fulton. Picture: YouTube
Rikki FultonThere's a reason Scotch & Wry is often revered as the peak of Scottish sketch comedy. Rikki Fulton's star turn as a cast of memorable characters. From his famed 'Supercop' routine opposite Mark McManus, to the endless stream of ministers who spoke to the camera in the 'Last Call' segments. It was one of these ministers, the Reverend IM Jolly, who transcended from a sketch on the show to a Hogmanay institution. His morbid and completely deadpan delivery, usually exacerbated by the "I've had a hell of a day/week/year," line completely juxtaposed the supposed joyous sentiment he was meant to be celebrating.
LimmyBrian Limond has made a career out of perfecting the art of the online troll, while at the same time separating himself from the nastier elements on social media abuse. Becoming the man of a thousand faces through his BBC one sketch comedy 'Limmy's Show,' and his heavy online presence on the social media platform Vine, Limmy created a range of weird and wonderful characters. However, it's his constant tweeting of "Check out Daft Punk's new single "Get Lucky" if you get the chance. Sound of the summer," that fans tend to laugh at the most.
Kevin BridgesKevin Bridges is to a generation of younger Scots what Billy Connolly was to a generation before them. His take on modern Scottish life has made him arguably the country's most popular comic. His observations, particularly on life in his native Glasgow, are none better summed up than when he assesses the Glasgow vernacular. "In Glasgow, 'how' means 'why'? You do not ponder why. You demand how?"
Chic Murray. Picture: YouTube
Chic MurrayWith his trademark bunnet and eccentric sense of humour, Chic Murray was voted 'The Comedian's Comedian' by other comics in a 2005 poll. His erratic and whimsical sense of humour struck a chord with audiences, with lines like "I had a tragic childhood. My parents never understood me. They were Japanese," painting an absurd and surreal world that defined Murray's act.
Malcolm TuckerThe Thick Of It may no longer be on our screens, however Armando Iannucci's semi-improvised political satire about the inner workings of government gave us plenty of comical moments; most of them from the foul-mouthed Gorbals Goebbles himself, Malcolm Tucker. The alter-ego of now Doctor Who star Peter Capaldi was known for some of the sweariest rants on television, most of which we can't print here. Instead, we leave you with this, a Tucker masterclass in avoiding small talk: "I'd love to stop and chat to you but I'd rather have Type 2 diabetes," he tells a passing colleague.