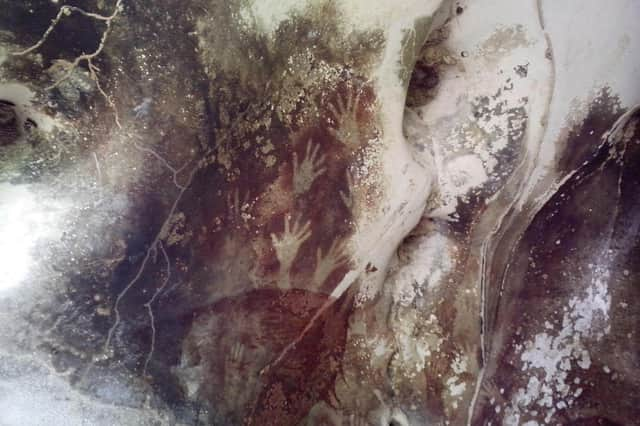 Stars of Game of Thrones, Captain Marvel and new Netflix fantasy Shadow Bone spent six weeks in an "isolation bubble" filming in remote mountains and glens around Gairloch in the north-west Highlands.
The six-strong ensemble cast - Chuku Modu, Kit Young, Iola Evans, Safia Oakley-Green, Arno Lüning and Luna Mwezi – battled extreme weather conditions during the shoot at multiple locations.
The "untouched" Wester Ross landscapes were specifically chosen by Fife-born director Andrew Cumming to provide the backdrops for his debut feature film, the plot for which is shrouded in secrecy.
Cumming, who has worked with screenwriter Ruth Greenberg on The Origin, described the cast and 70-stong crew as "utterly fearless," saying they had gone "above and beyond every day in extremely challenging conditions to ensure we could make the best film possible."
The Gairloch Hotel was taken over for the film, which is being backed by the Scottish Government's film agency, Screen Scotland, which described the production "as an object lesson in human endurance and the indomitable spirit of filmmaking."
Cumming, who cites Alien, The Descent and The Witch as three of his favourite horror movies, has been developing the film with producer Oliver Kassman for the last five years.
He said: "We shot the whole film shot on location in this part of the Highlands. We booked out the Gairloch Hotel, who were extremely accommodating over the six weeks we were there, and apart from a couple of specific locations we filmed everything within a 45-minute drive of the hotel.
"There's nothing I can say about The Origin at the moment other than it is a horror film set in a prehistoric landscape in Britain. The film look at six characters in this extremely isolated world, how they all deal with an exterior threat and the internal conflicts that arise.
"I felt we had to do it in this part of Scotland because it is so desolate and remote. Apart from the Yorkshire Moors, it feels like the only part of the UK that is pretty much untouched. It also as an abundance of different landscapes, including mountains, beaches and forests, in the one area. It felt like a no-brainer to make the film it there.
"We have some typical Scottish weather, which is fine if you're only out it for a few minutes. On the second day we had some of the worst weather conditions I've ever filmed in. The wind and rain hit us for six all day. Everybody was thinking: 'What have we signed up for?' Everybody outperformed every day, otherwise we wouldn't have made the film."
Under the strict protocols put in place for the production, the cast and crew were only allowed to go into the grounds of the hotel or the beach opposite when they were not filming scenes.
Cumming added: "It was very difficult for everyone involved because we were away from our families and friends for six weeks. But being in a bubble also provided opportunities to really focus and bond.
"From a selfish point of view as a director, having everybody in a sort of residential retreat for six weeks means everybody has the film in their bloodstream.
"In a really bizarre way, coronavirus actually helped get the film made because the idea of six actors being up a mountain in Scotland feels like a pretty safe bet for the financiers. I think it actually got us off the ground."
Producer Oliver Kassman said: "We filmed in multiple locations and estates, which were stunningly beautiful. We felt very privileged to spend so much time in that part of the world."
Isabel Davis, executive director of Screen Scotland, said: "It was so important to us to back Andrew Cumming on his first feature film.
"We're hugely excited by his talent, the boldness of his vision, and for the whole extraordinary endeavour.
"We congratulate Andrew and the team on pulling this off – an object lesson in human endurance and the indomitable spirit of filmmaking."
A message from the Editor:
Thank you for reading this article. We're more reliant on your support than ever as the shift in consumer habits brought about by coronavirus impacts our advertisers.
If you haven't already, please consider supporting our trusted, fact-checked journalism by taking out a digital subscription.
Joy Yates
Editorial Director