Scottish theatre which became humanitarian aid centre brought back from brink of mass job losses and financial collapse
A leading theatre which turned itself into a humanitarian aid centre during the first pandemic lockdown has been rescued from the risk of insolvency by the Scottish Government, venue bosses have admitted.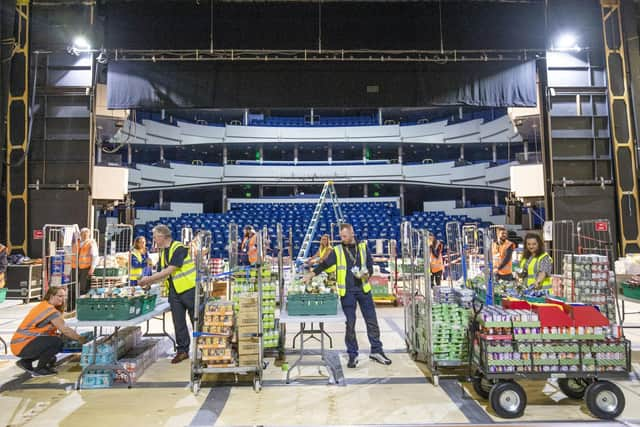 Thousands of food packages with supplies for Highlanders still shielding from the coronavirus pandemic were packed up on the stage at Eden Court for months last year.
Eden Court, has Inverness, faced having to make "mass redundancies" within weeks due to a mounting financial crisis after being forced to suddenly close down for the second time in a year.
It has just received new "lifeline" funding of £800,000 from the government, over and above more than £1.25m in emergency grants it got last year.Eden Court joined forces with Highland Council to transform the venue in the main humanitarian aid centre for the region, with its main auditorium becoming a distribution centre for more than 1000 food parcels a week for people who were shielding.
Eden Court was shortlisted earlier this month for a UK-wide awards scheme created to recognises venues and projects which reinvented themselves in response to the pandemic.
However chief executive James Mackenzie-Blackman said the pandemic had had a "devastating impact" on the venue, one of the biggest cultural centres in Scotland, which features two main performances spaces, two cinemas and three art galleries.
Writing on the theatre's website, Mr Mackenzie-Blackman said: "The news on Sunday that the Scottish Government have awarded Eden Court further emergency support of £800,000 elicits many feelings, but mostly relief.
"This investment from the Scottish Government, delivered through our colleagues at Creative Scotland, is simply a life-line.
"If we had not had confirmation of this support this month it would have been my corporate duty to recommend to Eden Court's board of directors that we initiate, in February, a programme of mass redundancies in order to protect the business from facing insolvency in the summer.
Members of The Highland Council with some of the thousands of food packages filled with supplies for Highlanders still shielding from the coronavirus pandemic in the auditorium of the Empire Theatre at Eden Court in Inverness.
"I don't need to do that now and the relief is immeasurable. 91 per cent of our workforce is still furloughed, this is not uncommon in the performing arts. There is a small team of nine of us running Eden Court at the moment and I hope that goes some way of demonstrating how devastated our business has been over the last 12 months.
"I refer to the new funding as investment because that is how we will consider it. An investment in our future, in the recognition of the role that Eden Court plays in the cultural life of the people of the Highlands and Islands, and in our ability to carry the weight of that trust very carefully."
Mr Mackenzie said Eden Court had used previous emergency funding to hire 34 different artists and contractors to make work, as well as honour contracts to another 15 artists for cancelled projects.
He added: "We had planned, through December, January, February and March to employ many more. As the only venue of scale in Scotland in 'Tier 1' we had worked tirelessly at the end of last year to curate a programme to restart live performance on behalf of the entire country.
Eden Court chief executive James Mackenzie-Blackman says he was facing having to impose 'mass redundancies' at the venue next month until the Scottish Government agreed a new emergency funding deal.
"It felt like a huge responsibility to get going again and to demonstrate that theatres in Scotland could reopen safely for live audiences with all the COVID mitigations in place.
"Alas, we have had to, again, un-produce, and unravel all those plans due to the latest lockdown. That's been incredibly hard."
A message from the Editor:
Thank you for reading this article. We're more reliant on your support than ever as the shift in consumer habits brought about by coronavirus impacts our advertisers.
Eden Court In Inverness has now had more than £2 million in lifeline funding from the Scottish Government to help it withstand the impact of the coronavirus pandemic.
If you haven't already, please consider supporting our trusted, fact-checked journalism by taking out a digital subscription.
Joy Yates
Editorial Director
Want to join the conversation? Please or to comment on this article.