Scottish Album of the Year ceremony to go virtual to ensure it goes ahead in face of crisis
The nation's crisis-hit music industry has been given a major boost after organisers of the coveted Scottish Album of the Year Award revealed plans to stage the annual ceremony virtually to ensure it goes ahead this year.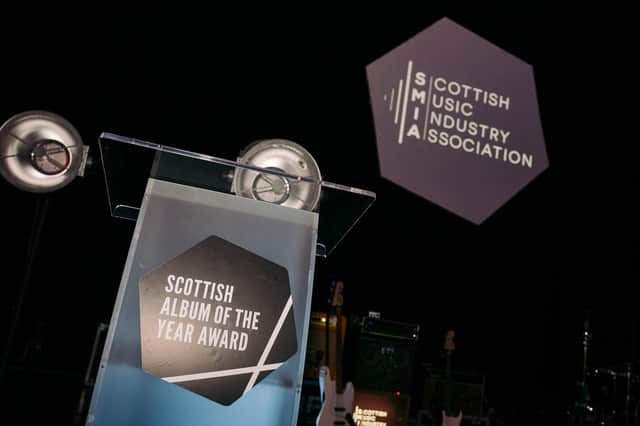 The Scottish Album of the Year Award will be staged for the ninth time this year. Picture: Euan Robertson
Scottish music fans all over the world will be able to watch the two centrepiece events of the ninth annual competition, which is open to music of all genres, unfold online for the first time as part of a campaign to raise the profile of the industry during the ongoing crisis triggered by the coronavirus pandemic.
The 20-strong longlist for Scotland's answer to the Mercury Prize, which is worth £20,000 to the winning artist, will be revealed in a special YouTube event in September.
The SAY Award final is expected to be broadcast from a live event in Edinburgh in October, where some of the country's leading up-and-coming acts will get the chance to perform.
The Scottish Music Industry Association, which launched the awards in 2012, staged both the "Live at the Longlist" and final in Edinburgh last year, at the Queen's Hall and Assembly Rooms respectively. It is working with two other Edinburgh venues - 54EP and Summerhall – this year.
The SMIA, which has launched a month-long call-out to fans for submissions, said it was more important than ever for Scottish music to be celebrated given "significant risks" to the future of the industry. It was valued at around £430 million last year and supports 4300 jobs.
The main award has been won by Bill Wells & Aidan Moffat, RM Hubbert, Young Fathers, Anna Meredith, Sacred Paws, Kathryn Joseph and Auntie Flo in its first decade, when the final ceremony has been staged in Glasgow, Paisley and Edinburgh.
Robert Kilpatrick, general manager of the SMIA, said: "We always wanted to go ahead with the awards this year. They're our flagship project and they offer such an amazing visibility opportunity, not just for all the nominated artists, but also for the whole industry.
"The artist who created each album is obviously celebrated, but there is a whole eco-system around each album, in terms of who produced it, who designed the artwork and which label brought it out.
"There's a great opportunity this year to showcase not just the amazing range of music coming out of Scotland, but also articulate and highlight how valuable the industry is, economically and culturally.
"The key focus for our whole campaign this year is digital audience development, given the challenges the industry is facing. Audiences fuel our industry, they are our biggest champions, allies, customers and supporters.
"We need to make sure that we continually work to develop audiences when there isn't much of a chance for artists to do that in their own right.
"The SAY Award has a real responsibility this year to drive audiences to outstanding Scottish music, at a time when there is hardly any visibility of it in Scotland. We want to inspire our future talent pipeline, as well as a future domestic market.
"We also want to instill a sense of civic pride in Scotland and a sense of understanding that the music community is essentially telling the stories of our people. Now, more than ever, it needs to be recognised, valued, protected and championed."
Although the exact format of this year's final is yet to be decided, the SMIAS says it will be staged in line with the latest Scottish Government guidelines, "with audience and artists' safety at the forefront."
Mr Kilpatrick added: "We want to create a really engaging programme for the final ceremony, so it is essentially a virtual version of how the event usually functions, but with a few interesting changes.
"We can't give too much away at the moment. A lot of what we're planning will depend on the restrictions and what will be feasible at that time. The main priority will be the health and safety of everyone involved.
"We'll be looking at ways of allowing people to attend, whether virtually or in person, with social distancing in place."
Rowan Campbell, general manager of Summerhall, said: "It feels to us that there has never been a more important time to support and empower artists, performers and musicians to keep doing what they do best, create and inspire us all, until we can get back to what we all love."
Want to join the conversation? Please or to comment on this article.