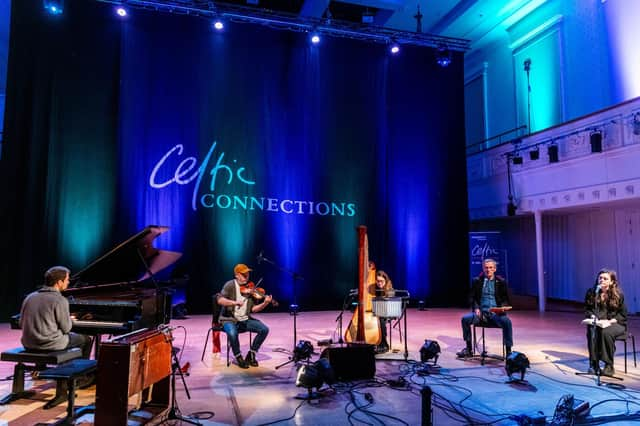 Glasgow's Celtic Connectoins music festival is due to get underway on 20 January. Picture: Gaelle Beri
First Minister Nicola Sturgeon said she hopes that restrictions imposed just before Christmas will be removed seven days after those affecting outdoor events.
Howevent more venues may have to introduce the use of vaccine passports under the Scottish Government's latest plans to control the spread of Covid. They were previously only required for indoor standing events of more than 500 people.
Outdoor event organisers are being told to ensure that they must check the status of at least half of all attendees when they are allowed full capacity crowds back from 17 January.
Glasgow's Celtic Connections festival was staged without audiences at the start of 2021. Picture: Gaelle Beri
Most of Scotland's theatres and concert venues were forced to close from Boxing Day under restrictions capping crowd limits at 200 for seated events and 100 for standing shows and imposing one metre physical distancing on all events. The announcement saw the plug pulled on hundreds of performances.
The First Minister said she hoped that other restrictions on the hospitality sector, including nightclubs, would also be able to be lifted on 24 January.
Her announcement is expected to boslter hopes that Glasgow's Celtic Connections festival will be able to salvage mnuch of its programme.
The date for the lifting of restrictions on indoor events coincides with the fifth day of the festival, which will run until for another fortnight. Last week organisers said they had begun to cancel performances and that the majority of its shows were expected to be affected by restrictions.
However the Edinburgh Playhouse has confirmed the postponement of another production, which was due to run from 18-22 January.A statement from the venue said: "Performances from 25 January onwards are still scheduled to go ahead as planned and any changes to this will be communicated as soon as possible if restrictions should be extended by the Scottish Government."
Performances of The Book of Mormon at the King's Theatre in Glasgow this month have also been cancelled in the wake of the First Minister's announcement.
A spokeswoman for the Festival Theatre in Edinburgh, where Bednobs and Broomsticks is due to run from 19-23 January, said: "We're currently talking to producers about the implications and customers will be advised of any resulting cancellations or rescheduled dates as soon as possible."
Geoff Ellis, chief executive of DF Concerts, Scotland's biggest live music promoter, said: "It wasn't quite what we were hoping for, however I heard much optimism in the content and tone of the First Minister's speech and that it certainly appears like we will see a lifting of all the key restrictions indoors from 24 January, allowing live music to return again.
"I can appreciate why they would lift the restrictions outdoors first and in fairness, the 24th is only one more week to wait, but hopefully government support for music venues and nightclubs and other venues that need to remain closed will be extended accordingly.
"We look forward to hosting live audiences again very soon and also to the confidence returning to the market place in good time for what is set to be a record year for live music in Scotland, which will in turn be a massive boost to Scotland's tourism and hospitality businesses in particular."
However a spokeswoman for the Night Time Industries Association Scotland said: "Whilst overall the ending of the current restrictions on the hospitality and late night economy sectors from 24 January is welcome, it is nevertheless disappointing that the First Minister has felt the need to extend the period of restrictions beyond the original date of January 17, despite the emerging data showing a positive downward trend in hospitalisation and serious health outcomes.
"It is also very worrying that she has also suggested an extension of the vaccine passport scheme to additional settings.
"As recent data from the four nations has demonstrated, and as the National Clinical Director has already admitted, additional restrictions in Scotland have had little impact on case rates but have had a serious impact on Scottish businesses and jobs.
"It is also of concern that of the support funding already announced, a majority has gone to sectors other than hospitality.
"The funding already committed by the government to enable businesses to retain and pay staff wages over the festive period must now be expedited at speed as the ability of employers to fund payroll from their existing cashflow is seriously at risk, along with the jobs supported by these businesses.
"Furthermore, we call on the government to now urgently release all remaining unallocated funding to compensate Scottish nightlife and hospitality businesses for the disproportionate restrictions currently in place, and commit to a full reopening without any further restrictions."
Leon Thompson, executive director of UK Hospiality Scotland, said: "Businesses needed to hear today that restrictions on them would be removed next week. Instead, whilst people will be able to attend capacity sporting events from Monday, they will remain bound by table service, with physical distancing and nightclubs closed.
"The First Minister talked about a gradual easing of restrictions, but our sector has been closed or restricted for almost two years now.
"Any positivity that could be taken from possible changes on the near horizon was scuppered with further talk of vaccine passports and possible wider application.
"The phrase 'living with Covid' sounds more and more like 'living with significant ongoing restrictions'.
"UKHospitality Scotland will continue to push the Scottish Government to end its campaign of forced closures and restricted trading on our sector.
"The Scottish Government has produced no evidence that limiting Scotland's most important economic sector is leading to reduced rates of Covid infection.
"The opposite appears to be true as people simply socialise at home, away from well-run businesses and in confined spaces. There is no justification for these ongoing sanctions against our businesses."