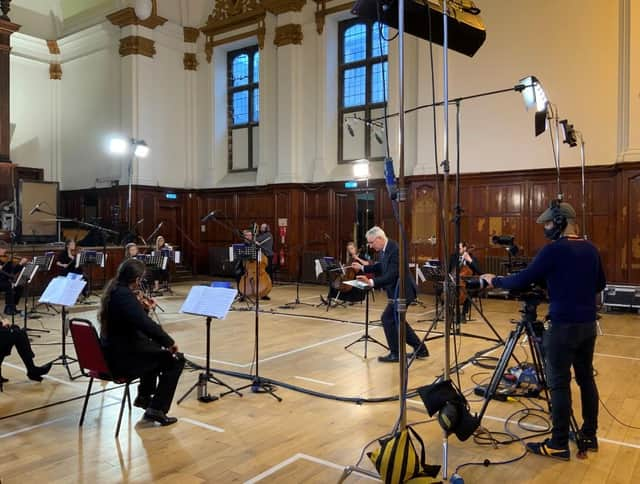 For Paul MacAlindin, Govan-based conductor and founder of the socially and musically enterprising Glasgow Barons orchestra, pandemonium is anything but a negative concept. He lives and works in an area where social diversity is the touchpaper that ignites a unique cultural spirit.
It's through such direct connection with this multiculturalism, and the societal fragility that accompanies it, that the former founder and conductor of the National Youth Orchestra of Iraq has, since 2017, found Govan to be an endlessly inspirational base for such musical initiatives as his Barons orchestra (official artists-in-residence since 2019), his Musicians in Exile programme (for refugees and asylum seekers), and now – thanks to Covid – an online festival fusing the multiple musical strands that are the eclectic soundtrack to the south Glasgow community.
Throughout January and into February a series of musical films will be released online that throw together rap, modern and newly-commissioned classical, Scottish hip hop, new age trance and Gaelic, Kurdish and Farsi songs of exile. "The diversity of style comes largely from my classical knowledge but also from what's happening on the ground with local people and their musical tastes, desires and talents," he explains. For all the right reasons, he's called the festival Pandemonium.
"It's my attempt to explore that fusion in a way that everybody is happy with, so that we're not just a bunch of parachuting professionals, doing a wee project in an area of deprivation then flying off again, we're actually integrated into the creative activities of the entire community."
Not surprisingly then, there's a classical thread underpinning most of the films, even when the lead inspiration is local Sunny Govan FM DJ and trance composer Matthew Ward or hip hop music producer Steg G, both of whom have been working with young composers from the Royal Conservatoire of Scotland on two separate Pandemonium projects.
Ward has collaborated with composers Nick Olsen and Shona Mackay in FLUX, which is released on 28 January. "I asked Matthew to write three ten-minute pieces of trance/techno inspired by environmental change, the River Clyde, the movement of water. Then I commissioned Shona and Nick to do exactly the same for a six-piece contemporary music ensemble. All of that was edited together as a film exploring the power and memory of water, specially created by filmmaker Hamish McLeod".
The ultimate aim of Live Today, a new album commissioned from Steg G, was to create a live recording in response to the 2019 riots that incorporated new instrumental music by RCS graduates Aidan Teplitsky and Kevan O'Reilly. The album itself, featuring local rappers over Steg G's electronic wave forms, will be released online from 25 February, promises MacAlindin. "But I'm not going to risk bringing 15 instrumentalists together at this time to create the fully interactive live recording in SWG3 we originally intended. That will hopefully happen later this year."
Luckily, the bulk of Pandemonium's core classical programme was already in the can before the recent increased restrictions came into play. But Covid limitations required MacAlindin to play safe, opting for music his Glasgow Barons were already familiar with.
That hasn't diminished its ambitiousness, though. Thea Musgrave's Night Windows, a truly translucent orchestrated version of her original work for oboe and piano, featuring Scottish Opera oboist Amy Turner, is beautifully recorded in Govan's MacLeod Hall (available from 13 Jan). The follow-up release on 21 January of Tchaikovsky's Serenade for Strings occupies more familiar classical territory.
Two programmes in February reestablish the adventurous contemporary emphasis. William Sweeney's witty and colourful arrangement of South Uist songs, Seann Orain, goes online from 4 February, followed a week later by Inverness-born Alasdair Nicolson's musical menagerie Stramash, which MacAlindin reckons "resonates well with the turbulent lockdown that central Govan experienced in 2020."
Pandemonium? Bring it on.
All Pandemonium films will be released free of charge via the Glasgow barons website. Details at www.glasgowbarons.com
A message from the Editor
Thank you for reading this article. We're more reliant on your support than ever as the shift in consumer habits brought about by coronavirus impacts our advertisers.
Joy Yates, Editorial Director