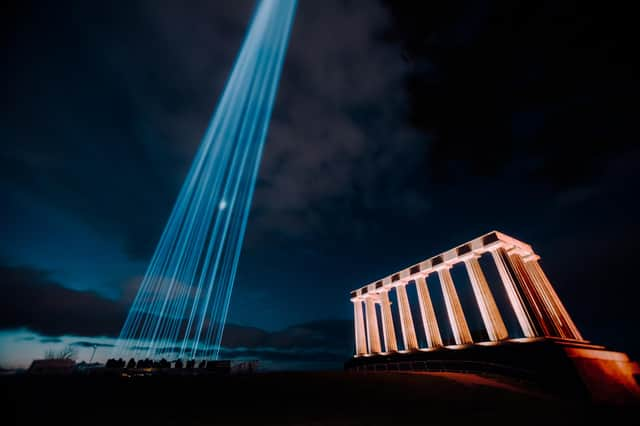 The Edinburgh International Festival more than doubled its overall audience to just over a million, despite the absence of live events in its 2020 programme due to the coronavirus pandemic.
Work created behind closed doors in cultural venues across the city was seen in 47 countries, including the United States, Canada, Austria, Germany and France, according to figures released today.
The Edinburgh International Book Festival also revealed that its programme of 146 online events had attracted a global audience of more than 210,000 – around 60,000 more than it attracted to Charlotte Square Garden in the New Town last summer.
Events with authors were watched in China, South Korea, South Africa, Australia, New Zealand and Russia.
Organisers of the Edinburgh Festival Fringe said more than 282,000 had watched the various instalments of a weekly virtual variety show.
However the Fringe Society said it had ended up registering more than 300 separate events as part of its first ever online-only programme, and pointed out that they had had their own online audiences which were yet to be calculated.
Crowdfunding campaigns across the digital Fringe have now raised £250,000 to support artists and venues to bounce back from the impact of the pandemic.
All of the city's major cultural events were officially called off in the spring in the face of the growth of Covid 19 – however plans for digital programmes were drawn up to help protect Edinburgh's status as a world-leading "Festival City", as well as provide paid work and help raise funds for artists, compaies and freelance workers.
More than 500 people were hired by the EIF alone to work on this year's events, which also included a spectacular light show which saw beacons projected into the night sky from venues across the city.
The EIF programme, which was promoted under the banner of a "My Light Shines On" theme, featured 26 different performances which were filmed without any audiences at the Festival Theatre, The King's Theatre, Leith Theatre, The Hub and The Queen's Hall.
The National Theatre of Scotland, Royal Scottish National Orchestra, Scottish Ballet, Scottish Chamber Orchestra and Scottish Opera all featured in the line-up.
Viola star Laurence Power, fiddler Aidan O'Rourke, indie-rock singer Honeyblood and folk band Breabach were among the other acts showcased.
Francesca Hegyi, executive director at the EIF, said: "Our activity this summer, including both our digital programme and those events which took place outdoors around the city, would not have been possible without the hard work and commitment of over 500 artists and those working behind the scenes, who have enabled us to safely reunite orchestras, ballet companies and theatre ensembles in venues for the first time this year.
"Thank you to all of our performers, staff, supporters and donors who have helped us to ensure that the spark of the festival still shines bright."
Highlights of the book festival's programme included Booker Prize winner Bernardine Evaristo's conversation with First Minister Nicola Sturgeon, which was watched live by more than 5000 people, as well as appearances from Hong Kong activist Joshua Wong, Samantha Power, a former United States ambassador to the United Nations, festival favourites Ali Smith, Ian Rankin and Val McDermid, and a poetry event featuring performances by the actors Tobias Menzies, Jamael Westman and Helena Bonham Carter.
Book festival director Nick Barley said: "While an online festival cannot recreate the joyous coming together of authors and audiences, the cultural exchange and the stimulation of creativity that a gathering of people in one physical space can bring, I believe we have created something very special this year.
"It is clear from watching the interaction of authors and audiences that this year's online book festival has generated its own sense of community.
"I am extraordinarily proud of the team who have turned themselves inside out, learned new skills and a completely new way of working to deliver events, in challenging circumstances, which have been warm, engaging, stimulating, entertaining and technically excellent.
"We have reached corners of the globe, and corners of Scotland, that we have never reached before, and brought an accessibility to the festival that I never want to lose."
Fringe Society chief executive Shona McCarthy said: ""This has been a Fringe like no other, and one we will certainly never forget.
"It has been inspiring to see our venues, artists and creatives producing such a range of imaginative work and adapting to the online world in the most difficult of circumstances, and I'm delighted that £250,000 has been raised to support our storytellers and performers.
"I'd like to personally thank everyone who has supported the Fringe. It may be over for another year, but this crisis facing us all is not.
"As we look back at all that's been achieved in this extraordinary time, it's clear that the resilient spirit is strong. Now, we'll keep working to make sure creatives get the support they need to continue."