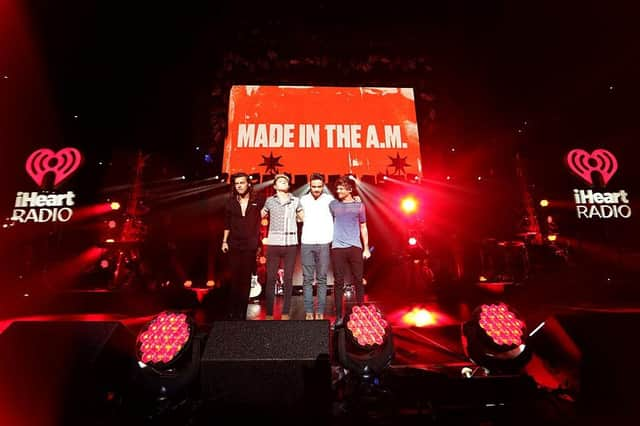 The group formed in 2010 after being put together on talent show The X Factor in 2010 – eventually coming third to winner Matt Cardle and runner-up Rebecca Ferguson.
They quickly signed with X Factor supremo Simon Cowell's Syco record label and went on to achieve huge global success, with five chart-topping albums and record sales totalling over 70 million making them one of the biggest boy bands in history.
Along the way they earned an estimated $75 million and won seven Brit Awards, four MTV Video Music Awards, six Billboard Music Awards, and seven American Music Awards.
Here's everything you need to know about their breakup and possible reunion.
When did One Direction break up?
The beginning of the end came on 25 March, 2015, when Zayn Malik announced he would be leaving the band, insisting that "my band has been really supportive" and that "I know I have four friends for life in Louis, Liam, Harry and Niall"
The band continued as a foursome for the 'On the Road Again' tour that year, playing 80 stadium shows around the world, but during the tour it was announced the the band would have a 'hiatus' in 2006 to work on other projects but that "they will remain together and plan to work together in the future".
Fifth album 'Made in the A.M.' was released on November 13, 2015, but the five remaining members did little in the way of promotion before going their separate ways.
Since the start of 2016 all five members have released solo projects, with Harry Styles being the most successful, but the supposedly temporary hiatus has remained in place ever since with little in the way of further explanation?
When did One Direction last play together?
One Direction's last UK performance was on December 13, 2025, when they played on the live X Factor final. Their final televised performance was on US network ABC's traditional end of year show Dick Clark's New Year's Rockin' Eve on December 31, 2015.
When did One Direction last play Scotland?
One Direction played two dates at Glasgow's Hydro Venue as part of their final On the Road Again tour in 2015, on October 7 and 8.
The year before they played their last Edinburgh concert at a sold out Murrayfield Stadium.
What are the odds on One Direction reuniting?
Coral now offer odds of just 1-2 on One Direction reuniting in 2023 – down from 3-1 just 24 hours earlier.
It's 4-1 that Zayn Malik will join them one more on stage, while they are just 6-4 to play this year's Glastonbury, and 2-1 to announce a new album.
Coral's John Hill said: "This is the shortest price One Direction have been in our betting for a reunion for quite some time. Maybe the lads have decided it is about time they should get back together. As much as this is optimistic news for 1D fans, our betting does suggest any reunion is likely to be without Zayn.
Where have the rumours of a reunion come from?
Technically speaking the band (with the exception of Zayn Malik) have never actually split up and remain on an indefinite 'hiatus'.
Just this month (March 2023) Harry Styles posted a picture on his Instagram of his wearing a One Direction t-shirt. He swiftly took it down but told fans at a gig in Auckland shortly afterwards: "I guess some of us have secrets. Maybe, maybe like some people, you chose to keep it to yourself and maybe one day, you'll like accidentally post it to your Instagram followers."
A month earlier Styles paid tribute to his One Direction colleague during a victorious night at the Brit Awards, saying: "I want to thank Niall, Liam, Louis and Zayn because I wouldn't be here without you either."
Zayn Malik last year posted hi own versions of two One Direction songs, leading fans to speculate that he was considering working with the rest of his band members again.
Previous rumours circulated about a possible reunion in 2020 for the 10th anniversary of the band forming, with Liam Payne saying: "We've got a 10-year anniversary coming up so we've all been speaking together a lot over the last few weeks, which has been really nice."