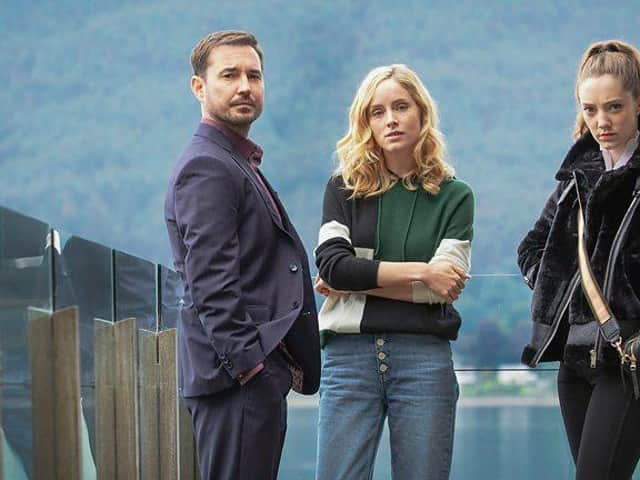 Martin Compston, Sophie Rundle and Mirren Mack play Dan, Emily and Kaya in The Nest.
With its multiple moral dilemmas over class, privilege, trust and parenthood, an all-star cast, a script by one of Scotland's leading screenwriting talents and a tense teaser trailer, it is little wonder the buzz about The Nest has been building for months.
Filmed on location over four months last year, The Nest is set in and around modern-day Glasgow and explores what happens when the lives of people drawn from two sides of the city collide.
Created by writer Nicole Taylor – who won huge plaudits for the country music feature Wild Rose which she set in her native Glasgow – The Nest is set to be a much darker affair, with its exploration of "the price of being able to buy whatever you want."
The five-part story, which will be launched on BBC1 later this month, unfolds when a rich young couple find their lives turned upside down by paying a teenager with a troubled background to have a baby for them.
The show marked a return to filming in Scotland for Line of Duty star Compston, who plays ruthless businessman Dan, whose relationship with music school teacher Emily, played by Peaky Blinders favourite Sophie Rundle, is under growing strain as she struggles with the reality that she is unable to have children of her own.
The story unfolds after a seemingly chance encounter with an 18-year-old stranger who runs out in front of Emily's car leads to the couple making an unlikely pact with her.
The key role of Kaya will be played by a rising star of the Scottish acting scene, 22-year-old Mirren Mack, in her first major screen role.
Although a host of locations around Glasgow were used, a luxurious self-catering holiday cottage overlooking Loch Long, in Cove, in Argyll, features as the key location for the couple's home where much of the drama is played out.
Rundle, who compares the couple's plush residence to the lair of a "James Bond villain", says: "Dan and Emily are very much happily married when we meet them.
"He's a successful, high-flying, businessman and Emily has her own career teaching at the Royal Conservatoire in Glasgow.
"They're a really happy, successful young couple who have got everything that they could want apart from a child and the family unit that Emily in particular really craves.
"One of the main themes is the urge that people have to have a family. For Emily, as a woman there is a real tragedy in not being able to have her own child. When we meet them, tensions are quite high and they've been really struggling with it for a while."
Compston, who admits there are elements of "shadiness" about his character's vast business empire, adds: "To all intents and purposes, Dan and Emily have a perfect life, apart from this one thing that they can't have.
"At their core, they're two really good people who are in love and just want a baby. They've got the right intentions. What they want is very noble.
"But just because you have noble intentions it doesn't really justify how you go about achieving those aims. When do you give up and say 'enough is enough?'
"All three main characters convince themselves it is the right thing to do. But if you want something enough you'll convince yourself that you're in the right."
Although details of the plot of The Nest have been kept largely under wraps, the trailer reveals some of the tensions after Dan and Emily become embroiled in a surrogacy deal with Kaya, who promises the couple: "I can change your life and you can change mine."
Among the plot lines teased are that Dan is said to "own half of Glasgow" and is concerned about Kaya having their baby when she is "fresh out of a children's home."
Mack says: "Kaya is very from a very different world than Dan and Emily.
"She is very street-smart and independent and wise. She knows what she wants and goes out to get it.
"She is figuring out her place in the world as an 18-year-old and starting a new life. She has her own interests at heart.
"But there are a lot of questions surrounding her and her past, and what her motives are. There's a cloud of suspicion around her.
"The Nest is essentially about two seemingly very different worlds coming together, and questions about what money can buy and whether it can buy you love.
"Emily and Dan have a life that is full of everything you could possibly want on paper. They think that having a baby will make it complete.
"Kaya has had a very different lifestyle and has grown up in very difficult circumstances, but she has the ability to carry their child for them."
Stirling-born Mack has a starring role in The Nest months after featuring as a new cast member in the second series of hit Netflix comedy Sex Education.
She started filming The Nest just months after graduating from Guildhall School of Music and Drama in London.
Mack says: "I was still at Guildhall when I got the chance to audition. I read the most totally amazing script and just totally fell in love with it.
"When I was offered the part it was the most exciting thing as it meant coming home and I just thought the story was so exciting and gripping.
"There is so much depth to the character and so many twists and turns within the story. It's been an absolute
Compston, Rundle and Mack are joined in the cast of The Nest by some of Scotland's best-known acting talents, including Kate Dickie, Shirley Henderson, David Hayman, Paul Brannigan and James Harkness.
Henderson plays Kaya's troubled mother Siobhan, who is reunited with her daughter during the course of the drama and appears to have a pivotal role.She and Mack ended up working together only a year after the then student attended a talk by the former Harry Potter and Trainspotting star at her former drama school, where she studied in the 1980s.
Henderson says: "Siobhan is haunted by things that have gone on in her past. She has a lot of problems and physical difficulties, she is untrusting and she is a loner now. Life has not quite gone how she wanted it to go.
"She and Kaya have had a history and a life together and something broke it, but they've weaved their way back towards each other."
The storyline of The Nest left its stars torn about the rights and wrongs of the key protagonists, particularly given the fact that they had no idea how the surrogacy thriller played out until well into the shoot.
Taylor is said to have made regular visits to the set during the extensive filming last autumn before deciding exactly how the story would unfold.
Henderson said: "I never got all the scripts. I only got a bit. You don't know what you're looking for, but when something finally arrives, you're like: 'That's what I've been waiting all these months for.'
"I think The Nest is about limits. When do you think:' I don't want to feel this anymore or have to deal with this anymore?' When do you walk away from something?
"You don't know your potential as a human being until you're in that situation."
Rundle says: "The interesting thing about The Nest is how it constantly shifts.
"You think you understand who the driving force is and then it turns on its head.
"There are moral questions about what people will pay for, what you should be able to pay for, what does privilege afford you and how easily can you exploit people who want something.
"What really fascinated me when I read the script is where the story sits on your own moral compass."
Compston adds: "Who you were rooting for and who you thought was in the right changed quite a bit as we were filming.
"The trio that develops is very dysfunctional. It becomes a real emotional thriller and every episode ends on a cliffhanger."
The Nest launches on BBC1 on Sunday 22 March.