The Delgados, Barrowland, Glasgow *****
"The chat is no better now than it was 18 years ago," said Emma Pollock, after an anecdote about the Delgados' Pull the Wires From the Wall topping John Peel's Festive Fifty chart in 1998 went awry. After 18 years where the Delgados looked for all the world like they were comfortable with permanent retirement – and continuing to run their Chemikal Underground label and Chem19 studio – the chat was just fine. It was great to have it back.
One of Scotland's most influential bands of the last three decades, the Glasgow-founded quartet are a classy comeback proposition, having helped launch the careers of acts including Mogwai, Arab Strap and Bis and released five albums of their own Mercury Prize-nominated material. Whereas before their lyrical wisdom always made them seem old beyond their years, the reverse is true now they're all in their forties, giving their performance a youthful crackle which suggests no time has passed at all.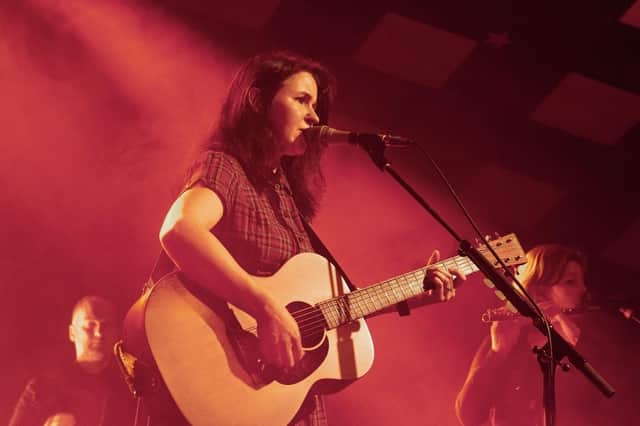 They remain, like all the best bands, more than the sum of their talented parts. Pollock and fellow guitarist/singer Alun Woodward's vocals wrap perfectly together, their defining signature sound, whether creating a choral duet on the weary, waltz-timed Aye Today, with Woodward taking the lead on the pitch-black anti-lullaby Child Killers, or with Woodward supporting Pollock on the crystalline The Light Before We Land. One new song, Reasons for Silence – excitingly suggesting a new album may follow – felt very much like Pollock's.
Alongside bassist Stuart Henderson and drummer Paul Savage, there were six other musicians, including a flautist and a string quartet – "the people onstage without whom this would have been shite," Pollock laughed. But how can songs like this disappoint? They fused Burns' Such a Parcel of Rogues in a Nation with Under Canvas Under Wraps, brought an epic air to American Trilogy and Hate is All You Need, and hammered out Everybody Come Down and Monica Webster with the energy of teenagers. They will return, promised Pollock, at a certain bandstand in the summer.