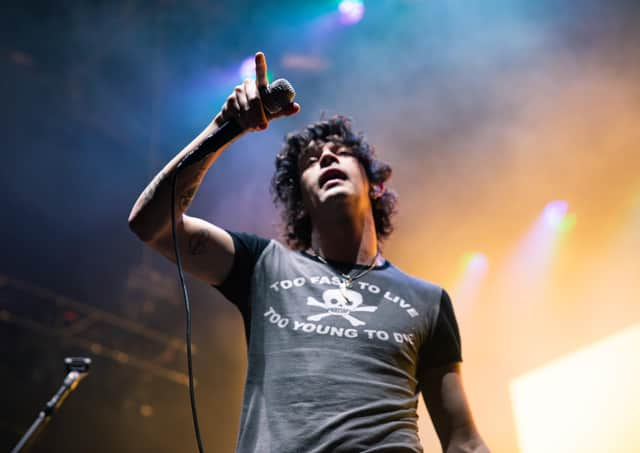 Matthew Healy of The 1975. Picture: Mackenzie Sweetnam/Getty Images
The 1975, Hydro, Glasgow ****
In their look, their sound, their stage dressing (all austere, movable neon-lit frames and a glitch art backdrop of broken-up home videos), and in Healy's perfectly timely lyrical concerns, they feel like a band making a strong attempt to define their times. On the evidence of this strangely intimate-feeling arena show, played in support of their imminent fourth album Notes on a Conditional Form, they come close to achieving that aim.
On Frail State of Mind, with Healy dancing while a conveyor belt transported him across the front of the stage, he took discussion of mental health into the realms of house and UK garage-aided pop music. The Birthday Party is a reflective, saxophone-laced song about spiritual wellness, and "about growing up, not getting old"; I Like America and America Likes Me is a stunning, monolithic anthem to the hopefulness of youth amid the big city, with Healy's voice vocodered to bits.
"I'd die for this shit, but it's not as important as the other stuff," Healy panted breathlessly at the end of the set. "For the next five minutes, don't shout, don't heckle, don't give me your political opinion – I don't want to hear it." The sampled voice of Greta Thunberg's now-famous speech rang out, as it does on the new album, and was followed by the youth-rallying Love It If We Made It, with its youthful, eagerly-devoured declaration that "modernity has failed us".
With every album and every show, the 1975 raise their game and the mood of their times.