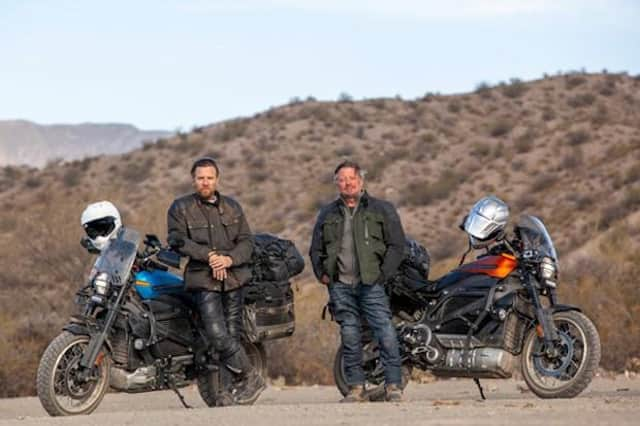 The pair will be riding on electric Harley Davidson's in the new series (Apple TV)
First they went the Long Way Round, then they went The Long Way Down.
And now actors Charley Boorman and Ewan McGregor are teaming up to do the Long Way Up, over a decade on from their last adventure.
The pair will don their bike leathers and swap their gas-guzzling bikes for electric Harley Davidson Livewires, racing from Argentina to the United States. They will be joined by long time collaborators, David Alexanian and Russ Malkin.
Here's everything you need to know about the new series.
Where are they going this time?
This time the duo set off from Ushuaia on the southern tip of the South American continent. The Argentinian city of 150,000 people is the southernmost city in the world and situated in the freezing south of Patagonia.
From there, they will race through 13 countries - including Chile, Colombia, Bolivia and Mexico - concluding their journey after 13,000 miles in Los Angeles, USA.
On their way, they will contend with a Patagonian winter and summit the extreme heights of the Andes, before exploring the jungles of Central America.
On the inspiration for the trip, Ewan McGregor said, "We'd always thought about doing this third trip. When you look at a world map, we'd gone directly across it and we went down through the African continent, so there was this glaring other route through the Americas that was left to do."
What happened to Charley Boorman?
In the same interview, McGregor explained that it was Boorman's involvement in a bike accident which brought them together after years of drifting apart.
He said, "Charley and I had drifted apart somewhat over the years since we did Long Way Down, due to the fact I'd moved to America and Charley was very busy - he'd shot some other television shows and he was doing a lot of touring with other people on motorbikes.
"So, when I was working in London or I came over to visit family in London, Charley was often just not there. There was no fallout or anything, we just sort of drifted apart.
"I think you'll see in the show, Charley had a very terrible motorcycle accident in Portugal and I think it sort of reminded me that you can't let these important friendships in your life drift and you've got to look after them.
"As soon as I was able to, I got to see Charley in London and then we picked right up where we'd left off.
"It was like no time had passed. Poor old Charley was wheeling around; it took a long time - he had an almost two year recovery from that accident, which was really brutal."
The TV series is available to watch from 18 September 2020 on Apple TV+.
A subscription to the service costs £4.99 per month.
Where did they go in the Long Way Round and The Long Way Down?
In 2004, McGregor and Boorman set off on their first adventure, The Long Way Round, riding from London to New York via Mongolia and Siberia, and contending with rugged terrain throughout.
The journey passed through France, Belgium, Germany, the Czech Republic, Slovakia, Ukraine, Russia, Kazakhstan, Mongolia, Canada, and the US.
Three years later, they teamed up for The Long Way Down, travelling from John O'Groats - the northernmost point of Scotland - to Cape Town in Africa.
On their way to the Cape of Good Hope, they travelled through Egypt, Ethiopia, Kenya, Tanzania, Namibia and several other African and European countries.
Where can I watch a trailer?
You can view a trailer for the new show here.