In Light: A phantasmagoria of folk arts to illuminate the lockdown world
A new online event turns the spotlight on the School of Scottish Studies Archive at Edinburgh University, writes Jim Gilchrist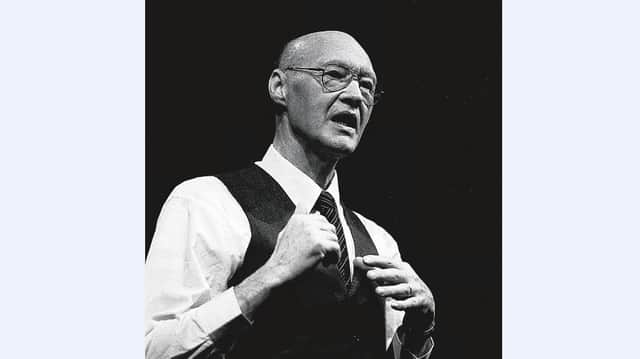 Storyteller Stanley Robertson features in the streaming treasury
That practitioners of traditional song and story, art forms cultivated since time out of mind, should be flitting through the ether, girdling the globe thanks to 21st-century internet technology, does resemble the glamourie of some folktale. Set streaming has come into its own since the blight of Covid-19 extinguished public performance, and now a major treasury of folk song and other traditional arts is taking to the wired world with a compendious online event next Saturday, 22 August.
School of Scottish Studies: In Light turns the spotlight on the school's archive, part of Edinburgh University's Department of Celtic and Scottish Studies, and recognised as one of the world's greatest audio archive collections of traditional music, song and story. Saturday's daytime and evening programmes include filmed performances by some of the Scottish trad scene's best-known figures – and some overseas guests.
The music programme features such notables as Gaelic figureheads Julie Fowlis (with Irish husband and accompanist Eamon Doorley) and Margaret Stewart, this year's Radio Scotland Young Traditional Musician Ali Levack and the US-based Scots fiddler Alasdair Fraser. Other transatlantic guests are singer Aoife O'Donovan and percussive dancer Nic Gareiss, who was the department's first dancer-in-residence, while Fulbright visiting professor and composer Margaret McAlister will collaborate with Gaelic poet Aonghas MacNeacail.
The school's own "house band" of piper and Chair in Scottish Ethnology Gary West, singer-fiddler and ethnology lecturer Lori Watson and traditional artist-in-residence Mike Vass will also be playing, while two new pieces have been commissioned, one from pianist Mhairi Hall, the other from harpist Rachel Newton, both of whom will discuss their compositions.
There will be tales from Glasgow-based Chinese storyteller Fong Lui and Hebridean chronicler Ian Stephen, the School's developing interest in BSL (British Sign Language) is reflected in a signed film of Stanley Robertson, the late and inimitable traveller storyteller, while Catriona Black's engaging animation, Piobairean Bhornais, is based on a Gaelic folktale.
Dr Neill Martin, department head at Celtic and Scottish Studies, describes the event as the School's response to lockdown – "an assertion of the power of music, song and the traditional arts of all kinds to create and sustain community in times of adversity."
He recalls that, during the early stages of lockdown, "I was very struck by the unreality of it, the feeling of stasis, of waiting. What were we going to do, what would the life of the department be like, how would we develop and adapt?"
Martin handed the job of assembling the programme to the school's current artist in residence, Mike Vass, whose compositional and production skills are as well-honed as his multi-instrumental ability, and who had composed a piece to mark last year's Hamish Henderson centenary. Vass points out that many of the artists involved on Saturday have a long association with, and have drawn inspiration from, the School of Scottish Studies archive: "Hosting this event online allows us to shine a light on the creativity that springs from this amazing resource and on the wealth of material contained within it."
Coronavirus has delayed the planned launch of the school's groundbreaking new cross-disciplinary Masters programme. It will now go ahead next year, which should be an eventful one as the school celebrates the 70th anniversary of its founding. Discussion of an anniversary programme has been curtailed, but Martin hopes they can create "something which is not just about looking at the past and the extraordinary life of life of the school, but also emphasising where we're going and the use that's being made of our material and the extraordinary body of knowledge we've amassed as a group of academics, scholars and researchers over these seven decades.
"We need to look to how we can further develop, expand and perhaps be a little bit provocative, to consider the potential inherent in this astonishing cultural jewel box and do something new and challenging with it."