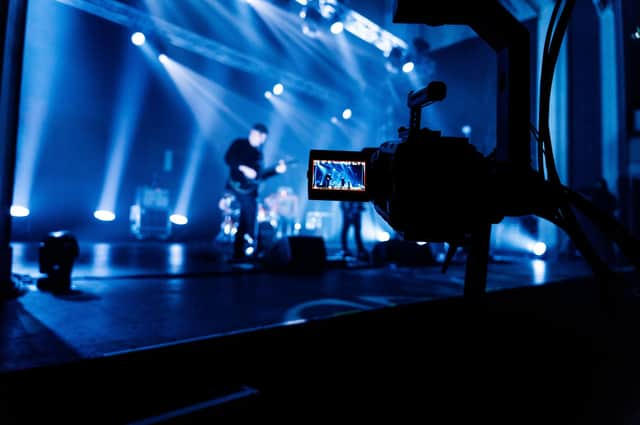 Six bands, including Retro Video Club pictured here, will be staging performances as part of the Live in Leith broadcasts.
But now Leith Theatre is about to bounce back once again, with venue organisers revealing plans to broadcast a series of Saturday night concerts from the main auditorium despite being unable to bring back audiences for the foreseeable future.
The venture is, however, allowing musicians, singers, filming and backstage crews to reignite a venue that played host to John Martyn, Frankie Miller, Mott the Hoople, AC/DC, The Rezillos, Thin Lizzy, Slade, Dr Feelgood and Kraftwerk in its heyday between the 1960s and 1980s.
Six up-and-coming acts drawn from around Scotland will be appearing this spring in the Live in Leith series, the first in-house production at the venue since it was reopened in 2017.
The concerts are being filmed behind closed doors using lifeline funding from the Scottish Government.
The £138,000 grant has also allowed Leith Theatre's own staff to return to the building, which has also hosted filming for the Edinburgh International Festival, the Wide Days music industry showcase and videos for bands like Teenage Fanclub, Posable Action Figures and The Snuts during the pandemic closure to the public.
Leith Theatre has also joined forces with the charity Empty Kitchens, Full Hearts to use part of the complex to distribute more than 500,000 hot meals to families in need during the pandemic.
However, it is hoped the Live in Leith broadcasts, which will be available to watch all over the world, will mark a new chapter for the venue and boost efforts to turn it into a new "home for new music in Scotland" once audiences are able to return.
Lynn Morrison, chief executive of the Leith Theatre Trust, said: "We realised quite quickly last year that we would be able to have Covid-safe filming in the building.
"Our unique selling point at the moment is that we don't have any seating on the ground floor of the main auditorium. We have a huge space that we can ventilate pretty well and lots of backstage.
"In a really uncertain landscape, the building has actually really started to work for us.
"We've been planning Live in Leith since last summer. One of our key aims in applying for funding was about putting money back into the sector.
Vic Galloway will be hosting the Live in Leith concerts, which are being filmed behind closed doors.
"It felt like a real opportunity to do test-bed something that, if it works, we could have as part of our business plan when we reopen our doors.
"The funding has protected jobs here but a lot of the people who have worked on this event have been saying to us that they've not had any work since last March."
Ticket prices for the three Saturday night Live in Leith shows have been pegged at £11.50 for each gig, with tickets going on sale from 10am on Friday.
Rising Lanarkshire star Connor Fyfe, 14, and Edinburgh indie-rock outfit Retro Video Club will get the series underway on March 20.
Leith Theatre will be launching the new series of Saturday night broadcasts on 20 March, which will feature Connor Fyfe.
The second show, on March 27, will feature Leith-based rapper, DJ and producer Nova Scotia, who won last year's Scottish Album of the Year Award, and Aberdeen grime star Ransom FA. And goth-pop outfit The Ninth Wave will be appearing with fellow Glaswegians Lucia & The Best Boys at the final show in the series on April 3.
Broadaster Vic Galloway, who has championed Leith Theatre as one of Scotland's best live music venues, will be hosting the Live in Leith shows and also interviewing all the bands involved.
Galloway said: "To me, Leith Theatre is the best venue in Scotland after the Glasgow Barrowlands. The potential it has, and has had in the past, is absolutely phenomenal.
"It is the perfect size, it has a great ground floor and a U-shaped balcony, so you can be really quite close to the stage if you're sitting up there. It's got a capacity of around 1,400, which is big, but you still get that intimacy and connection with the bands.
"There's all kinds of different rooms in the building and it has an absolutely beautiful foyer. It feels like a real experience walking into the building.
"It's criminal that it was sitting mothballed and was basically being used as a storeroom after it was closed down in the late 1980s.
Retro Video Club are among the acts appearing in Live in Leith, is the first in-house event to be created by the Leith Theatre Trust since it was granted a lease in 2016.
"Bands absolutely love playing there because it has a proper sized stage and when there is a decent PA, it feels like they're playing in a really grandiose theatre."
The concert series is the first in-house event to be staged by the Leith Theatre Trust since it was granted a lease to use the building by the city council in 2016.
However, it was in regular use after it reopened in 2017 for the Hidden Door Festival – the first event to be staged in the building since the last 1980s – until it was forced to suddenly close last March in the face of the coronavirus pandemic.
Live in Leith is yet another rebirth for a venue that was born out of one of the most controversial episodes in the historic port's history, when it was merged with Edinburgh in 1920, despite the opposition of locals.
The city agreed to gift a theatre to Leith in the wake of the decision and the venue eventually opened in 1932, only for a bomb blast to badly damage its main auditorium in 1941.
It took 20 years for the building to reopen and it regularly staged music, theatre and even sporting events until the late 1980s, when it was closed by the city council due to its declining condition.Leith Theatre had largely been forgotten about until the local authority proposed selling it off on the open market in 2004 to help pay for a long-awaited revamp of the King's Theatre.
However, councillors were forced into a rethink after Leithers mounted a campaign for a reprieve, citing the theatre's origins as a gift for the area and demanding it be brought back into use again.
Morrison added: "It is a dream come true to be producing our very first in-house programme from our grand auditorium.
"It has allowed us to see what is possible, brought a greatly missed creative network back into the building and enabled us to showcase incredible live music in a new way. This programme will mark a new chapter for Leith Theatre."
Live in Leith programme co-ordinator Callum Jones said: "Our ambition is to establish Leith Theatre as a home for new music in Scotland by supporting the development of artists.
"Our intention with Live in Leith has been to create a programme which would showcase up-and-coming Scottish talent and provide an income stream for artists when there are currently so few alternatives.
"By doing so, we have also been able to provide work for industry professionals across the sector, and re-engage with our pre-existing network and supply chain.
"The funding has allowed us to deliver a high quality, digital offering for music fans to enjoy from the safety of their own homes.
"I hope the broadcasts can provide some much-needed respite until we can welcome visitors back to Leith Theatre.
A message from the Editor:
Thank you for reading this article. We're more reliant on your support than ever as the shift in consumer habits brought about by coronavirus impacts our advertisers.
If you haven't already, please consider supporting our trusted, fact-checked journalism by taking out a digital subscription.
Joy Yates
Editorial Director
This is what Leith Theatre's empty auditorium normally looks like.