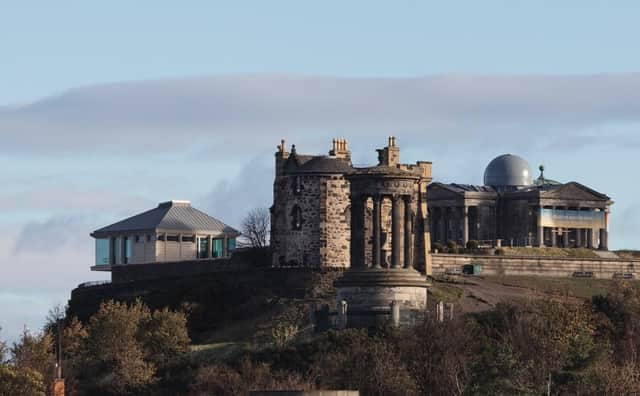 The Collective Gallery, which took over the historic City Observatory two years ago, plans to reopen the site on 9 July.
The Collective Gallery is the first cultural attraction in the city centre to announce plans to welcome back visitors.
Its outdoor viewpoints, outdoor cafe and a new "pop-up shop" are all expected to open on 9 July.
The Lookout restaurant, a glass-boxed eaterie offering boasting spectacular views across the city, is due open as soon as possible under the latest social distancing guidelines from the Scottish Government. Ministers have announced that meals can be served outdoors from 6 July and indoors from July 15.
The Collective Gallery relocated from its long-running home on Cockburn Street to a new base at Calton Hill after a £4.5 million project to restore and refurbish the City Observatory. Inspired by a Greek temple of the Four Winds, it was designed by William Henry Playfair and opened in 1818.
The gallery will be selling work from artist and craft-makers at the outdoor shop, while "picnic food," snacks and drinks will be available from its kiosk, which overlooks the National Monument.
The main exhibition is due to reopen in August to coincide with the city's traditional festival season, with the resumption of a show by Lithuanian artist Julijonas Urbonas.
Planet of People, which opened in February, is described as an artistic and scientific feasibility study of an artificial planet made entirely from human bodies. The exhibition consists of six 3D scanners which are used to scan visitors, who can then view their bodies forming a new celestial object in a simulation based on astrophysics.
An official announcement from the gallery said: "Almost four months after our doors closed to visitors we are pleased to announce we will partially re-open from Thursday 9 July.
"Much as we would love this to be a return to 'full service', we are following Scottish Government advice and re-opening cautiously, in phases, and with new social distancing measures in place.
"The path back to normality will be challenging to navigate for us and many other charities and small businesses whose revenue has been hit hard in the past few months.
"As custodians of a site held 'in the common good', it is in that spirit that we ask you to work with us to bring it back to life. Come visit, please follow the guidelines and signage provided, and if you can please spend something in our kiosk or shop, or make a donation."