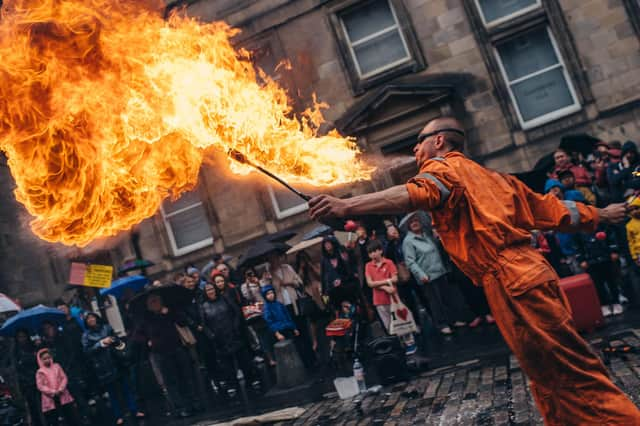 Susan Deacon, head of a taskforce involving festival organisers, business leaders and council chiefs, suggested the future prosperity of the city centre would be put at risk if efforts to "reboot" the city's major events were held back.
Speaking in an online debate about the future of the festivals, which date back to 1947, Ms Deacon suggested they need to "think big" and remain ambitious as they looked to the future.
She said there was a risk the rebuilding effort for the festivals, which attracted a 4.4 million audience last year, could be hampered by a "top down" approach from politicians.
Ms Deacon, chair of the Edinburgh Festivals Forum for the last four years, said 7,000 jobs were "utterly dependent" on the range of events currently staged in the city, which she described as "the jewels in the crown" of Edinburgh.
Official figures have predicted Edinburgh's economy could take a £360 million hit after the official cancellation of next month's festivals in April.
Ms Deacon, a former Scottish health minister, said she was also concerned about the long-term impact of the cancellation of the festivals on generations of young people in the city.
Recent research found that 90 per cent of the city's schools were involved with them in some way.
Audience numbers for the ever-expanding Fringe broke through the three million mark last year.
However annual increases in shows and ticket sales have been accompanied by growing concerns about the city centre's ability to cope with the festivals, in particular the historic Old Town.
Heritage groups began drawing unfavourable comparisons between Edinburgh and Venice three years ago, weeks before the festivals were due to celebrate their 70th anniversary.
Last year saw the launch of a new campaign, Citizen, with the aim of defending the city from over-tourism, gentrification, privatisation of public space and "festivalisation".
Last summer, the "numbers swelling during its August festivals" were cited in a report naming Edinburgh as one of the world's worst over-tourism hotspots.
Efforts by the city council to ease crowd congestion last August by closing off some streets and bringing in crowd control barriers sparked a new wave of controversy.
Speaking in the debate organised by Edinburgh University, Ms Deacon said: "I was really struck and impressed and heartened at how quickly the Scottish Government and the city council responded very quickly to the immediate efforts to shore up core infrastructure that has been built up over more than 70 years and created this wonderful array of festivals and events that are known and loved the world over.
"We have to make sure that that continues when we are out of immediate reactive crisis mode.
"Cities are really going to have to think about how they renew and adapt to this new world that they are in. They will really need to polish the jewels in the crown. Our festivals are a mass of jewels in the crown. There is a pressing need to think about how we work collectively.
"We have to think big and make sure we keep our ambitions big and be able to adapt and be agile for this really uncertain period ahead.
"I think we have to be careful about how much should be driven from the top down. I slightly question how much it is possible to plan.
"There are things going on in different places to not just make cities more welcoming, but to accelerate the pace of change around sustainability. But I think some things will grow organically and be market-led.
"We will all collectively have to come out of the hibernation that we have been in . The big questions for the future are going to be about scale and pace. How quickly can we build things back up again? How much are we going to be able to grow?
"The scale that Scotland has developed in large events allows us to really punch above our weight in the world. It has powered all sorts of aspects of the Scottish economy and frankly given people jobs.
"The festivals touch more than 90 per cent of the city's schools. We have very successfully woven culture into the DNA of generation after generation in this city. We need to get that back and up and running again."