Edinburgh Festival Fringe comedy reviews: Gillian Cosgriff | Tom Ballard | Alexis Dubus | Alex Farrow
A former Harry Potter stage actor's skill at crowdsourcing daft rankings is a joyous early standout as the Fringe gets properly underway. By Jay Richardson and Kate Copstick
Gillian Cosgriff: Actually, Good *****
Pleasance Courtyard (Venue 33)
Gillian Cosgriff's Fringe return won the big prize at this year's Melbourne Comedy Festival and it's easy to see why. Partly improvised – with positive and inclusive audience participation – but also tightly scripted, tying songs and anecdotal stand-up into a satisfyingly coherent, life-affirming whole, Actually, Good is more than a comedy show, it's a tiny revolution in how to view the world. Quirkily peculiar to the Australian, it's nevertheless organically packed with moments that you'll mentally file away and revisit in the future.
Ostensibly, the show's origins were in a disappointing, rain-drenched holiday that Cosgriff took with her partner, in which their boredom compelled her to contrive a game listing ten likes and loves in escalating order of appreciation. It's a simple enough, though hardly earth-shattering premise. Nevertheless Cosgriff was so enchanted by her innovation that she started compiling top ten lists from friends, family, and then audiences, in a book. Though often seemingly unique to an individual, it is the human connections that these suggestions forge that truly make the show. Murmurs of appreciation ripple throughout the room as Cosgriff crowdsources a new list, with sample offerings on the night I attended including the love of a pet dog's snores, ignoring a satnav's directions and beating its prediction by five minutes, or the burnished appearance of suede when it's brushed in a different direction. It's a mix of the silly, poignant, amusing and uncannily joyous, and throughout the process the comic encourages and teases out the dialogue by sharing her favourites from previous shows.
All of which would be winning enough. But Cosgriff also shares the mental health journey that really underlies the lists – with the erstwhile Harry Potter stage show actor recalling a conversation with a complete stranger when she was burned out that takes a real turn – and the eccentric behaviour of her close friend Dave.
Yet the true revelation is the tunes. Often cynical, pernickety and showing Cosgriff in an insecure, unflattering relief, their dark accentuates the show's sentimental light. They are delightfully wired, candid and varied, toe-tapping numbers seamlessly integrated into the narrative in an unshowy manner, belying the strength of the songwriting. Actually, Good is actually rather wonderful. Swiftly add it to your festival show-going list. Jay Richardson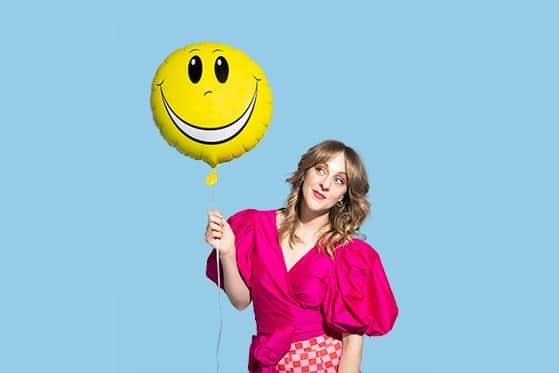 Tom Ballard: It Is I ****
Monkey Barrel Comedy (Venue 515)
A splenetically funny dispatch from the colonies, Australian Tom Ballard's first Fringe show since 2019 is a furiously republican, uninhibited tirade at the late Queen Elizabeth II and plenty more besides. As nakedly gay and boyishly petulant as he is socialist, he opens by airing his belly acquired during Covid and recounting his sexual escapades with a (male) witch that features an irresistible fusillade of JK Rowling and sorcery-related jokes.
Ballard has always struck an appealing balance between his informed, opinionated politics and the roiling chaos of his personal life. The swaggering manner in which he reveals that he's in a relationship with a younger, hotter, Aboriginal acrobatic circus performer is both a flex of his attractiveness and impeccable liberal credentials that he instantly undermines with his ever-present insecurities, themselves burnished by the fact that virtually no-one in the crowd has seen his recent special or read his book. In an early preview show, with a lively, chatty audience and a sweaty, febrile atmosphere, he might have come horribly unstuck. Yet he capably rolled with the punches of their interjections, feeding the energy back into the distemper of his performance.
Like our (and his) late monarch, Ballard's grandmother has lately been approaching her centenary, which serves as a prompt for some mercilessly funny observations on the West's treatment of the elderly, our self-serving, society-wide hypocrisies and lies. He is not, he notes, the first to slam the Royal Family and the corrupt, exploitative structures and practices of that institution. But he brings a welcome foreign yet still invested eye to the mourning period for the Queen, his incredulity at the combination of hysteria and deference absolutely packed with elite gags. Throw in some callously snarky jibes at the romantic life of Rupert Murdoch and despairing wit about the climate crisis, and you have a form of satire that feels very unBritish – partisan, angry, loud, and all the better for it. Jay Richardson
Alexis Dubus: 3 Star Show ***
La Belle Angele (Venue 301)
This is the perfect three star show. It gets its three stars for all the right reasons. It is clever, engaging, personal and confidently gentle.
It is something that is rarely found in Edinburgh in August, a show that does not try too hard.
Here, Alexis Dubus is to comedy what Tony Bennett is to music. It is comedy crooning and it is a revelation. The show gently wanders, trailing clouds of smoke, flashes of nicely clever, faux pullquotes on PowerPoint, and even the occasional comedy Venn diagram, like punctuation marks. It feels like a delightful and entertaining (if one-sided) conversation with an old friend. While lesser performers labour over links, Dubus simply drifts from philosophy and fatherhood, through grammar Nazis, poetry, ADHD and the origins of A Certain Frenchman.
This show makes a nonsense of the glamour of five stars. It feels confidently comfortable, and that is an extraordinary accomplishment, especially as I saw the first performance. We learn of the Danish Law of Jante, which Scots will recognise as akin to the old prohibition on "making a show of yourself". Alexis Dubus does not make a show of himself quite gloriously here. It is its own kind of wonderful. Kate Copstick
Alex Farrow: Wisdom of the Crowd ***
Cabaret Voltaire (Venue 338)
There is a lot of interaction in this hour, as the title hints. The main thrust purports to be that we are not what we do: our work should not define us. But Alex does not allow himself to become mired in one thesis. No. We discuss optimal laundry scheduling, the role of bananas in male dominance rituals, why teenage soldiers are the best and Jean-Paul Sartre. With Alex, you always get Sartre with your laughs. Here, there is even a Sartre-based gameshow. It is a funny, heady mix.
Funny and fascinating work really well together. Here, we get something of a smorgasbord of a show but the various chunks are delicious. Farrow is never less than charming and watchable and generally more even if he has to shepherd us through the section on poo experimentation. But stay with him, and Jaegermeister and WW2 fans are in for a treat. And if he could stop saying "right" after every other sentence he utters, the show could be cut by ten minutes. Kate Copstick