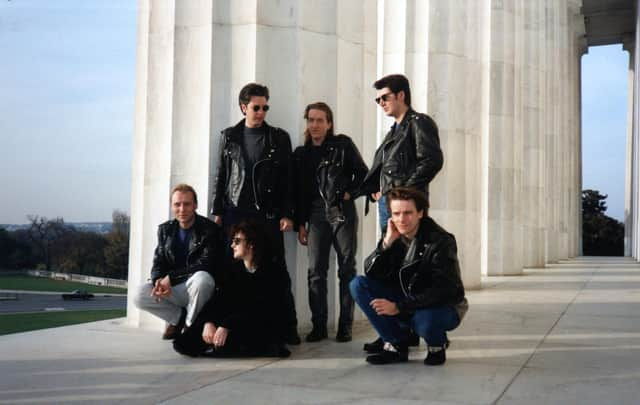 Deacon Blue were one of Scotland's biggest bands when they headlined The Big Day in Glasgow in 1990.
They have recalled how they thought the Bellshill-born singer, who famously came under fire during Glasgow' s Big Day concert in 1990 for speaking in an American accent, had "lost the plot" and was "behaving like a d***" after they were told to leave a backstage area and she insisted on being driven 20 yards to the stage.
Singer Lorraine McIntosh said she thought the 250,000 crowd had turned "really scary" during the showpiece event for Glasgow's reign as European Capital of Culture.
The Big Day concert on Glasgow Green is recalled in To Be Here Someday, a new book by Paul English on 35 years of Deacon Blue.
Drummer Dougie Vipond said: "Sheena Easton was on just before us and she'd been getting a hell of a time in the press for being too big for her boots, which in Scotland is worse than murder.
"We were in this big festival area backstage, all sitting around outside our Portakabins, and because we were last on, we were in the same area as Sheena.
"We were sitting around waiting, and suddenly this huge security guy with an American accent came up and said: 'You're going to have to clear this area.' We were like, 'Eh... are we?' We thought it was a joke.
"So we jumped into our Portakabin, and we were all looking out the window. Next thing Sheena Easton arrived and went straight into hers. I couldn't believe it. I'd felt really sorry for her up until then, because the press had really been hammering her, but now here she was behaving like a dick. We were laughing our heads off."
As Vipond watched some of Easton's performance from the back of the stage he noticed missiles being thrown towards her.
He added: "I remember thinking: 'F***! She's getting a hard time - and we're just about to go on." I was thinking we were going out to play to this really angry crowd.
"I reported this back to the band - that the crowd were upset and we were going to have to kick it, just fill the set full of hits. And that's what we did."
McIntosh said: "Driving through the city in the van that afternoon was incredible and a bit scary."We thought it might not be that big, but the closer we got to the green, it just went on and on and on.
"When I saw the reaction Sheena Easton got, people throwing stuff at her, I actually thought it was really scary.
"The crowd seemed to have been good-natured that day, but this wasn't nice. I didn't like what was happening.
"But when we went on the crowd reaction was just incredible."
Frontman Ricky Ross said: "We were all a bit uptight, it was a big event, but it's good to have some nerves. You worry when you don't.
"I hated how what happened to Sheena Easton came to define it for some people, something so negative, and I honestly don't think it would happen now. But I didn't pay much attention to it at the time, because you're in your own head, thinking about what you're going to do."
Ewen Vernal, the band's then bass player, recalled: "I remember seeing Sheena Easton being driven about 20 yards from her Portakabin to the end of the stairs for the stage and thinking, 'Okay, Sheena's lost the plot. She's now officially no longer from the west of Scotland.' A few people in the audience sensed that as well."
Ross added: "For some people that day would have been a very visceral celebration - a big party in the middle of town.
"If it hadn't been for that day - successful, sunny and free - the 'Year of Culture' in Glasgow might have passed them by.
"We played very well that night. A lot of people hadn't seen us before, or a lot of people maybe couldn't afford tickets to see us, so it was a chance to come and see us for free.
"That night solidified something. It was big, our gestures were big. We did the right kind of show."
Don Coutts, producer of Channel 4's TV broadcast of The Big Day, said: "If I'm honest, I maybe thought Deacon Blue were punching above their weight, playing to a massive TV audience and in front of a quarter of a million people.
"But they were totally brilliant, and absolutely rose to the occasion.
"What happened to Sheena Easton before they went on maybe meant it was theirs for the taking, but they took it and they were fantastic.
"It was a defining moment in their history and the whole day was a cultural affirmation for Scotland, really."