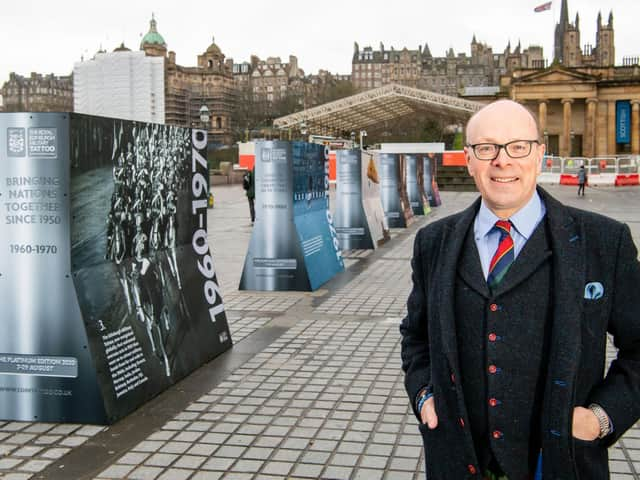 Brigadier David Allfrey, the chief executive and producer of the world-famous spectacular, insisted the event was taking a "business as usual" approach and encouraging potential ticket-buyers to "crack on" with plans to visit the city in August,
But the Brigadier, who is overseeing preparations for his final run of shows, admitted he and his team are also planning for the prospect of having to pull the plug on the event if Scotland is in the grip of a significant outbreak in the summer.
He pointed out that the event had not lost a single performance since it was first staged in 1950.
However he revealed that the international flavour of this year's could be scaled back depending on the impact of the spread of the virus around the world, adding that event organisers in Edinburgh and elsewhere were "hostages to biology" over the spread of the virus.
Brigadier Allfrey said: "We have, of course, been looking at coronavirus closely and carefully, along with every other event and festival in Britain.
"We've done our own evaluation of how it might affect us as a business and are looking very much at all the advice that is coming from the various pan-national institutions and our own governments.
We are planning for the event as normal. Without being too trite, it would have to be a very canny virus to shut down the Tattoo.
"We've never had to cancel a single show over the last 70 years and it would not be my intention to cancel anything anytime soon.
"But, clearly, if there is national instruction and guidance we would have to respond to that.
"All of the assessments would appear to suggest that there are peaks and troughs in terms of the spread of the virus. We, like everybody else, are hostages to biology at the moment.
"The military have a great way of planning for the less brilliant and hoping for the best. Most people will be planning for the less brilliant.
"We have to plan for the country having a really difficult time with the virus at the time of the Tattoo or over the summer.
"We have some brilliant scientists in this country and overseas. We are calling on all of their experience and skill.
"They are providing very high-quality information. Governments are responding to that information in a really sensible and intelligent way."
More than 220,000 people from around the world are expected at the 70th edition of the Tattoo in August, with around a third of advance ticket sales notched up overseas for the show, which has been a sell-out in modern times.
Audiences from 100 countries have bought tickets for the show, which runs for more than three weeks at Edinburgh Castle esplanade, in recent years.
Brigadier Allfrey said: "This is a slower time of year for ticket sales anyway. We've noticed a couple of variations, but at the moment they are not significant.
"Every single day when you wake up there is a different piece of news. Customers are making decisions on an almost daily basis.
"The travel trade is taking a pragmatic view, as we are, which is business as usual, plan intelligently and if it runs against you then you will deal with it."
The full line-up of overseas acts for the Tattoo is usually is kept firmly under wraps until the event's official programme launch in July.
However last year's production featured visiting acts China, France, Germany, New Zealand and Trinidad & Tobago.
Brigadier Allfrey added: "We've got people coming into Edinburgh from around the world next week for a production conference to talk about the show.
"If circumstances run against us we may have to dial the show back a bit. I could conceive of circumstances where some acts may not be able to come to Edinburgh.
"The way the Tattoo is built means that even if we have fewer acts this year we can always increase their content. I don't see this year's show being any less extraordinary that it usually is."We have a pretty strong show this year, with a very strong international content. At the moment, I'm as relaxed as any chief executive of any festival or event could be.
"We are planning sensibly and we are being very clear with our customers. If a show gets cancelled people will be able to come back to us for a refund.
"Our view is not to be alarmist, but to be sensible. Everybody knows that the world is having a bit of a challenge. .
"It's business as usual for us, while looking ahead to how we might help our staff, customers and the show should we have to.
"My message to anyone looking to come to Edinburgh in August would be to absolutely carry on with their plans.
"Edinburgh is still going to be hear in brilliant sunshine, I hope, in August doing all the things that this city does so well.
"I hope very much that people keep with their plans to come to Edinburgh and crack on with them."