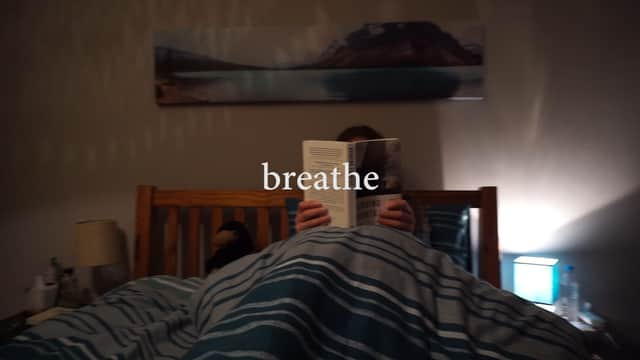 Made over the course of a weekend during the Covid-19 shutdown in a flat overlooking Holyrood Park, it depicts a young woman navigating her way through a day in isolation.
Sebastian Geller's five-minute film triumphed in the Four Walls Film Challenge, which saw filmmakers around the world tasked with making a short in their own homes under lockdown conditions.
Geller, who heard about the challenge three days before it got under way, persuaded his girlfriend, Hannah Burley, to play the lone character in the film, Breathe.
Now he will get the chance to make a road trip movie charting a journey to Budapest where a new short film that he will shoot and edit en route will be screened next year.
Geller drew inspiration from the Oscar-winning First World War movie 1917, which was filmed to look as if it was shot in one take, by editing together the sequences filmed at home between a Friday night and a Saturday afternoon to try to create a similar illusion.
Munich-born Geller worked with a German-based composer friend, Milos Ilic, to create a soundtrack to match the "claustrophobic atmosphere" of the film and his sense of growing public despair at the time it was shot, seven weeks into lockdown in Edinburgh
Geller said: "You were only allowed to film within your own four walls and in adherence to the lockdown rules. No footage was allowed to be produced in public spaces.
"I had a rough idea of what style of film I would like to create and I convinced a talented friend from Munich to come on board and compose the soundtrack. After that I only had to convince Hannah to star in the lead role, as the only other person in our house!
"The theme we were given on the Friday morning was 'escape' and I thought of the claustrophobic atmosphere the continuous shot illusion of 1917 evoked in me.
"My idea then was to try and create the same illusion within our flat and the escape from it being the ability to switch off and take a moment to take yourself out of the stress of this weird time.
"I wanted it to be obvious that the film fasts forward through a day of a person spending their current life within a few square metres, bookended by the character breathing in and out, hence the title.
"We shot all the evening scenes on the Friday and the rest on the Saturday morning and afternoon. I sent my shooting script to my friend in Munich with annotations of general mood and atmosphere and he provided the first draft of the music on the Saturday afternoon.
"It was made when you could sense that people were starting to despair and to question the sense of it all. I hope people can take from it that there is a sense of common experience in the current state of solitude as well as the fact that sometimes all it takes to relieve the daily stresses is a step back and a deep breath."
Geller, who has previously made films about an IRA gunman and media coverage of immigration into Europe, recently completed a new work in Edinburgh about the rules on social distancing.
He added: "Lockdown has provided a chance to be more creative again. Winning the award has given me a real boost in motivation to do more."