Cerys Matthews interview: "Poetry is a tool for switching on the lights"
For her latest project, Cerys Matthews has teamed up with Joe Acheson of The Hidden Orchestra to set the words of ten contemporary poets to music. Interview by Fiona Shepherd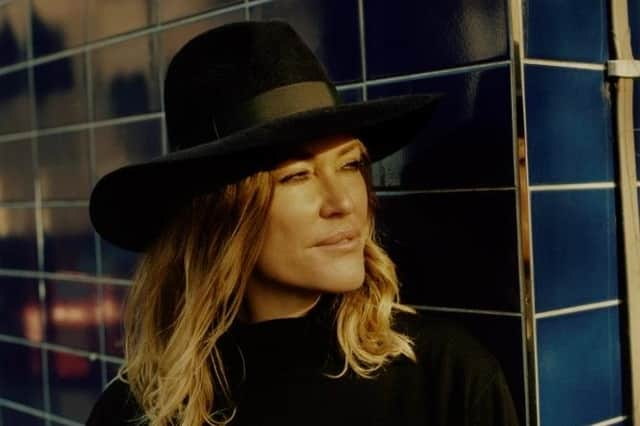 Cerys Matthews PIC: Nicole Otero
Back in the glorious pre-Covid world of 2019, former Catatonia frontwoman-turned-beloved broadcaster and all-round arts maven Cerys Matthews celebrated her 50th birthday with a little family holiday jaunt up to Everest Base Camp.
"Well, why not?" she asks. "I think every decade you get to live on this earth is something to celebrate so I wanted to do something special and it could not be beaten – talk about looking out over massive horizons… and when you first see Everest, you recognise it because it's got that iconic double summit. I've since read as many books as I can about Everest and stories of the Himalayan and Afghani peaks. Oh my God, I'm obsessed now!"
Even the briefest of conversations with Matthews is a delight and an education, thanks to her infectious enthusiasm for life, art and people, which informs everything she turns her hand to, be it the eclectic taste in music she showcases on her BBC 6Music and Radio 2 shows, her archivist curiosity about folk song, her championing of the Welsh language, her patronage of numerous organisations, festivals and charities or her lifelong love of poetry.
It is this latter passion which has inspired her latest (ad)venture, curating an album of poetry and music called We Come From the Sun, which sets the words of ten contemporary poets, including Lemn Sissay, Imtiaz Dharker and Adam Horovitz (the British poet, not the Beastie Boy) to a complementary soundtrack composed by Matthews and Joe Acheson of The Hidden Orchestra.
"When we talk about poetry, it's too easy to go 'oh, that stuff from a dusty old book'. I don't see poetry in that way," says Matthews. "What I love is when any piece of art makes you sit up and go 'that's amazing, what does that say about the world?' It's a tool for switching on the lights."
Matthews is a patron of the Dylan Thomas Society – perhaps unsurprisingly – and also a great lover of Langston Hughes, WB Yeats and Robert Burns, whose work she included in her "folk cookbook", Where the Wild Cooks Go, alongside a vegan haggis recipe. Every year – though on hold for 2021 – she organises the Burns celebrations at her kids' school with live music and a suitably international flavour.
"You can read any poem you fancy in whatever language and from whatever country or culture and I hope that Robert Burns somewhere would be nodding to that idea," she says. "He was an internationalist and on board early with this idea of equality, not just between the classes, but between the races, as well as the sanctity of living creatures and the idea of the miracle of life itself."
That idea also resonates through We Come From the Sun, the first of a planned series of albums about no less a subject than life on earth. For this first release, Matthews handpicked a selection of works by her favourite current poets around the theme of "genesis".
"What I want to do is mimic the arc of life, so this had to be about the beginnings of a being, a journey about to begin," she says. "The poems all touch on this emergence into the world, not from a vacuum but from our forefathers and the layers of history that come before us."
There are animalistic poems of birth by Kim Moore and Liz Berry, and a lyrical evocation of longing, landscape and rain, Loch Long by Ardgarten, Arygll, written by Kayo Chingonyi, all recited and recorded by the poets themselves in Abbey Road Studios shortly before lockdown.
Matthews' task was then to concoct an atmospheric tapestry of music and sound in remote lockdown conditions with Acheson – who she has still never met in person.
"You don't want to stifle a piece of writing," she says. "There's a craft in marrying them together – it's like jazz. Don't think of boxes and compartments, don't think of definitions, just go on a trek as you would with the beat generation or Bob Dylan or Kanye West."
Ultimately Matthews hopes her series will reflect "the beautiful plurality of the world. It's my railing against the idea that we're all one and the same and it's my protest against the polarized world that modern technology seems to be pushing forward as the new norm, this tribalism, this chaotic noise and the lack of nuance and context.
"I wanted to have that open platform on the album, that it wasn't just my perspective, this middle-aged woman from Wales who lives in London. I want to be challenged because I don't know what the answers are – nobody does, but it sure isn't just shouting at each other."
Matthews is the first to admit that her 2020 turned out to be a noisy affair. "I live in a world of sound so silence is quite important to me and the one thing I've learned in lockdown is I'm no good when there's constant noise, which is the reality for everyone with children in their house.
"I wasn't a good person to be in lockdown with," she says. "I had lots of plans. I said I'd learn Japanese or Arabic and I haven't. I have learned that I'm the world's worst home schooler, absolutely rubbish, no patience."
Matthews' grandmother passed away during the pandemic and she was unable to travel to Wales to attend the funeral and hug her mother.
"But the silver lining to this has been limiting my horizons and making me concentrate on the now, life and the children, even though I was a screaming banshee!" she says. "It seems that time moved differently during this lockdown period and I'm grateful for that."
Even so, the dynamic Matthews can't help but look hopefully to the future and plan for a time when it will be possible to take We Come From the Sun on tour "so that this becomes a living being."
"I hope to spread the noise and the hugs around a bit in 2021 and that the vaccine is successful," she says, "and that's enough I think."
We Come From the Sun is released by Decca on 15 January
A message from the Editor
Thank you for reading this story on our website. While I have your attention, I also have an important request to make of you.
The dramatic events of 2020 are having a major impact on many of our advertisers - and consequently the revenue we receive. We are now more reliant than ever on you taking out a digital subscription to support our journalism.
Joy Yates, Editorial Director