Whatever was written in its titular runes, this strings-across-the-North-Sea jamboree communicated directly and joyfully, with three notable fiddle-led bands from Scotland, Finland and Denmark, none of them strangers to Celtic Connections.
The Finnish septet Frigg opened, their four fiddles, guitar, cittern and double bass sounding out a stately march, written for their 20th anniversary, followed by a lovely solo fiddle air, before delivering a full-toned sequence of snappy polskas, elegantly harmonised interludes and dramatic fiddle break-outs.
Glasgow's spangly-clad Kinnaris Quintet – "When we grow up we want to be Frigg," as their five-string player Aileen Reid remarked – proved themselves no shirkers in the powerhouse stakes. Numbers such as Saltspring saw their three fiddles riding the pulse and snap of Laura-Beth Salter's mandolin and Jenn Butterworth's guitar, their infectious high energy sometimes giving way to more pensive string harmonies or a gently rolling slip jig that gradually developed heft.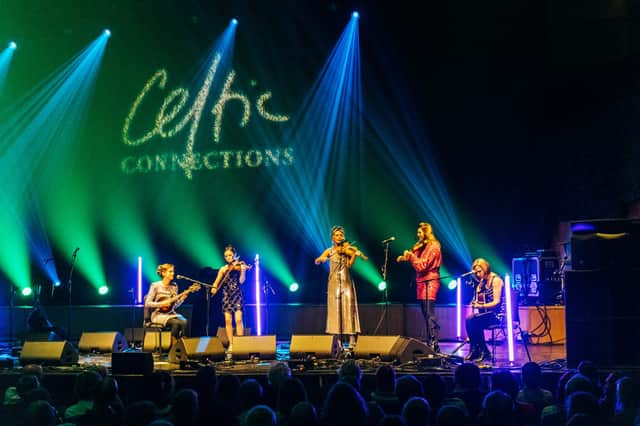 If these first two outfits played pretty well the kind of repertoire we've come to expect from them, you can never be quite sure of what Denmark's folk-based but genre-defying Dreamers' Circus might come out with. On this occasion, fiddler (and Danish String Quartet violinist) Rune Tonsgaard Sørensen, cittern player Ale Carr and pianist and accordionist Nikolaj Busk proved characteristically capricious. One moment they were whistling and vocalising over a perky accordion melody, next they were into Vivaldi's Four Seasons, Sørensen's fiddle trilling birdsong.
They ranged gleefully through brisk Scandinavian dances, enlisted electronic keyboard for what sounded like a perky advertising jingle, before celebrating their mutual culinary enthusiasms with Kitchen Stories, fiddle, accordion and cittern ebbing and flowing with unadulterated zest.
A loudly requested encore saw all three bands unite, Kinnaris leading off massed strings for a splendidly ringing, near-orchestral finale.