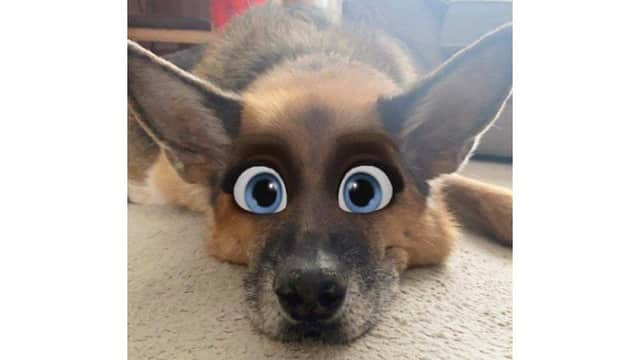 The new Snapchat filter turns pets into a character you'd find in an animated Disney movie (Photo: Gemma Smith/JPI Media)
The latest trend taking over the internet involves using a Snapchat filter to turn your pet into an animated character, similar to those animated Disney movies.
Here's how the new filter works and how to use it to make your pet even more adorable.
The filter, which has been amusing Snapchat users, turns dogs, cats and other pets into Disney characters.
It adds big, expressive eyes and eyebrows that give your pet even more personality.
The filter also works on humans - it's not specifically for pets - so you could turn yourself into the next big Disney character.
Open the Snapchat app on your device and in the centre of the screen, next to the button you press to take a photo, there should be a small emoji of a smiley face to the right.
Tap on the smiley face emoji and a whole bunch of filters will load.
To get to this specific filter, tap on the button that says "explore" on the bottom right hand side of the screen.
Here, you can search and browse all kinds of filters.
To find this one, type in "Cartoon Face" in the search bar at the top of the screen and it's the first result at the top.
Click on the filter, and you'll be able to save it as one of your favourites so you don't have to go through this process every time you want to use it - just tap the little star icon in the bottom centre of the screen.
To use the filter, just line up the camera with your subject - yourself, a friend or your pets - and you'll see them turn into something straight out of a Disney movie.
On the right hand side of the screen, you'll see a few options to customise the features, including eye shape, eyelashes, eyebrow shapes and eye colours.
The filter isn't actually affiliated with Disney but the resulting images do look a lot like Disney characters.
Reaction to the filter on Snapchat has garnered a positive response on social media, with lots of users posting pictures of their Disney-fied pets to Twitter.
One person wrote: "Okay, Snapchat's "cartoon face" filter is the best thing EVER."
"Thank you Corgi Twitter for introducing me to the Cartoon Face Snapchat filter. Too funny!!!! #CorgiTwitter #DogsofTwitter," tweeted another.
"ALERT: if you have snapchat and a pet, I need you to search the "cartoon face" filter and use it on them. I promise it's worth it. P.S please share the photos lol," wrote someone else.
Another user tweeted: "The cartoon face Snapchat filter made my pup look like something out of a Disney movie," with a heart emoji.