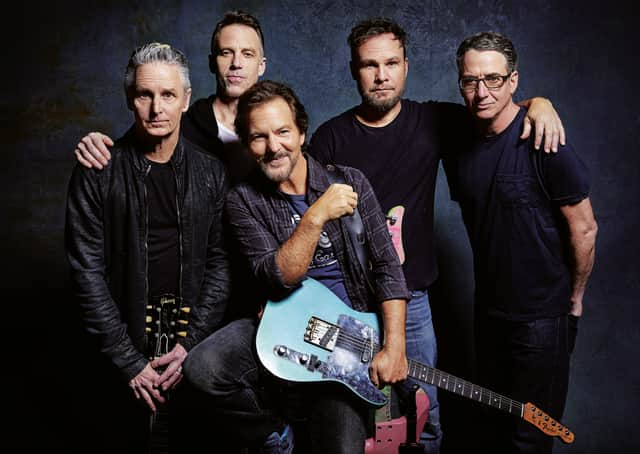 Pearl Jam PIC: Danny Clinch
Pearl Jam: Gigaton (Monkeywrench Records/Republic Records) ***

Roddy Woomble: Everyday Sun (A Modern Way) ****

Baxter Dury: The Night Chancers (Heavenly Recordings) ****
The Orb: Abolition of the Royal Familia (Cooking Vinyl) *** 

Onetime grunge overlords-turned-AOR arena rockers Pearl Jam celebrate 30 years as a live band with their first new album in seven years. Gigaton is a musically dynamic response to troubled times which works on broad and specific terms – among other targets, fired-up frontman Eddie Vedder clearly has President Trump in his crosshairs.

However, the punky, pugnacious opening track Who Ever Said is more of a catch-all mission statement, with Vedder declaring that "whoever said it's all been said gave up on satisfaction" like a veteran political warrior.
The hoary haranguing continues on Superblood Wolfmoon, with Vedder crashing about like a bear with a sore head, roaring first, thinking later, and lead guitarist Mike McCready cutting loose with some metallic riffing in the midst of the garage rocking.

There are shades of Simple Minds in the mildly eccentric arena rock of Dance of the Clairvoyants, as Vedder alternates between the influence of the two blessed Davids – the signature staccato phrasing of Byrne and the unsettling sultriness of Bowie.

Quick Escape is closer to the anthemic lumbering of old, a display of brute force rather than power, until McCready steps up once more to show off his classic rock chops. He is also in fine form, harnessing his energy on Seven O'Clock, a mid-paced meditation on the climate crisis.

But for every sleek, energised bruiser such as Take the Long Way, there is a more measured diversion such as Buckle Up, a gently undulating lullaby with an underlying urgency, and Comes Then Goes, a lyrical folk rock elegy, possibly for Vedder's late grunge peers.

Later this year, Idlewild mark their 25th birthday with a number of events but before the raucous celebration is unleashed, frontman Roddy Woomble has taken a poetic detour on six-track EP Everyday Sun, which teams his thoughtful spoken word with bandmate Andrew Mitchell's soundscaping skills.

Woomble's soothing delivery of his wistful words is set against a rather luxurious backdrop of glistening piano to create the smooth Blue Nile reverie of the title track, while his evocative economy of description is eerily complemented by the haunted reverb and shuffling percussion on Straight to Blame.

In contrast to the more classic yearning pop balladry of Secret for the Last Time, One Minute Out of the World is set against a woozy ambient backdrop, lightly tethered by echoey beats and mournful strings, while Woomble's words are looped and layered over a fuzzy soundscape from cellist and composer Oliver Coates on the 17-minute RW OC cutup.

Baxter Dury keeps it pithy and to the point on his latest louche collection of seedy shenanigans and wry caricatures, such as the ne'er-do-well Slum Lord, a self-declared "Milky Bar Kid" with "murder shoes," or the fear, loathing or at least uneasy suspicion of Saliva Hog.

Like a method musician, Dury ducks and weaves around the springy bassline, pointed strings and squalling saxophone of Sleep People and observes balefully that Carla's Got A Boyfriend ("bit of designer hair, sloppy facial looks") with such stalkerish resentment that by the time his cool female foils are cooing "Baxter loves you" on the closing Say Nothing, you might be wondering if that's strictly a good thing.

Alex Paterson is joined by fellow travellers Youth, Roger Eno and Steve Hillage on Abolition of the Royal Familia, the latest aural expedition of his expansive electronica alter ego The Orb which unfolds over 75 minutes of rather groovy, soulful selections and dub vibrations, from the buoyant Balearic beats of Queen of Hearts and beatific orchestral wash of Afros, Afghans and Angels to the playful Hawk Kings, Paterson's propulsive tribute to celebrity Orb fan Stephen Hawking. Fiona Shepherd

Project Smok: Bayview (AED Records) **** 

Radio Scotland Young Traditional Musician of the Year, whistle player and piper Ali Levack, guitarist Pablo Lafuente and percussionist Ewan Baird, aka Project Smok, recorded this at Edwyn Collins's Clashnarrow Studio in Helmsdale, joined by guests including guitarist and co-producer Mike Vass, fiddler Benedict Morris, concertina player Mohsen Amini and vocalists Megan Henderson and Rona Lightfoot. The opening Viewbank establishes the slick neo-trad vibe, Levack's liquid whistle shifting from a serene prologue into an exhilarating rush with guitar and bodhrán. Lafuente's playing, whether acoustic or electric, can be crystalline but also musters punch, as in Clashnarrow. Apart from the cantaireachd of Ceitidh's (Levack briefly deploying pipes), singing is confined to the band accompanying Collins in his 1995 hit A Girl Like You which, although disjointed from the rest of the album, salutes a famously resilient figure. Jim Gilchrist


Pärt, Vasks & MacMillan (Harmonia Mundi) ****

The gently hypnotic choral music of Arvo Pärt is not so easy as it sounds. Though its melodies evolve simply, like viscous liquid, and its luscious harmonies float like un-rushed clouds, the sung sonorities require meticulous shaping and balancing to achieve the magical naivety intended. The Choir of Clare College Cambridge under Graham Ross achieve all this and more in this beautifully meditative album dominated by Pärt's music, the voices of the young singers as pure and centred in the dreamy Da Pacem as in the powerfully harnessed drama of the Magnificat and Nunc Dimittis and the more extended Stabat Mater, where the strings of the Dmitri Ensemble add a mystical sheen to the choral wash. The surreal sound world of Pēteris Vasks' Plainscapes and James MacMillan's ruminative, at times beguiling Miserere give perfect respite after the abundance of Pärt.
Ken Walton