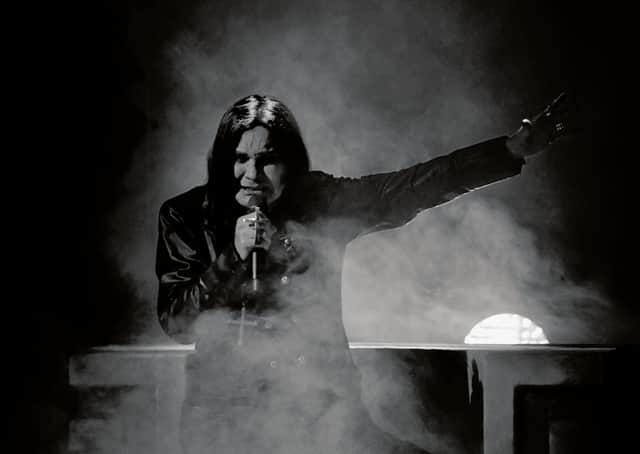 Ozzy Osbourne - there are entertaining, overcooked metal kicks to be had with the Brummie Prince of Darkness on his new album. PIC: Kevin Winter/Getty Images
Ozzy Osbourne: Ordinary Man (Epic) ***

The Secret Sisters: Saturn Return (New West Records) ****

Youth Meets Jah Wobble: Acid Punk Dub Apocalypse (Youth Sounds/Cadiz Music) ****

Spinning Coin: Hyacinth (Geographic) ****


Illness, infection, the self-confessed boredom of sobriety and now diagnosis of a form of Parkinson's Disease – no wonder Ozzy Osbourne is pledging No More Tours on his forthcoming outing (which has already suffered a number of cancellations and postponements).

His latest solo album was far from a sure thing itself but the music was quickly conceived and dispatched by a band including Guns N' Roses bassist Duff McKagan, Red Hot Chili Peppers drummer Chad Smith and producer/guitarist Andrew Watt, with Osbourne keening in his inimitable baleful tones and guest guitarists Slash and Rage Against the Machine's Tom Morello cutting loose in signature fashion.

Ordinary Man is no late era Johnny Cash-style classic though Osbourne does wrestle with mortality, whether impishly – inquiring "do they sell tea in heaven?" on Goodbye and pondering if there is anything beyond the earthly realm on Scary Little Green Men – or plaintively on the fatalistic likes of Today is the End and pomp metal confessional Holy for Tonight, on which he considers deathbed repentance.

Life legacy is on his mind on the mid-paced commercial headbanger All My Life and the title track, an overwrought piano ballad with added Elton John, Slash solo and strings cowing the listener into submission.

But there are also entertaining, overcooked metal kicks to be had with the Brummie Prince of Darkness promoting cannibalism with reprobate swagger on Eat Me, recalling a drugs-related brush with the law from his Black Sabbath days on It's A Raid and counting the ways he'll make you suffer ("I'll make you scream, I'll make you defecate") on Straight to Hell, followed by demonic laughter. Remember him this way?
The heavenly harmonies of Laura and Lydia Rogers put Alabama's The Secret Sisters on the side of the angels. But, like Osbourne, there is a mournful sagacity to be found in their throwback country and folk tunes.

Produced and arranged with Brandi Carlile at her studio in Washington State, their latest album Saturn Return conveys more grit than previous fragrant offerings, including some Neil Young-style acid country guitar wrangling on Cabin and the cosmic country treatment of bluegrass ballad Silver.

The winsome Hand Over My Heart is a touch sugary – better the bittersweet Christine McVie/Carole King-style romanticism of Late Bloomer, about feeling left behind in life and love, and the dramatic siren invocation of Water Witch.

Dub punk bass warriors and geezer philosophers Youth and Jah Wobble give reviewers and record shop owners a helping hand in classifying their current collaboration Acid Punk Dub Apocalypse. Here, the Killing Joke and PIL mainstays combine their interests in the sacred, the seditious and the sonorous in the complementary company of former associates Alex Paterson of The Orb and Blue Pearl's Durga McBroom, who lends her soulful alto to the rocksteady Rise Me Up.

Hollie Cook, daughter of Sex Pistol Paul, leads on the seductive Breaking Shells while punk professor Vivienne Goldman presides over the giallo-style horror soundtrack vibes of Rhino. Just as potent are instrumentals such as Afro jazz mantra Chariot Sky and Panzer Dub where the combination of beefy bass, industrial rock guitar and punk saxophone squall is as powerful as the title suggests.

Indie contenders Spinning Coin are now based between Glasgow and Berlin, with their two main songwriters offering contrasting songwriting approaches on their second album, Hyacinth. The loose, lopsided, exultant Get High and grungey rock'n'roll-inflected It's Alright contrast with the melodramatic indie balladeering of Avenues of Spring and The Long Heights on which Sean Armstrong sings as if on tiptoes. Rachel Taylor leads the delicate, elegant Black Cat, providing yet another string to their accomplished indie pop bow. Fiona Shepherd

Schoenberg: Verklärte Nacht & Violin Concerto (Harmonia Mundi) *****

If mention of Arnold Schoenberg's music conjures up fear and trepidation, here's something that will make you think again. Coupling the undiluted programmatic Romanticism of Verklärte Nacht (1899) with the later systemised 12-note style of the 1936 Violin Concerto – written after the composer moved to California – is to draw out a common thread in Schoenberg that is soothingly eloquent, humanly emotive, and actually quite old-fashioned. Violinist Isobel Faust is joined by Daniel Harding and the Swedish Radio Symphony Orchestra in the concerto – a performance expressing lyrical warmth, lithe dance rhythms and a vision that feeds on transparent neo-classical structures and textural freedom. For the Tristanesque heat of Verklärte Nacht – Schoenberg's dreamy realisation of Dehmel's sensual poem for string sextet – Faust teams up with celebrity colleagues, whose passionate virtuosity never overheats. Ken Walton

Ross Miller: The Roke (Avontoun Records) ****

Ross Miller is a seasoned competing piper, Royal Conservatoire of Scotland graduate and former pipe major of the National Youth Pipe Band of Scotland. He is also official "toun piper" of Linlithgow, hence the puzzling album title, which derives from the burgh's town tune, The Roke and the Wee Pickle Tow, which closes the album, initially in strict riding of the marches style with rattling drums before breaking into a zesty group arrangement. Miller's dynamic band includes fiddler Charlie Stewart, drummer Callum Edwards and guitarist (and co-producer with Miller) Craig Irving, and is bursting with good tunes, new and old. Listen to the second set, which sails seamlessly through waltzes and a Breton tune, to slip into exuberant overdrive with Laurie the Blaster. Elsewhere, Dr Angus MacDonald's great jig Chloe's Passion, introduced by Stewart, opens an exuberant trio of tunes, while another track sees Miller multi-track to form a harmonising one-man pipe quartet. Jim Gilchrist