Album reviews: Lizabett Russo | Steps | IKLAN | The Prats
The otherworldly charm and mellifluous melancholy of Lizabett Russo are in stark contrast to the jolly disco pop and wind-up dance routines of Steps, writes Fiona Shepherd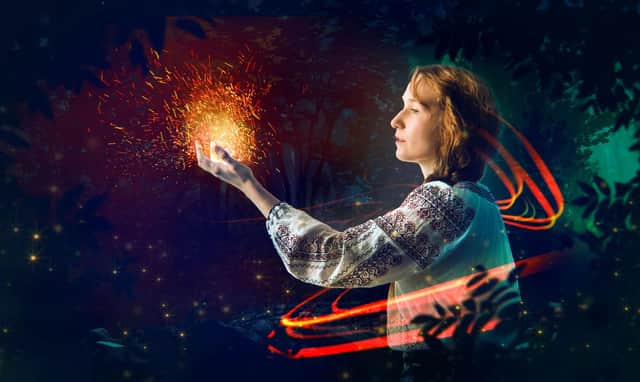 Lizabett Russo
Lizabett Russo: While I Sit and Watch This Tree Vol 1 (Last Night From Glasgow) ****
Steps: What the Future Holds (BMG) ***
IKLAN featuring Law Holt: Album Number 1 (Soulpunk) ***
The Prats: Prats Way Up High (One Little Independent) ***
In a previous life, Lizabett Russo might have been burned as a witch, such is her otherworldly charm. This Romanian singer/songwriter, now based in Edinburgh, has a singular voice to make you sit up and listen in the first instance, but also to beguile with an ethereal potency, placing her in a spellbinding lineage from Kate Bush through Laura Marling to Kathryn Joseph.
Russo hails from Transylvania but only took up singing when she moved to Scotland in her late teens to study at Aberdeen University, developing her voice at open mics on a gap year in London.
She already has a modest catalogue of self-released albums but While I Sit and Watch This Tree is an impressive place to make her accomplished acquaintance, all the more so given that it was recorded at home during lockdown with her partner, composer/guitarist Graeme Stephen, and embellished with remote contributions from guest players including fiddler Aidan O'Rourke.
The gently percussive Two Hands Together is a persuasive primer with its subtle shades of East European folk and a certain irresistible invocation in Russo's clear voice. She taps into Celtic mysticism on the captivating Depending with its soft, subtly dynamic tapestry of acoustic sounds.
Elegant horns, plangent cello and Yiddish chant dapple the autobiographical I Was Young When I Left Home ("I never knew where I belonged"). Later, Russo pays tribute to her adopted home with a beautifully arranged cover of mellifluous, melancholy Scottish folk song The Water Is Wide, and closes this intoxicating half hour with the beatific Romanian language Valuri si Ganduri ("waves and thoughts").
In glaring contrast, Steps - the Bucks Fizz of the 21st century – return with a sixth album of jolly cocktail sticks disco pop. There's nothing wrong with following a hit-making formula – just ask Motown – and this cheery five-piece maintain their wind-up dance routines to an admirable degree on What the Future Holds, which opens and closes with versions of the Sia-penned title track, where (relatively) mean and moody verses light the way to a classic apocalypse disco chorus.
Not everything is quite of this standard. The chirpy production line Abba of Something In Your Eyes and mid-paced, middle of the board Eurovision pop of Clouds pass muster, while the clipped disco strings and breathy vocals of Come and Dance With Me could be an offcut from the Kylie album.
IKLAN is an Edinburgh-based collective spearheaded by former Young Fathers manager Tim London, and there is an unsettling, left-of-centre YF air to their Album Number 1 which features ten pithy cuts of twisted, trippy electro soul fronted by lead vocalist Law Holt.
Jacqui and Pauline Cuff, formerly of hippychick hitmakers Soho and now members of Leith Congregational Choir, provide dark gospel supplication on Pray for Timeless, while the poised electro funk of Train Is Coming is another highlight in a collection which is strong on atmosphere, obtuse on melodies.
An Edinburgh group of a different age and stripe are celebrated on Prats Way Up High, a compilation of singles, demos and unreleased John Peel session by cult punk young team The Prats, who formed in 1977 while in their early teens and split up on leaving school in 1981, before being rediscovered when their track General Davis was used in the opening sequence of the 2004 remake of The Manchurian Candidate.
There is a rehearsal room immediacy to shrill one chord wonders such as TV Set and the reedy jabber of Disco Pope but their teenage kicks are tempered by an older lyrical soul on the bleak Nobody Noticed and angular philosophising of Two Views on Life. A documentary, Poxy Pop Groups – The Story of The Prats, is pending.
Haydn: Symphony No 100 & Nelson Mass (CORO) ****
The final decade of the 18th century, with Haydn in his sixties and loosened from his rigorous commitments to the Esterhazy court, saw him flourish creatively and financially. Two results of that period feature side by side in this latest Handel and Haydn Society recording under the direction of Harry Christophers. Free to travel to England, Haydn's "London" symphonies netted him significant earnings and global kudos. One of these, the so-called "Military," reflects that new found sense of release and adventure. It's eccentricities – notably the explosive euphoria of the Turkish style percussion – are are not suppressed in this joyous performance. Nor is the Nelson Mass – performed in the presence of the then victorious admiral in 1800 – lacking in incendiary excitement. Christophers, with vocal quartet Mary Bevan, Catherine Wyn-Rogers, Jeremy Budd and Sumner Thomson, embrace that directness of expression, never bombastically, always with warmth and eloquence. Ken Walton
Strangeness and Charm: Music for the Book of Dear (Largo Music) ****
It may be bookended by the ecclesiastical summons of bells, but there is nothing penitent about this engagingly idiosyncratic album from Fife-based saxophonist and composer Richard Ingham, joined by trumpeter Maarten Verbraeken, pianist Burke, bassist-guitarist Kenny Irons and drummer Andy James. Jazz, folk and prog rock all inform this spirited 21st century evocation of a tenth century religious manuscript. A resonant, electronically tinged fanfare of sax and trumpet sets the scene. There may be occasional medieval pastiche, but also much that surprises, such as the gently drifting sax melody of The Splendid Little Book morphing into a perky dance tune that puts a skip into the monastic sandals. There's an unexpectedly funky vibe to Monastery Among the People and a cool jazz feel to the mute trumpet in the closing track, Still Shining, before the bells escort us out. Jim Gilchrist
A message from the Editor:
Thank you for reading this story on our website. While I have your attention, I also have an important request to make of you.
The dramatic events of 2020 are having a major impact on many of our advertisers - and consequently the revenue we receive. We are now more reliant than ever on you taking out a digital subscription to support our journalism.
Joy Yates, Editorial Director