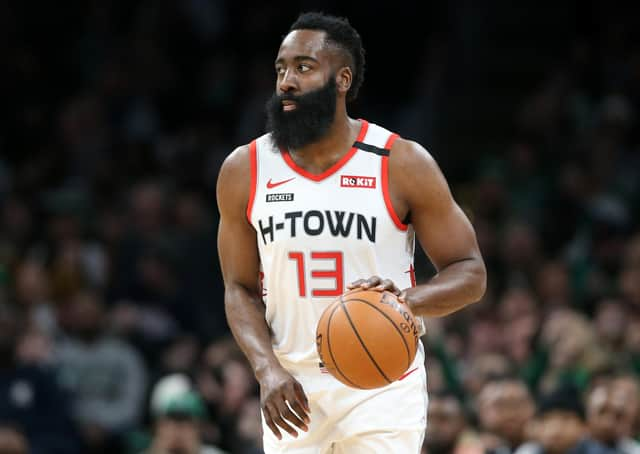 Houston Rockets' superstar guard James Harden is one of four NBA Players currently on a 'supermax contract'. Picture: Maddie Meyer/Getty
We all know how important a star player can be, look at the importance a new signing can have in football or the difference a new scrum-half can bring in rugby but is basketball the team sport where one player deserves over a third of the team's salary?
One, typically star player, can often be the difference between just making the play-offs and being in the NBA Finals. One player, more than any other sport, can be the difference in any given game, and any given moment.
Yes, scoring is essential, look at the stats for Houston's James Harden who was averaging 34.4 points per game before the shutdown. That leads the league with Washington's Bradley Beal sitting second on an average of 30.5 points per game – a 3.9 difference.
Now, look at Houston who sit right in the play-off mix as the sixth seed in the Western Conference. They are outscoring opponents by an average of 3.7 points per game.
So you can see that, statistically at least Harden is worth the big money the Rockets are paying him, right? More on that in a bit.
NBA teams carry a roster of 12 players, but only 8-9 of those players see regular minutes on the court so having a star player like Harden, Curry or LeBron James can make all the difference. Also, unlike the NFL, NBA players are involved in both aspects of the game, offense and defense.
James Harden is one of four NBA Players currently on a Designated Veteran Player Extension or, as it is more commonly known, a "supermax contract".
The supermax contract allows NBA teams to offer players 35 per cent of the current salary cap with eight per cent increases each year after that.
A new first-year player, signed from free agency, can get paid a maximum of 30 per cent of the salary cap, designed as an incentive for players to stay with the team that drafted tham, or that they've spent the previous season with.
The current salary cap in the NBA is $109million and a player likeLeBron James who moved from Cleveland to the Los Angeles Lakers last year can command 30 per cent of a teams salary cap. There is also an additional "luxury tax" which allows a team – at a cost – to push their final salary bill to $138m.
So when you have a star, and you pay them $30-35m a year, how does that help you build a team to win? A look at the Portland Trailblazers shows just how difficult it can be.
They currently have Damien Lillard, Hassan Whiteside and C.J. McCollum taking up $84m of their salary. The Trailblazers have just 29 wins against 37 losses.
Last seasons champion Toronto Raptors showed that spending wisely is critical.
Toronto were unfancied, and at the start of the season no one expected them to win it all. Many thought that, at a stretch, they could make the play-offs. But what they did was spend the money on a top-heavy roster.
Toronto created a starting five who took up a whopping $108m. In fact, the top four on their roster individually earned nearly as much as the rest of the roster.
The Raptors secured their first-ever NBA Championship on the back of that bold move.
They spent their money on players to get them a lead. Then they took rookies and veterans who they knew would not cost them the games. It worked and, while their starters took up a considerable amount of minutes, their bench soaked up time to allow the star to rest.
The Raptors knew that to win they only had a small window, they spent on a top-heavy roster, something that so often backfires in other sports. What the NBA shows is that it's one league where paying $37m to one player can win you championships.