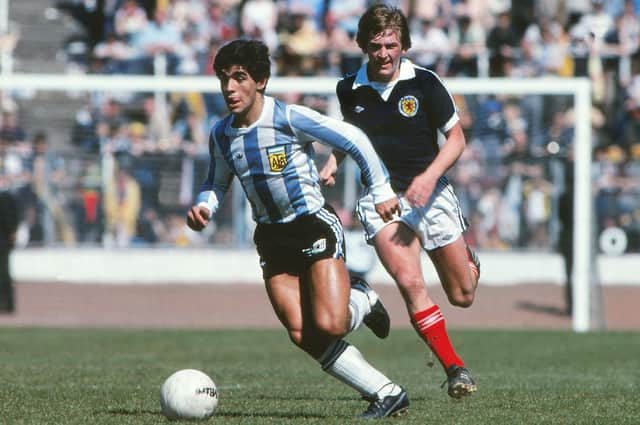 Diego Maradona is chased by Kenny Dalglish during the 1979 friendly at Hampden Park. Argentina beat Scotland 3-1. Picture: Colorsport/Shutterstock
But I'm writing these words anyway. Yes, he was the greatest. Yes, Scots loved him. No, that wasn't simply down to the Hand of God.
He was a bauchy wee guy, not some lithe, long-limbed Latin love god who'd make us look inferior. He had that strutty walk - chest out, shoulders swinging, crinkly eyes straining upwards - which seemed like the classic gait of the vertically-challenged Scottish would-be hardman trying to make himself look bigger. He was chippy, lippy, girny, argumentative, demonstrative, melodramatic, doom-laden, frequently in bother of some sort and a world-class swearer - all traits with which we're not entirely unfamiliar.
Then there was the way he played. Scotland invented the passing game and, greedily, we'd like to think we propounded seminal theory on the development of the dribbling game as well. Maradona ran with the ball and jumped tackles like he was evading the clutches of an irate farmer, a wronged wife or indeed the constabulary. If we crinkled our own eyes still further we could see in him Alex James, Jimmy Johnstone, Willie Henderson and all the other tanner ba' tricksters who were once an integral part of our GDP.
The programme and ticket from when 18-year-old Diego Maradona came to Scotland
And then there was solid-gold and beautiful truth that his first international goal was scored on a parched, hard, season-ravaged, brown-not-green Scottish park.
Down the years it's often been said about Real Madrid vs Eintracht Frankfurt that if all those who claimed to have witnessed the 1960 European Cup final had been at Hampden that day then the official attendance would have been heading towards a quarter of a million. Now I'm wondering if the mythology surrounding Argentina's visit to Mount Florida on 2 June, 1979 might be propelled in the same direction.
You could have been there. You should have been there. You were there in spirit. You can easily imagine what the game was like. You don't mean any deceit by this but the man's jig of joy which you've seen a hundred times on YouTube was so exuberant and infectious that in your head you hurried down to Glasgow's south side that day and just managed to catch the end of it.
Well, I was there although I don't really know how. June 2 was a Saturday, the end of my worst football week until that moment. Five days earlier my team had been beaten in the Scottish Cup final by an own goal in extra-time at the third attempt of settling the affair. Hampden was a tragedy, Hampden was a monumental bore. My father, with whom I'd sat through all those 330 minutes, was never going back there any time soon. But at lunchtime a pal from my Sunday Churches League team phoned with the offer of a spare ticket and a ride through in a Vauxhall Viva.
Diego Maradona skips past a challenge from Paul Hegarty during Argentina's 1979 win over Scotland at Hampden.
There had been a buzz about Maradona, then just 18. How good could he be, the four of us wondered, when Argentina had just won the World Cup with grown men and macho gunslingers like Mario Kempes, Leopoldo Luque (who turned up for one game in the procession to glory with a nasty black eye) and Daniel Passarella?
We soon found out. The bold Mario didn't play that day but wasn't missed. Argentina ran through routines from the summer before which were burned in the minds of the footballing cognoscenti like me and my chums. Touch, touch, dink, dink, and then someone, usually Luque, would take the pampas bull by the horns and slalom past the last of our brave boys to score.
They were dancers, the team in light blue and white stripes and - "Oh what, wow," as a disco tune of that year went - Luque was the greatest dancer. Maradona had been deferential in a way he never would be again. For, as the game progressed, he became the greatest dancer. Sister Sledge had turned into the Jacksons and he was Michael, the cute kid, bopping and bouncing and even barging John Wark and Arthur Graham out of the way and right off his stage.
The funny thing is that while we in the Sunday Churches League had heard murmurs about this boy wonder, the match programme - I still have my copy and the £2 ticket stub - made no mention of him. SFA secretary Ernie Walker in his opening remarks was anxious to apologise. Scotland had been lousy at the World Cup, jarring with the tournament's bonhomie.
"I have no wish to dwell on the misfortunes which befell the members of the Scottish party in Argentina," he wrote, "but it is interesting to note that while the officials and players were undergoing some of the most miserable experiences of their careers they were, ironically, surrounded by a warmth and kindness the like of which could scarcely have been equalled … the friendship of the Argentinian people towards the Scots was overwhelming."
Walker hoped the world champs might go away with "even half as good an impression" of Scotland. High up in the Celtic End we hoped that too. But what impression were we forming of Maradona? That was incalculable.
We enjoyed a fine view of his nonchalant goal and, as a rejoinder to Argentine tickertape floating downwards, Scottish feet sent red dust from the terracing steps drifting upwards. From the son we never had we'd just witnessed the first dazzle of greatness.
A message from the Editor:
Thank you for reading this article. We're more reliant on your support than ever as the shift in consumer habits brought about by coronavirus impacts our advertisers.
If you haven't already, please consider supporting our trusted, fact-checked journalism by taking out a digital subscription.